Stocks continue to oscillate wildly, gapping higher and lower on catalysts that should have them moving in the opposite direction. It's as if the whole market has gone schizophrenic. Indeed, Sterne Agee's technical analyst Carter Worth wrote in a note to clients, "there are so many issues with the market that it strains the imagination."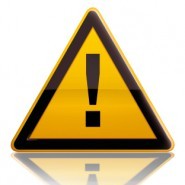 While the U.S. averages are not far off their record highs, emerging markets and even established markets like Japan are under pressure.
Outside of near-term issues like the specter of armed conflict in the Ukraine or the Federal Reserve's need to modify its "forward guidance" language during its policy meeting later this week, big structural issues are in play here.
China must find a way to prick an out-of-control credit bubble without slowing its economy too much. Japan is struggling as "Abenomics" and its yen devaluation strategy loses its pizazz ahead of a looming a sales-tax hike.
All of this suggests that, even if the situation in the Crimea doesn't devolve into a shooting war, the downside pressure will remain on the market.
There are also a few technical warnings signs suggesting the bears aren't done just yet. Here are three worth watching: