In 1984, moviegoers were given a front-row seat to the potential horrors of self-aware computers as they took over the world's technology. In the Arnold Schwarzenegger flick The Terminator, an artificial intelligence network called Skynet — initially designed just to manage defense systems — quickly learned all of mankind was a potential threat that needed to be eliminated.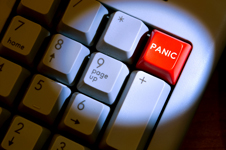 While it was fun food for thought, nobody at the time really believed computer technology could become a species in and of itself.
Thirty years later, however, the whole idea doesn't seem nearly as far-fetched.
Autonomous robots are a reality, we implicitly trust our connected devices to help manage our lives, and there's not one shred of meaningful information (even about individuals) that's not accessible via the web.
Perhaps even more alarming is how only four companies are quietly becoming the gatekeepers and tone-setters for how we'll interface with technology (not to mention interface with the rest of the world) in the near future.
These four organizations might make for fine investments, but as citizens, we also might want to keep a watchful eye on how indispensable they're making themselves to us.