It's back-to-school season, and parents are expected to open their wallets a little wider this year. According to analysis of shipments from May to July (the time when retailers stock their shelves with back-to-school products), Panjiva data shows that shipments of backpacks are up almost 20% from last year.
In looking at the popular kids movies and shows in recent months, Panjiva also researched the characters that will likely be most popular. The graph below breaks down some of these popular characters, from Disney's (DIS) Frozen to Transformers that Panjiva expects will be showing up both on and in these backpacks, based on merchandise shipments over the same time period.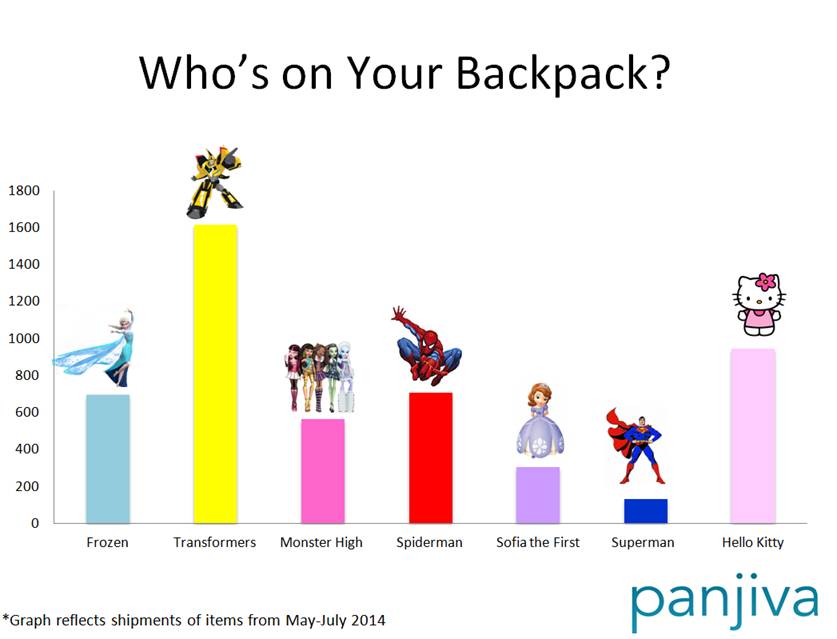 Despite the less-than-spectacular performance of Transformers: Age of Extinction at the box office, Transformers-themed backpacks look to be the most popular based on shipments, followed by the seemingly timeless Hello Kitty. Hasbro (HAS) — which markets Transformers toys and merchandise — should be pleased.
Demographics play a role in the surge of back-to-school buying. 2007 was the highest birth year in U.S. history, before the financial crisis sent family formation into deep freeze. Those babies born in 2007 are starting second grade this year, and in the prime ages for toy buying.
Merchandisers should enjoy it while they can. American births went into sharp decline after 2007, which means fewer toy-obsessed kids coming down the pipeline!
Charles Lewis Sizemore, CFA, is the editor of Macro Trend Investor and chief investment officer of the investment firm Sizemore Capital Management. As of this writing, he did not hold a position in any of the aforementioned securities. Click here to receive his FREE weekly e-letter covering top market insights, trends, and the best stocks and ETFs to profit from today's best global value plays.