Master limited partnerships (MLPs) are all the rage with energy firms and investors these days. The corporate structure is quite lucrative on both fronts — promising huge tax advantaged distributions to its owners. Add in the need for more energy logistics infrastructure due to America' shale boom and it's easy to see why MLPs have gotten so big over the last few years.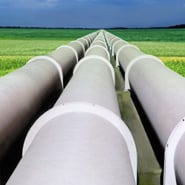 Perhaps they've gotten too big.
The major news in MLP-land this week was midstream giant Kinder Morgan's (KMI) decision to swallow its two MLP subsidiaries — Kinder Morgan Partners (KMP) and El Paso Pipeline Partners (EPB) — back into its mix. Essentially, KMI is turning its back on the structure it helped pioneer.
That raises a couple of questions: What other firms may be too big for the structure … and are MLPs doomed?
A Question Of Cash Flows for MLPs
For Kinder Morgan, the decision to end its MLP relationship — now called a reversion — came down to meaningful cash flow and distribution growth. The problem was that KMI and KMP required insane amounts of new projects and CAPEX spending in order to add enough assets to boost cash flows. Morningstar predicted that, for Kinder to increase its distribution by 5% to 6% per year, the firm would have to put nearly $4 billion to work every year on new projects.
And given its high cost of raising capital, that was a daunting task. Institutional investors for the most part don't want MLP shares — due to regulations — and KMI's size meant that adding new debt was expensive.
In the end, Kinder Morgan was growing its distribution, but not enough to satisfy analysts and investors. Under the new C-corp structure and KMI ticker, Kinder should be able to fund its growth better and ultimately meaningfully increase its distribution over the long haul.
So the question now is whether any other firms are looking into ditching the previous lucrative MLP structure for something different. The answer could be a resounding yes for a select group of larger partnerships.