Vanguard Long-Term Corporate Bond ETF (VCLT)
Dividend Yield (12-month): 4.6%
Expenses: 0.07%
Vanguard's Long-Term Corporate Bond ETF (VCLT) is much more of a garden-variety fund, tackling solely long-term corporates – an area of investment with a few more competitors.
The makeup is pretty similar to BLV in that effective maturity is just under 24 years, and average duration is just under 14 years, across its nearly 1,800 holdings. Moreover, VCLT has the same corporate focus as BLV, with the heaviest weight going to industrials (nearly 70%), and the vast majority of the rest split between financials (17%) and utilities (13%).
Here, VCLT's advantage against the competition is a little more pronounced. Not only does it outdo the iShares 10+ Year Credit Bond ETF (CLY) — a much more diverse sector spread of corporate debt — by more than 8 percentage points since 2010, but it also tops similarly constructed SPDR Bloomberg Barclays Long Term Corporate Bond ETF (LWC).
Vanguard's VCLT Leads the Pack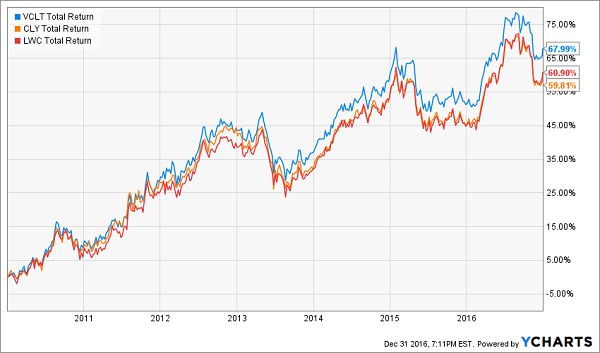 Moreover, it's the cheapest of the trio.