Vanguard REIT ETF (VNQ)
Dividend Yield (12-month): 4.8%
Expenses: 0.12%
The Vanguard REIT ETF (VNQ), which came to life all the way back in 2004, is by far and away the biggest player in the real estate investment trust space. At $58.7 billion in assets under management, VNQ dwarfs the next closest player, the iShares U.S. Real Estate ETF (IYR), which has amassed "just" $4.2 billion.
If you're looking for broad exposure to the real estate sector, VNQ aptly provides it. The ETF provides a good distribution across several types of real estate, led by retail at 23% of the fund. Specialized (16%), residential (15.5%), office (13.5%) and healthcare (12%) all get double-digit weightings, while diversified, industrial and hotel & resort REITs round out the rest of the fund.
Here again, Vanguard finds itself at the top of the pile. Since 2010, Vanguard leads a group of major providers' competing products. The most exaggerated outperformance is versus the IYR, which is more than 15 percentage points behind.
Vanguard's VNQ Leads the REIT Way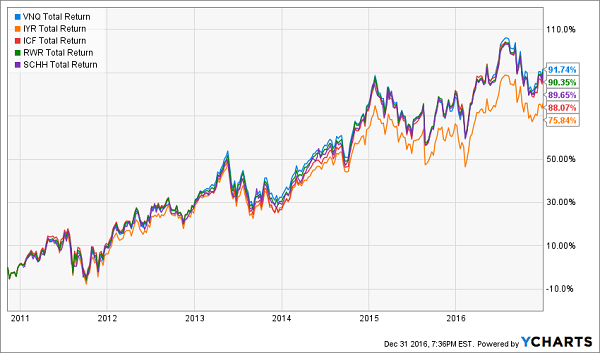 (As a note, inception for the Schwab U.S. REIT ETF (SCHH) was not until Jan. 13, 2011; however, VNQ has outperformed it since then by a few basis points.)