Protecting Against Overpaying
Note the small allocations to PGP and PHK. I've done this for a reason. Both of these funds trade at a near 45% premium to net asset value (NAV)—meaning you're actually overpaying for the assets here.
However, those premiums are close to the historic averages for these funds; the market almost always pays a big premium because of these funds' massive outperformance.
Surprisingly, the premiums are much less than what they used to be. PGP stunned investors earlier this year when its premium to NAV went to 100%—people were actually paying double the fund's value!
PGP Sees Massive Correction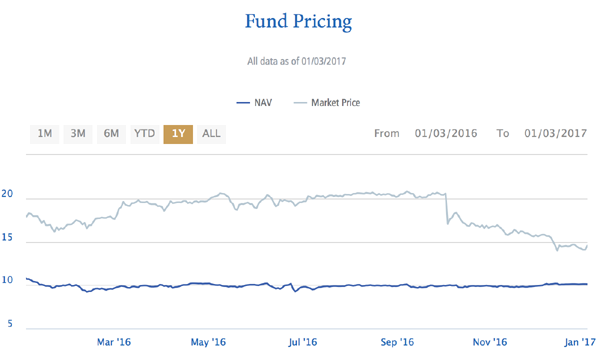 PGP has since corrected to a premium closer to its historic average and lower than where it's been for the last few years, which is the only reason why I would consider it right now.
PHK, on the other hand, has been trading at a higher premium to NAV in 2016 after a shocking dividend cut in 2015. Before that, the fund had never lowered its distributions. Now the premium is actually a bit higher than where it's been in the past:
PHK Premium Still High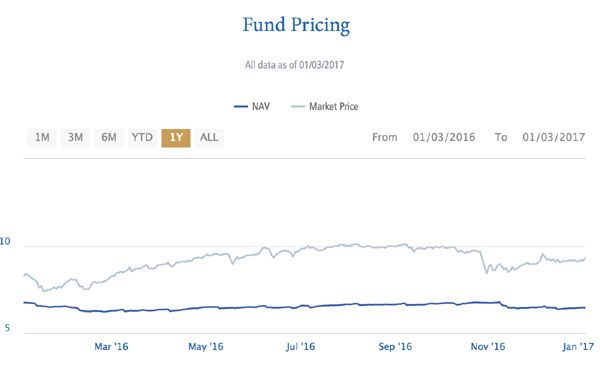 The high premiums on these two funds make me cautious and tell me that any investment in them needs to be small, speculative and offset by much safer holdings. That's why I've limited these funds to a combined 30% of the total portfolio.
As a result of this position, the portfolio is less diversified across sectors and asset classes than I would like:
A Pharma-Heavy Portfolio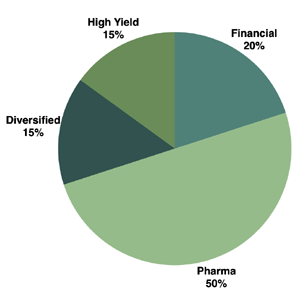 That high pharma allocation tells me this portfolio cannot live alone. It must be supplemented by other investments that can beat the S&P 500 in the future.
Fortunately, there are many funds with more than enough upside to do just that. But where can you find them?
I recommend starting with three other picks we're pounding the table on now.
They're called closed-end funds (CEFs), and our 3 favorites in the space yield 8.2%, 9.1% and even 10.1%! And unlike with PGP and PHK, you won't have to fork over a premium to get in on them: all three trade at 10% to 15% discounts to NAV.
Here's what that means for you: if the market takes a tumble, those unusual discounts mean these three funds will simply trade flat … and we'll enjoy those 8.2% to 10.1% yields.
But most likely, they'll jump 10% to 15% and close that hefty discount … and we'll still collect those fat dividends!
These three CEFs form the beating heart of our new 8.0% "No-Withdrawal" retirement portfolio. It lets you immediately trigger a $40,000 income stream on just a $500,000 nest egg—and as the name says, you won't have to sell a single share to keep that cash rolling in.
Now I want to give you the names of our 3 favorite CEFs and the other income powerhouses—from bargain-priced real estate investment trusts to preferred shares yielding 8.7% and more—that make up this powerful new portfolio. Simply go right here to get all the details now.
More From InvestorPlace