African Stocks to Buy: Africa Oil Corp COM NPV (AOIFF)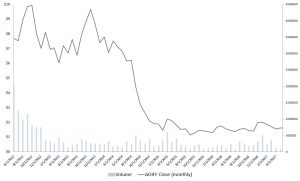 Click to Enlarge As a frontier market, opportunities in African stocks are extremely limited; hence, the inevitability of mentioning speculative names like Africa Oil Corp COM NPV (OTCMKTS:AOIFF). Because of its status as an over-the-counter stock, AOIFF is the very definition of a thinly traded, high-risk, high-reward gamble. Having laid out these disclaimers, I believe that AOIFF is a smart speculation.
First, the technicals look quite enticing. AOIFF made a pronounced dip in mid-January of 2016. So far, this dip has been the pivot point of a key reversal. Generally speaking, after AOIFF bottomed out, shares have charted a rising pattern of higher highs and higher lows. Currently, AOIFF is near the support line of the trend channel. If the underlying oil markets hit a bottom in 2016, this could be a net positive for the company.
Second, the two nations where Canada-based Africa Oil Corp maintain assets — Ethiopia and especially Kenya — are oil rich. Encouraging results in Kenya could eventually make that country a net exporter of "black gold" in the future. What it lacks right now is the infrastructure to do so. Of course, that could change as larger players start entering the arena.
AOIFF is, like many African stocks, a high-risk venture. Nevertheless, Africa Oil Corp has something to show for it, and it could turn out to be wildly successful.
As of this writing, Josh Enomoto did not hold a position in any of the aforementioned securities.