Oftentimes, when traders are talking about commodities like gold and oil they will lump them all into one monolithic group and assume that they are all moving together and that they are driven by the same fundamental forces.
For instance, strong economic growth — or the expectation of it — tends to push commodity prices higher (look no further than the commodity price surge in the wake of the recent presidential election).
While this may be true to a certain extent in some circumstances, however, various commodities are subject to different fundamental forces as well. So what is pushing gold and oil lower, and which one is likely to best recover?
Let's take a look at gold first.
What's Driving Gold?
Gold has been driven higher by a number of fundamental forces during the past few months, but the two most important have probably been expectations for U.S. economic growth and monetary policy and the stability of the eurozone.
After the presidential election in the United States, gold prices plummeted as expectations for booming economic growth went through the roof. Tax cuts, regulatory reform and infrastructure spending were going to spark the beginning of a new economic era … until they weren't.
Instead, while the promised changes in Washington, D.C., have been slow to materialize, the Federal Open Market Committee (FOMC) has taken the opportunity to hike interest rates twice while consumer confidence levels have been high and the U.S. stock market has been climbing.
This combination of unfulfilled promises and tighter monetary policy has some traders worried that the Fed is "taking away the punch bowl" before the party has even had a chance to get going and that it may never get going if Congress and the president can't deliver on their promises, which has forced more and more traders to diversify, at least a portion of their portfolios, to gold.
This diversification has pushed gold prices higher.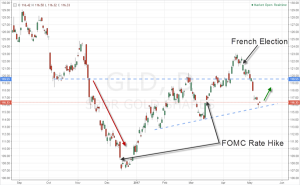 Click to Enlarge At the same time traders were pushing gold prices higher to hedge against the Fed, they were also pushing gold prices higher to hedge against the possibility that the populist wave that has been sweeping over the globe during the past year may carry on into France and elect anti-euro candidate Marine Le Pen. The mere possibility that France may at some point pull out of the common currency sent shivers down the spine of many a trader.
Anytime there is instability in a major currency, traders turn to gold for protection. While the chances of Le Pen winning and successfully pulling France out of the eurozone were small, traders were still prepared for the worst.
However, once Emmanuel Macron came out ahead of Le Pen in the first round of voting on April 23 and proved himself to be the dominant front runner heading into the runoff election on May 7, traders breathed a huge sigh of relief and started selling off some of their gold positions.
Now let's take a look at oil.
What's Driving Oil?
Oil has been driven primarily by oversupply concerns.
During the latter half of 2016, the Organization of the Petroleum Exporting Countries (OPEC) had been working on an agreement that would cap the amount of oil various members of the organization could produce. The hope was that if OPEC scaled back its production, global oil supply levels would drop back down to more sustainable levels and prices would rise.