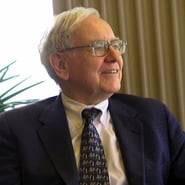 It's old news by now that Berkshire Hathaway (NYSE:BRK.A, BRK.B) and 3G Capital are acquiring H.J. Heinz (NYSE:HNZ) for $23.3 billion. The conversation now seems to be whether Buffett overpaid for the ketchup maker — but we won't get that answer for several years.
Instead, I think it's important to understand that Buffett crafted the deal the way he did — buying both common and preferred stock — to protect his shareholders. It's a brilliant move — and one regular investors can duplicate.
Why should regular investors buy both common and preferred shares? Well, like any investment, it should fit within the risk parameters of your portfolio.
If you're a short-term investor and if you buy the common stock alone, and you've overpaid, you're probably sitting on dead money. But if you buy the preferred as well, you gain additional dividend income (ahead of common), which might turn out to be your only return. And if you're a long-term investor, by owning the preferred in addition to the common, you're getting paid to wait for its common stock to rise in value.
There are plenty of examples to choose from. Using the iShares U.S. Preferred Stock Index Fund (NYSE:PFF) to speed my search, here are three I believe are worth considering:
State Street


Common: NYSE:STT
Preferred: NYSE:STT-PC
The first rule when buying preferred shares, in my opinion, is to choose companies where you'd have no problem owning the common shares. Although yield is important, ultimately it comes down to the strength of the business behind the quasi-debt instrument.
State Street, for those unaware, is the second-largest ETF company in the U.S. with 25% market share compared to 42.2% for BlackRock's (NYSE:BLK) iShares unit. The SPDR brand is part of State Street's investment management business, operated under State Street Global Advisors, while the investment servicing business provides custodian-type assistance for financial services companies around the globe. Although it's a much bigger piece of the pie at this point, the ETF business is clearly coming on. In the fourth quarter, its management fees increased 29% year-over-year to $260 million. For all of 2012, they grew 9% year-over-year to $993 million.
State Street's Series C Preferred Stock pays an annual dividend equivalent to 5.25% interest. The company issued these shares last August, raising $488 million in net proceeds, which it used to redeem all of its outstanding Series A Preferred Stock, which in turn redeemed what are called "Fixed-to-Floating Rate Normal Automatic Preferred Enhanced Capital Securities" (or Normal APEX for short). The most important thing here is that State Street took preferred shares paying 8.25% and replaced them with those paying 300 basis points less.
Buying one common and one preferred share will yield 2.8% at the present moment. It's not 9%, but it's better than the 1.7% for the common alone.
Charles Schwab


Common: NYSE:SCHW
Preferred: NYSE:SCHW-PB
The discount broker announced Feb. 21 that its 15 equity and fixed-income ETFs reached $10 billion in assets under management only three years after setting up shop in 2009.
I write a weekly article about ETFs, so I'm well aware of Schwab's dirt-cheap ETFs; they're the least expensive of all the fund companies, including Vanguard. Even better, all of its funds have at least $200 million in net assets, with three at more than $1 billion in AUM. Guggenheim recently announced it was liquidating nine ETFs, and fund closings continue to happen on a regular basis, but Schwab's ETF investors can rest easy knowing theirs won't.
Schwab's 6% Non-Cumulative Perpetual Preferred, Series B, closed trading Feb. 21 at $26.34, about 6% above the $25 issue price from last June. They currently yield 5.7%. The preferred shares are non-cumulative, which means Schwab does not have to make up for any missed dividend payments — that's unlikely happen, but worth keeping in mind. In addition, Schwab can begin redeeming the shares in September 2017.
The combined yield of Schwab's common and preferred as of February 21 is 4.1%.
NorthStar Realty Finance


Common: NYSE:NRF
Preferred: NYSE:NRF-PC
NorthStar does a little of everything: It loans money for commercial real estate properties; invests in commercial mortgage-backed securities and collateralized debt obligation notes backed by CMBS'; invests in net lease properties; and manages other people's commercial real estate assets.
Three years ago, NRF shares were trading at less than 50% of book value; today, their valuation is more than triple that. Not to worry, though — this past year was a good one for the small-cap REIT, and 2013 looks even better.
In NorthStar's Q4 conference call, it projected that a minimum of 87 cents per share in cash would be available for distribution in the coming year, 18% higher than in 2012. It expects to pay a 72-cent annual dividend on the common, which at its $8.32 closing price on Feb. 21 is a yield of 8.7%.
NRF has three series of preferred shares with coupon rates of 8.75%, 8.25% and 8.875%, respectively. I've chosen Series C, which pays the highest coupon rate and currently yields that amount. Given its projections of net distributable cash in 2013, it should have at least $25 million left over after paying out both the common and preferred. Also, it's important to note that NorthStar's preferred shares are cumulative in nature; dividends are to be paid ahead of common shareholders.
The common and preferred combine for a yield of 8.75%. There's obviously some risk involved here, but if you don't bet the farm, I think you'll do just fine.
As of this writing, Will Ashworth did not hold a position in any of the aforementioned securities.