"Business, more than any other occupation, is a continual dealing with the future;
it is a continual calculation, an instinctive exercise in foresight." – Henry R. Luce
The stock market had a rather raucous few days during the week, which included our worst single-day plunge since November, thanks to, of all things, unexpected election results in Italy. But after some good earnings and positive economic reports, plus bullish comments from Mr. Bernanke, the stock market regained its legs; the Dow is now only steps away from an all-time high. You know, it's a wonder what pumping in a few trillion dollars can do for a market's spirits.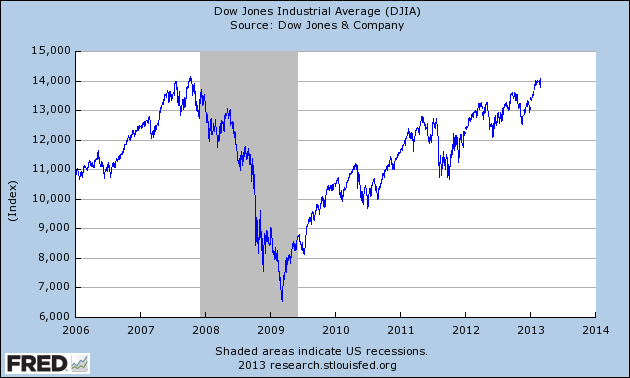 Here's an interesting fact: The S&P 500 has risen in both January and February. Since 1945, the S&P 500 has been positive for the first two months of the year 26 times. Every single time that's happened, the index has closed higher for the year. No exceptions. In fact, it's usually closed a lot higher. The average total gain, including dividends, has been 24%. If the S&P 500 were to rack up a 24% total return this year, the index would have to be well over 1,700 by the end of the year.
Of course, I'm not predicting such a move. We're too smart to play the price targets game around here, but I do think this market will continue to be tricky. Frankly, earnings estimates are too high, and I see a lot of lousy stocks gaining ground. That's not a good sign. On the plus side, the economic recovery is starting to gain some momentum, and our Buy List continues to be an oasis in a troubling climate. As usual, our strategy is to ignore the noise and remain focused on high-quality stocks.
We didn't have any earnings reports this week, so I'm going to discuss some broader themes impacting the market. First, let's look at what had the market so grumpy earlier this week.
Reports of the Euro's Death Are Greatly Exaggerated
The early news on Monday showed that it looked like Pier Luigi Bersani's left-of-center party was going to win the election in Italy. But as the results came in, both Beppe Grillo and Silvio Berlusconi, who are, respectively, a former comedian and a former Prime Minister, did much better than expected. The better they did, the worse stocks did.
In other words, the ditch-the-euro-and-bury-austerity crowd is still pulling in a lot of votes. As it turns out, Italians prefer governing themselves and not having Germany tell them what to do. Who knew? In fact, Grillo and Berlusconi did so well that due to the rules of Italy's legislature, probably no one will be able to cobble together a governing coalition. And that probably means it's back to the polls we go.
So here we are in 2013, with our portfolios noticeably impacted by the decision of a former comedian not to join in the governing of the Italian nation. My friends, we live in interesting times.
Now you might think it's odd that I'm discussing these election results in a service dedicated to investing, and I have to agree with you—it is odd. But like the proverbial flap of a butterfly's wing that causes a tornado thousands of miles away, the election results have far-reaching consequences. For one, the S&P 500 dropped 27.75 points on Monday, and it was the worst daily loss since the day after President Obama's reelection.
Now let me explain what's really going on and what it means for us: The plan to save Europe was perfectly drawn up and perfectly executed. There was one teeny, tiny, minor, little flaw: no one bothered to ask the voters. Well, technically they did ask, but the pro-euro policies slid by in Greece and other places. Now in Italy, voters are pushing back. That's why this isn't just about one election. It's really a much broader battle, and that's why our market reacted so dramatically. Bear in mind that the establishment's candidate wasn't Bersani; it was the current Prime Minister Mario Monti, and he was totally blown out.
If the anti-euro and anti-austerity movement gains power, it could undermine all the work that's been done to save the eurozone. Remember last summer when Mr. Draghi made his dramatic statement that he was prepared to do whatever it takes to save the euro? Just look at any chart from that period and you'll see that's precisely when the lines that had been going down started to rise and when the rising lines started to fall. More specifically, that's when investors finally stepped away from crowding en masse into U.S. Treasuries and started buying dollar-denominated stocks. That's also when cyclical stocks started to take the lead. We've come a long way, so the recent events in Italy are seen as a big threat.
Here's my take: This latest round is really a political crisis, whereas the previous episodes were part of a financial crisis. The good news is that bond yields in Europe are down dramatically from where they had been last summer. I think this was another example of investors who had already been looking to exit some U.S. stocks jumping on this excuse to unload their positions. The fundamentals in Europe and the U.S. are much better. Panicky traders, however, will never change. There may be more euro flare-ups to come, but those whom the Bond Market Gods wish to destroy, they first make Greek or Spanish. Maybe Portuguese. But not Italian.