It's no secret that Warren Buffett loves trains — after all, his Berkshire Hathaway (BRK.A) ponied up a whopping $26 billion for Burlington Northern Santa Fe in 2010.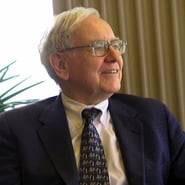 And the Oracle of Omaha is still a fan. As he told CNBC on Monday:
"All of the rails have done well recently…As long as more goods move from place to place in this country, rails are going to get their share and it should be a very profitable business."
Despite headwinds like sluggish economic growth and declining coal volumes, the right railroad stocks still make sense for the value investor. Here's why: This year's brutal winter sent natural gas prices soaring — which caused many utilities to fire up coal plants again to keep the lid on electricity costs. And 70% of that coal travels by rail.
But the biggest reason for Buffett's continued confidence in railroad stocks is the recent boom in North American oil production — particularly from North Dakota's Baaken shale formation. With delays in approval of the Keystone XL pipeline, some 400,000 carloads of crude oil moved by rail last year — more than 40 times the number of carloads transported in 2008, according to the Association of American Railroads.
But railroad stocks will not rise or fall on shale oil transport alone: Drilling is providing growth in so-called "frac sand" and related minerals. Railroads also are making a big play in the intermodal sector — hauling containerized freight. The auto industry is rising, too — both finished vehicles and parts. Since a train can move a ton of freight 476 miles on a single gallon of diesel fuel — four times more efficiently than by truck — freight rail stocks are poised to keep delivering.
Here are three hot railroad stocks to buy if you want to be like Warren Buffett:
Union Pacific (UNP)

If you're looking for a pure-play that competes directly with Buffett's BNSF, Union Pacific (UNP) is a your best choice among railroad stocks. UNP stock boasts a massive $83.9 billion market cap and is trading around $184; it has gained 10% so far this year.
UNP stock posted record fourth quarter earnings of $2.55 per share in January — 13% higher than the same quarter in 2012. Its $5.6 billion revenue is a gain of 7% from a year earlier, and occurred despite lower crude oil shipments and weather-related impacts during the quarter.
UNP has a particularly robust agricultural products business that transports everything from bulk grains to frozen foods. Grain carload volume alone increased 41% due to bumper crops in America's heartland. Because UNP's network spans 23 states in the West and Southwest, it also is a dominant player in rail traffic between the U.S. and Mexico.
With a price to earnings growth (PEG) ratio of 1.2 and a forward P/E of 15, UNP stock looks slightly overvalued compared to other railroad stocks, but given the growth opportunities in its lines of business and well-managed infrastructure upgrades, UNP stock looks poised to keep delivering for investors. Its 2% dividend yield might not be flashy, but it's sustainable, with room for growth.
Canadian Pacific Railway (CP)

Canadian Pacific Railway (CP) is a different kind of play in railroad stocks — its network extends from Montreal to Vancouver in Canada, and serves the Midwestern and Northeast U.S. CP stock reported EPS of $1.91 in the fourth quarter on a top line of $1.6 billion, beating the consensus estimate by 4 cents per share. That figure also blows away the $1.28 per share earnings from a year earlier.
CP's recent agreement to sell 660 miles of Dakota, Minnesota and Eastern Railroad track to short-line operator Genesee & Wyoming (GWR) is only the most recent in a series of restructuring moves that aim to refocus the railroad away from large, lower margin international contracts.
Canadian Pacific's domestic intermodal business has been a particularly profitable niche, but you can't discount the value of the shale oil boom in CP's back yard. The railroad transported 90,000 carloads of crude in 2013 and could more than double that volume by 2015. Conscious of regulators' safety concerns, CP will begin a $325 per car surcharge next week on shippers that use older model cars that have been more susceptible to puncturing in accidents.
CP stock has a token 0.8% dividend yield, which doesn't dazzle, even among railroad stocks. But its 0.67 PEG ratio makes it look undervalued now. CP stock is trading around $158 and has gained 5% year-to-date.
Norfolk Southern (NSC)

Norfolk Southern's (NSC) 20,000-mile rail network covers 22 eastern states and the District of Columbia. In the fourth quarter, NSC stock delivered earnings per share of $1.64 — an increase of 26%. The railroad also grew revenues 7% during the quarter to $2.9 billion.
NSC has a fairly well diversified transport business and has offset declining coal revenues with growth in its intermodal and merchandise shipping businesses. NSC's merchandise market includes crude oil, as well as shale-related liquid petroleum gases and frac sand shipments.That makes its business considerably more diversified than other railroad stocks.
NSC got a black eye in February after a 120-car train carrying crude oil derailed in western Pennsylvania; three cars punctured in the derailment, spilling 3,000 to 4,000 gallons of heavy crude oil. Even so, the primary drivers of growth for NSC stock in 2014 will continue to be intermodal and merchandise shipments.
Although NSC has done a good job of managing expenses, it also is committed to capital improvements, which will provide a solid foundation for the railroad's future growth plans. NSC stock has a PEG ratio of 1.3, suggesting that it could be slightly overvalued. Still, its forward P/E of 12.9 is the lowest among this group of railroad stocks, and its current dividend yield of 2.3% is the highest.
NSC stock, which is trading around $94, is up 3% year to date.
As of this writing, Susan J. Aluise did not hold a position in any of the aforementioned securities.