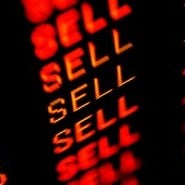 While the market seems to have sidestepped a meltdown and looks healthy enough to keep stocks afloat, the reality is that plenty of stocks are vulnerable to more than a little downside.
Whether for technical reasons, fundamental reasons, or a combination of both, time has finally caught up with some of this year's best-performing stocks. Five of them, in fact, are so vulnerable right now that the smart-money move here may be to simply go ahead and sell them.
Here's a closer look at what's wrong with these five stocks to sell, and exactly what could go wrong with each.
Stocks to Sell: General Motors (GM)

When a car company is forced to issue a recall, it's damaging to its reputation, but generally survivable. When individuals have died because of the flawed part, the reputation recovery is considerably difficult. When the company knew of the risks associated with the flawed part and simply ignored that risk, consumers tend not to forget it for a long time.
So, what about an automobile maker who does all of that and — before the dust of the gaffe is even done settling — is forced to widen the recall by another 3.4 million vehicles? Well, by that point salvaging what's left of a respected brand is a lost cause and the ticker easily makes it onto a list of stocks to sell. And as of yesterday, that's the General Motors (GM) story thanks to more faulty ignition switches.
The total cost to repair the ignition switches is estimated to be $700 million. That's not going to do anything to help the value of already-fragile GM stock, which is already down 12% year-to-date. Even more frustrating is how it was just starting to look like GM stock was on the road to recovery, up 12% since its mid-April low.
Sell GM stock before the next recall is announced.
Stocks to Sell: Canadian Pacific Railway (CP)

Those who know Canadian Pacific Railway (CP) well will probably know it's been a bullish juggernaut since the end of April, rallying 18% since then. CP stock has been fueled by a combination of higher price targets, reports of rising volume, and a flurry of positive opinionated press like this.
So why, pray tell, is CP stock being added to a list of stocks to sell? Because nothing lasts forever, and sometimes it's best to proactively lock in gains than reactively be forced out by a stock's inevitable post-rally pullback.
Besides, while Canadian Pacific has been a consistent growth machine for years (in sales as well as earnings), this year's and next year's projected income improvements may be exceedingly lofty goals. The pros say earnings should increase from $6.42 per share of CP stock last year to $8.53 this year … a 33% jump. For 2015, these same pros are saying the bottom line is poised to grow from $8.53 to $10.53 per share of CP stock — another 23% increase. Canadian Pacific has had a great run, but the unrealistic aspect of those numbers (even with the stock buyback) is apt to sink in soon.
Stocks to Sell: Michael Kors (KORS)

There's no red flag waving over Michael Kors (KORS) stock that makes it an instant sell. Rather, an odd response from investors to yet another solid quarter suggests the end of the euphoria that had driven KORS stock up so well since late-2012. And now, despite being a category leader, Michael Kors is a stock with not enough reward left to justify the risk.
For perspective, KORS stock is up 45% for the past twelve months, and had been up as much as 60% in February. Since the end of 2011, it's still up an amazing 260%.
It was a well-deserved run. Michael Kors grew its annual sales by more than 50% over the course of the past two years. The problem is that the strong run from KORS stock has left shares at a trailing P/E of 28, with concerns mounting that it's going to hit the growth wall at some point in the foreseeable future. That's why investors have been selling it despite the seemingly strong results.
Better to get out at a still-decent price than be flushed out by a rapidly-deteriorating one, making KORS is one of five stocks to sell this month.
Stocks to Sell: CorVel (CRVL)

Anyone who was lucky enough to own CorVel (CRVL) before May of last year probably felt like CRVL stock was pushing its luck by January of this year. By that time, shares had nearly doubled in value, and were ripe for profit-taking. But, the stock was at least holding ground, offering hope that it could establish as new technical base and rekindle the uptrend.
Well, time and a key moving average line have finally caught up with the chart. CRVL stock hasn't renewed 2013's rally, and, as of yesterday, shares closed under a key support level around $45.00 — simultaneously closing below their 200-day moving average line for the first time since January of last year.
There's not much left to stop the bleeding now. Sell CRVL before it falls further.
Stocks to Sell: Cheetah Mobile (CMCM)

Cheetah Mobile (CMCM) is squarely in the midst of two compelling trends … the rise of mobile connectivity in China, and the burgeoning need for digital security of the devices that make mobile-web possible.
Never heard of the company? A lot of people haven't, actually. CMCM only went public in the U.S. in early May, and has rallied more than 50% from its IPO price. In fact, that very rally, on top of the still-unclear prospects for the company, is the red flag indicating that it's time to take the money and run. Investors can perhaps get back into the stock — likely at a lower price — once it begins filing its required quarterly SEC documents.
Said more directly, CMCM stock should be added to a list of stocks to sell largely because most new IPOs see a rapid run-up early on before getting punished (in spades) after the buzz wears off.
As of this writing, James Brumley did not hold a position in any of the aforementioned securities.