Warren Buffett is an icon of value investing. At Berkshire Hathaway (BRK.A, BRK.B), his team exhaustively researches stocks for big bargains with solid balance sheets and good income potential, then buys and holds to huge profits.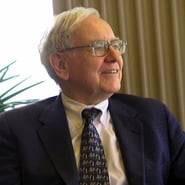 And the fact that Warren Buffett isn't buying anything right now despite a $50 billion-plus cash hoard is pretty telling.
According to Bloomberg reports, cash at Berkshire Hathaway "rose past $50 billion at the end of June, the first time it finished a quarter above that level since he became chairman and chief executive officer more than four decades ago."
This is a startling sign, because it could indicate that the Oracle of Omaha simply doesn't see anything out there worth throwing his money at — and could indicate that, broadly, there is not a lot of value to be had in the current environment.
Berkshire's Big Deals Dry Up
Before you think the cash hoard is mounting simply because Berkshire Hathaway is being gun-shy, remember that Warren Buffett and his associates have made some of the biggest deals in the history of BRK in the last few years, including:
A 50% stake in ketchup giant Heinz, valued at about $11.5 billion at the time of the transaction in early 2013.
A 5%-plus stake in megacap tech stock IBM (IBM), worth almost $11 billion at the time of transaction in 2011.
The outright purchase of Burlington Northern Santa Fe railroad in 2009, valued at more than $26 billion.
Now, Buffett previously has said that he likes to keep a lot of dry powder just in case he sees a "fat pitch" that is just begging for a buyout, and more practically because Berkshire Hathaway's insurance businesses might need the funds on the off chance that unusually large claims require fast cash.
But Bloomberg's recent analysis of Warren Buffett's spending trends at Berkshire Hathaway shows that cash has been steadily on the rise for some time. And even after taking big hits from those aforementioned big deals — the recent dip on this chart is, naturally, from the Heinz transaction — cash is extremely elevated based on a few years ago and continues to move steadily higher.
With the S&P 500 marching steadily higher and with price-to-earnings multiples expanding with each passing day, it's clear that the best value investor on the planet is not seeing that many values out there right now.
As one industry insider was quoted by Bloomberg as saying, "The guy's just not going to spend the cash to spend it."
Buffett, he says, is "the best market timer I ever saw."
And judging by the cash stockpile at Berkshire Hathaway right now, Warren Buffett doesn't seem to think this is the time to buy.
Jeff Reeves is the editor of InvestorPlace.com and the author of The Frugal Investor's Guide to Finding Great Stocks. As of this writing, he did not hold a position in any of the aforementioned securities. Write him at editor@investorplace.com or follow him on Twitter via @JeffReevesIP.