The simple fact is, most people look at the wrong metric when analyzing high-yield funds like these. If we look at their return of based on price alone, they're all getting crushed by the S&P 500:
Price Returns Look Bad…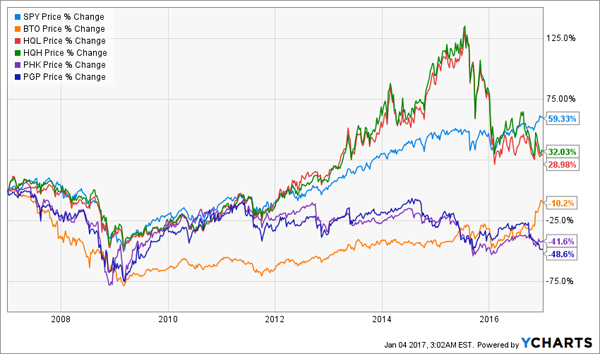 But if we look at their total returns, which include all dividends paid, these funds have clobbered the S&P 500 over the past decade:
…But the "Real" Numbers Tell a Different Story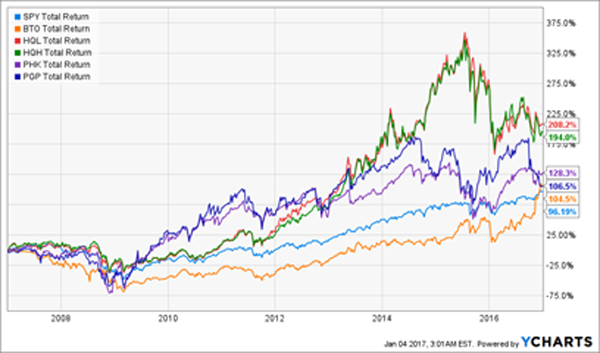 These funds also boast a hidden feature that cuts your risk. The longer we hold them, the less exposed we are to radical market downturns, because we're given high dividends in cash.
The payouts in this portfolio go as high as 13.3% for PHK:
High Yields Mean Ample Liquidity, Peace of Mind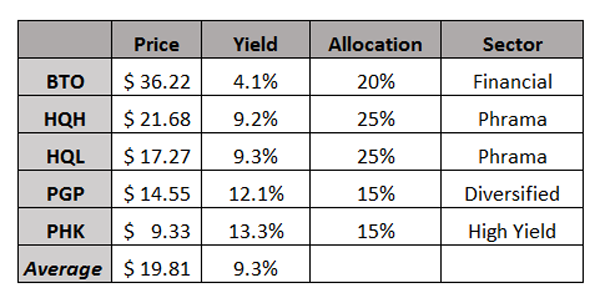 If we buy these funds according to the allocations above, we will constantly get more cash out of this portfolio, and we can put that cash elsewhere if we feel these funds are getting too expensive, or if we're worried about a looming downturn. That's much harder to do with a conventional passive S&P 500 index fund.
And if you want to use the portfolio as a passive income stream, that will work, too. Thanks to their combined 9.3% dividend yield, these five funds give you enough cash that you won't need to sell any shares to keep a strong income stream going. Put $100,000 in them, and you'll get $775 per month in income. If you want to do that with the S&P 500, you'd need to put in over $400,000—or four times as much capital!
The great thing about this is that the longer you hold on to the portfolio, the more you can actively control the assets. If you feel this portfolio is too risky, that's fine; after two years, you can allocate over 18% of the assets to something ultra-low risk, or just keep it in cash to reduce your overall volatility.
After a little more than five years, you can put half of your initial investment into other assets, if you so choose. Again, that's not possible with a passive index fund.
The power is in your hands because of the large distributions these funds provide…