Stocks moved slightly higher on Thursday in a quiet holiday session. Bitcoin provided a dose of excitement, however, with prices falling back below $14,000 in the wake of reports of a possible regulatory crackdown in South Korea — including requiring exchanges to verify user identities to fight money laundering activity — and work of another "hard fork" before the end of the year.
In the end, the Dow Jones Industrial Average gained 0.3%, the S&P 500 gained 0.2%, the Nasdaq Composite gained 0.2% and the Russell 2000 gained 0.3%. Treasury bonds declined, the dollar fell, gold gained 0.4% and crude oil added 0.5%.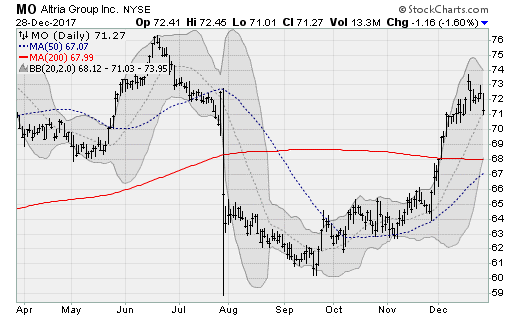 Defensive telecom stocks led the way with a 0.5% gain while consumer staples were the laggards, down 0.2%. Netflix, Inc. (NASDAQ:NFLX) gained 3.5% in an attempt to push back up and over its 50-day moving average. Altria (NYSE:MO) fell 1.6%. When Netflix and cigarettes are the height of the action, you know Wall Street is mostly shut down.
Conclusion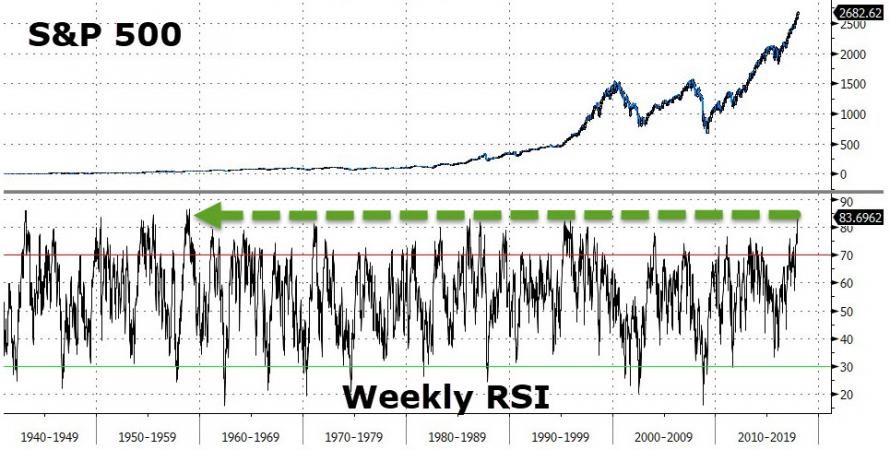 The overbought situation just keeps getting more and more ridiculous, with the weekly RSI indicator hitting levels not seen since the late 1950s as risk and worry fade away; replaced by ebullience and extreme confidence.
There is evidence that some areas of the market are braced for a possible changing of the tide come January, with the yield curve collapsing to its flattest levels since 2007, utility stocks rolling over, and the Nasdaq suffering mid-day sell-offs as traders exit crowded big-cap tech stock positions.
Today's Trading Landscape
To see a list of the companies reporting earnings today, click here.
For a list of this week's economic reports due out, click here.
Anthony Mirhaydari is the founder of the Edge (ETFs) and Edge Pro (Options) investment advisory newsletters. Free two- and four-week trial offers have been extended to InvestorPlace readers.