Global markets are again under pressure on Thursday amid ongoing uncertainty about the future of the eurozone amid the rise of anti-establishment parties in Italy and Spain.
The latest is that a coalition government will likely take power in Rome between the leftist Five Star (think Bernie Sanders) and the League (think Trump) united in their displeasure with the euro and the fiscal austerity measures imposed by Brussels.
This will likely head off the need for snap elections later this year, but it opens the door to fiscal largesse that could weaken the debt market calm Europe has enjoyed since 2012. More volatility is coming on Friday when Spain is scheduled to hold a confidence vote expected to topple the existing government that's been in place since 2011.
In response, U.S. equities look set for some downside extension. Here are three exchange-traded funds that provide simple upside exposure to the eurozone situation:
ETFs to Play the Italy Crisis: ProShares Ultra 20+ Year Treasury (UBT)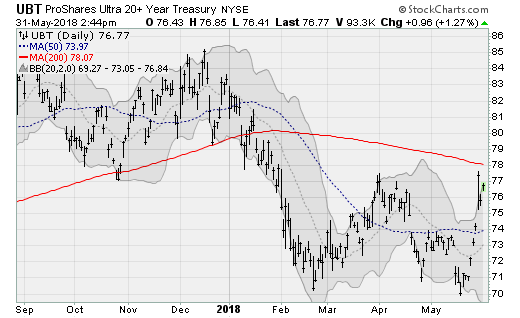 The ProShares Ultra 20+ Year Treasury (NYSEARCA:UBT) provides leveraged exposure to long-term U.S. Treasury bonds, which have been rallying on safe-haven inflows in a big way over the past two weeks as investors have fled European markets. That's pushing down U.S. interest rates as well.
There's a short-covering dynamic to all of this as well, as investors had accumulated a massive net short position against U.S. Treasury bonds on the expectation that further Federal Reserve interest rate hikes and bubbling inflationary pressure would continue to push prices lower.
That's being interrupted now, setting the stage for some panicked buying and further upside for the UBT.
ETFs to Play the Italy Crisis: iShares Italy ETF (EWI)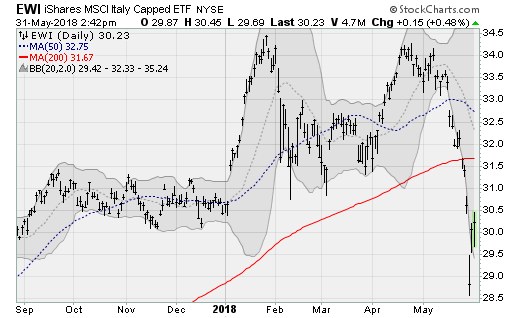 The iShares Italy ETF (NYSEARCA:EWI) has been hit hard since double-topping near their January high earlier this month. The fund seeks to track the results of the MSCI Italy 25/50 index including components such as Enel SpA and UniCredit SpA.
Italian bank stocks have been hit particularly hard on fears the further losses in Italian sovereign bonds will undermine the capital asset position of Italy's financial system, since its banks use Italian government bonds as reserve holdings.
This dynamic underpins worries about a "death spiral" where government bond weakness results in bank weakness, which necessitates a government bailout, further weakening government bonds.
ETFs to Play the Italy Crisis: ProShares UltraShort Euro (EUO)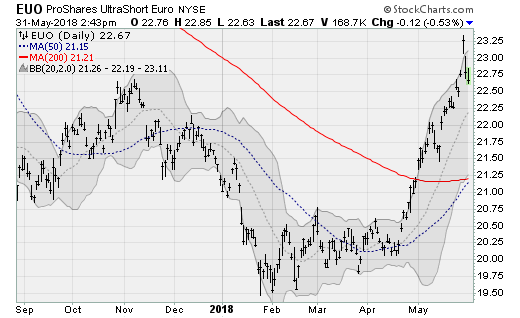 The ProShares UltraShort Euro (NYSEARCA:EUO), which gives investors easy and quick leveraged inverse exposure to the euro, has been on a tear since the political situation in Italy took a turn for the worse rising more than 16% from its late January low.
The concern, obviously, is that Italy could potentially exit the eurozone if Brussels doesn't give in to demands for a fiscal loosening with anti-establishment parties looking to enact policies like basic income benefits and tax cuts.
Anthony Mirhaydari is the founder of the Edge (ETFs) and Edge Pro (Options) investment advisory newsletters. Free two- and four-week trial offers have been extended to InvestorPlace readers.