Did you fail to capitalize on Advanced Micro Devices (NASDAQ:AMD) bullish earnings report? Relax, better opportunities in AMD stock are right around the corner … or perhaps, even here today depending on what kind of bull you are.
Let me explain.
It has been several trading sessions since AMD stock surprised Wall Street investors to the upside. Sure, the latest quarter missed and Q1 looks weak. But AMD's report wasn't a bearish bombshell and the type peer Nvidia (NASDAQ:NVDA) supplied just prior to Advanced Micro Devices' announcement. And there's more going on with AMD too.
More compelling than simply being a relief or better-than-feared rally, Advanced Micro Devices stock delivered in spades with its longer-term, full-year outlook. In turn, despite all the nay-saying bears, the semiconductor outfit continues to fire on all cylinders under CEO Lisa Su.
For its part, Wall Street more than just listened — investors rightfully went into 'buy, buy, buy!" mode. The good news for today's AMD bulls is that if you think you've missed out following the two-day, 26% jump in the AMD stock price, you haven't.
AMD Stock Monthly Chart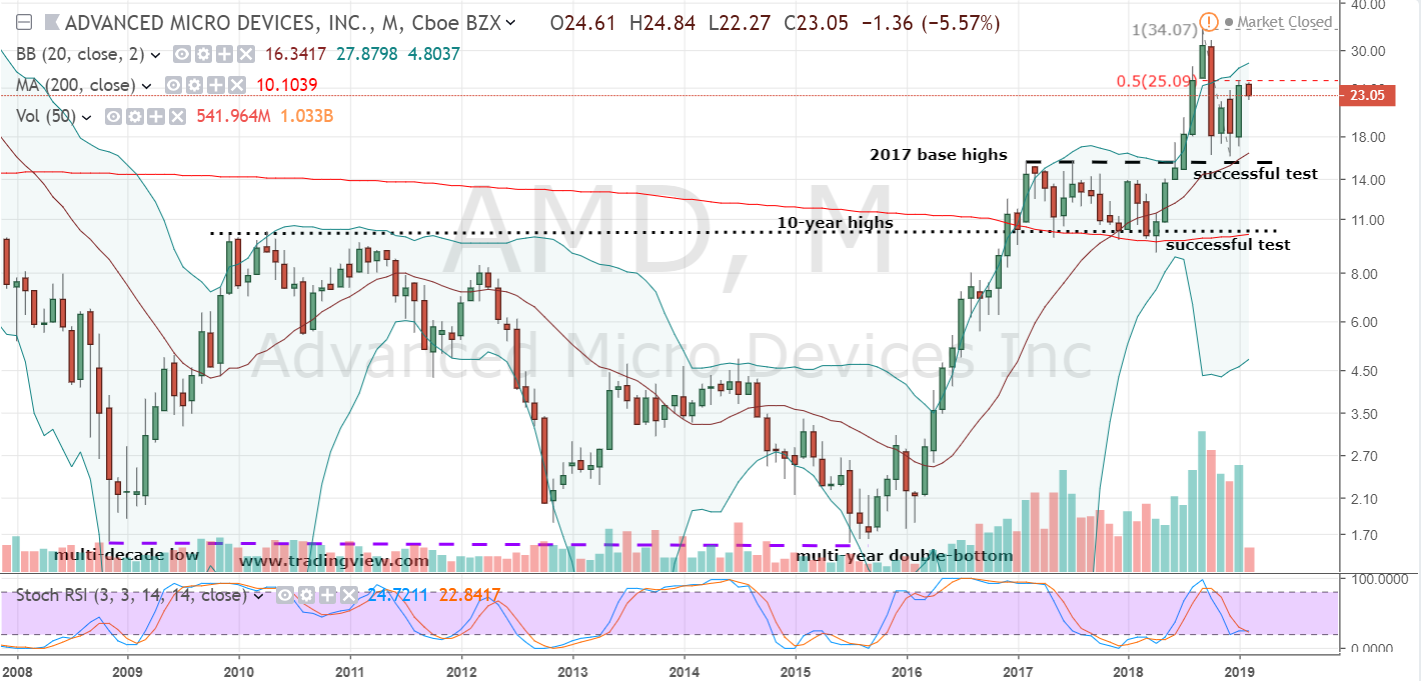 Back in mid-November when discussing AMD stock, I was optimistic a bottom was at hand, following a swift-and-hard hitting correction into value territory, supported by Fibonacci, price congestion and key moving averages.
The bullish call in Advanced Micro Devices stock wasn't without almost immediate and difficult price behavior, but the outlook has proved correct. Ultimately, a double-bottom formed by late December and AMD has gone on to build a new uptrend over the last several weeks.
AMD Stock Daily Chart

Now, after a six-day pullback which began in earnest at the 50% retracement level, AMD stock is in position to buy on weakness. I'm anticipating a resumption of AMD's new trend is around the corner, if not already started.
Three Ways to Buy AMD Stock
Friday's bullish engulfing candlestick pattern suggests an upside reversal from the small counter-trend pattern could be underway for those shorter-term investors maintaining an eye on the daily chart.
For those appreciative of the smaller time-frame, the AMD stock price is in position to be bought through Friday's high of $23.28. In respecting the simple pullback pattern, a stop-loss just beneath the newly formed pivot low of $22.27 makes sense and amounts to risk of just over $1.00 or 4.3%.
A second blended method for purchasing AMD stock is to wait for a wee-bit more of trend confirmation on the larger time-frames.
I see a move above the December mid-pivot high of $23.75 within the double-bottom pattern as sufficient evidence Advanced Micro Devices stock is reaffirming the bullish trend. Despite the additional confirmation, an entry above $23.75 doesn't give away too much upside and smartly keeps risk contained to 6.2% if Friday's pivot low is used as a stop-loss.
Lastly, if traders demand reduced and steadfast risk control and expect new highs to be reached over the next couple months, if not sooner, the April $26 / $29 bull call spread is an effective spread with lots of profit potential and less than 3% of the exposure of holding AMD stock.
Disclosure: Investment accounts under Christopher Tyler's management currently own positions in AMD stock and / or AMD derivatives, but no other securities mentioned in this article. The information offered is based upon Christopher Tyler's observations and strictly intended for educational purposes only; the use of which is the responsibility of the individual. For additional options-based strategies, related musings or to ask a question, you can find and follow Chris on Twitter @Options_CAT and StockTwits.