The age of solar has begun … huge investment wealth will be created … how The Daily 10X is putting its subscribers in position for these gains … Luke Lango's solar pick
As I write, the presidential election outcome remains up in the air.
But as we noted in yesterday's Digest, who wins is largely irrelevant in the big picture. That's because neither candidate can stop the growth of certain investment megatrends that will reshape our world this decade.
Today, let's talk about one such megatrend that is already making investors very wealthy.
Better still, it isn't yet on the radar for most investors — which means there's still plenty of room for huge gains.
Pulling back, whether you realize it or not, we are living through a great shift.
It's a paradigm change — history will look back at this time as a "before" and "after" line in the sand. In short, we're witnessing the transition from fossil fuels to renewable energy — specifically, solar energy.
Decades from now, investors will look back at today and long for the chance to have invested even a meager sum in the solar sector.
But we're here now. We have the ability to be a part of this massive wave of wealth creation, practically from the beginning.
In this Digest, we're going to put a stock on your radar that is poised to climb by hundreds, even thousands of percent this decade.
It comes to you from our newest analyst, Luke Lango, and his service, The Daily 10X Stock Report.
As Luke writes:
… solar energy will take over the energy generation market once it becomes the cheapest electricity source in the world.

That time is now.
Let's dive into the details and see which stock Luke has in his crosshairs today.

***An Introduction to The Daily 10X Stock Report
For newer Digest readers, let me provide a bit of context on The Daily 10X Stock Report.
Or, rephrased from the skeptic's perspective, why should you pay any attention to today's issue?
The Daily 10X was created earlier this summer for one sole purpose:
Deliver to your inbox — every day the market is open — a top-notch small-cap stock pick that could rise by 1,000% or more in the long run.
Given this, before we get to Luke's solar pick, how well is the service fulfilling its intended goal?
This past Sunday, Luke answered that question in an update to subscribers:
The last two months have not been pretty on Wall Street. Rising Covid-19 cases. A fresh round of lockdowns. Intense political division and uncertainty. Stalled stimulus discussions.

The market has faced no shortage of headwinds, and as a result, the S&P 500 dropped about 4% in September. The index shed another 3% in October.

And yet, amid this choppy down market, we've continued to tell you about emerging small-cap investment opportunities that have defied the broader market and surged higher anyway.
Luke pointed toward Magnite (MGNI), the streaming TV ad tech platform that soared as much as 63% since highlighted in mid-September …
Or Jinko Solar (JKS), the Chinese solar module manufacturer that has climbed much as 240% over the same period.
Then there was The Very Good Food Company (VRYYF), the emerging vegan meats maker. It has tacked on as much as 112% in the three weeks since Luke highlighted it.
Overall, here's the latest scorecard for The Daily 10X: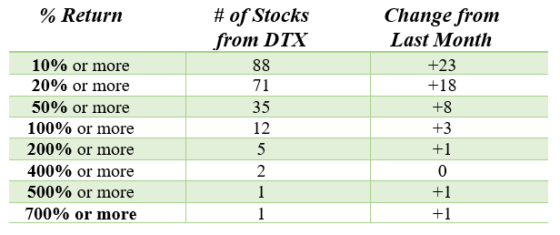 With this greater understanding of the service behind us, let's now refocus on the opportunity today in solar.

***Why "this time it's different"
In recent decades, solar hasn't treated investors all that well.
That's because, while holding the promise of big returns, most solar ventures have been busts.
One of the biggest reasons why boils down to cost. Solar energy has simply been too expensive to make work.
But this has changed — and it's behind the rise of solar today.
Here's Luke for more:
Just last month, the International Energy Agency (IEA) announced some groundbreaking news.

They said that solar energy is taking over the world.

Ok … the IEA didn't say that word-for-word. But they may as well have, because what they did say word-for-word in their 464-page 2020 annual energy outlook report is that: "solar [energy] is now the cheapest source of electricity in history."

What more do solar bulls need?

Once economic drivers show up to a party, there's no going back.

Computers went mainstream as soon as IBM and Apple made them affordable for the masses in the 1990s.

Smartphones became ubiquitous as soon as Apple started selling iPhones for $100 in the early 2010s.

Tesla cars started showing up everywhere on the road once the company was able to successfully mass-produce the affordable Model 3.

And … yes … solar energy will take over the energy generation market once it becomes the cheapest electricity source in the world.

That time is now.
Several months ago, here in the Digest, we highlighted work from angel investor and clean energy expert, Ramez Nann.
Nann noted that solar costs were plunging in price faster than anyone — including himself — had predicted.
He wrote that the price of electricity from utility-scale solar projects (the unsubsidized cost) had dropped by a factor of somewhere between 5 and 8 in the years from 2010 to 2020.
What that meant was solar has reached today's prices literally decades ahead of when all but one of these forecasts expected.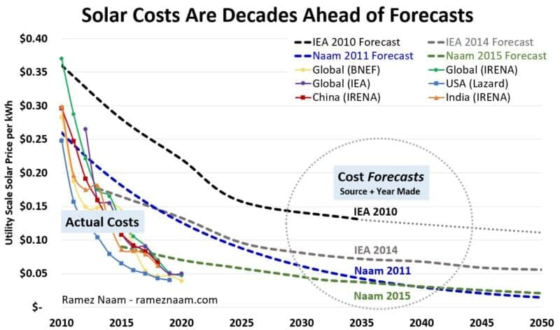 It turns out, solar has reached prices today that are 30 to 40 years ahead of what the IEA forecast in its 2014 Solar Technology Roadmap.
This is huge for investors.
Back to Luke:
… economics will be the single largest driving force of the solar megatrend — and that single largest driver just showed up to the party.

Over the next 10 to 20 years, solar energy's share of electricity generation in the U.S. will march from a meager 6.8% in 2019, to 30%-plus, implying potential solar energy capacity growth of over 400%.

In other words, this is a huge growth market, and the time to invest is right now.

***The premier solar stock poised for 10X growth
So, we have the massive tailwind of pricing-economics behind solar. What's the best company to play this trend?
From Luke:
One of the highest-quality, most compelling ways to play the solar energy megatrend of the next 20 years is through buying shares of SunPower (SPWR). At a high level, SunPower is a $2.7 billion downstream, integrated solar energy distribution and storage leader in the U.S. and Canada that provides an end-to-end, consumer-facing solution which includes solar project origination, financing, installation, and service/maintenance through a connected software app.

In other words, the company doesn't make solar panels and invest in upstream R&D. Rather, the company just sells, finances, and installs solar panels and accompanying panel management software into residential and commercial end-markets.
Luke goes on to explain that there are three principal tailwinds behind SunPower.
The first is its first-mover's advantage.
It turns out, SunPower has been in the solar energy game for decades.
Over that period, it has amassed leading share in the industry's most mature geographies, like California, where it commands a full 9% of the residential solar market.
But it's not just residential. SunPower has been the number one commercial solar player in the U.S. for three straight years.
Moving to the second tailwind for SunPower, Luke explains that the company has best-in-breed solar panels with industry-leading specs.
From Luke:
SunPower's solar panels are widely recognized as the most efficient panels in the market, with an average efficiency of 19% to 23%, markedly higher than the industry-average range of 14% to 18% efficiency …

… the panels are a bit pricier than the norm. But not by much (about 15% more expensive), and customers say that this premium is both worth it for the higher-quality panels as well as offset by the fact that SunPower offers a wide array of in-house financing solutions. That's why SunPower has one of the market's best Net Promoter Scores at 69.

In other words, SunPower is today and projects to remain the domestic solar industry's dominant premium brand.
The third tailwind behind SunPower is its stock price.
Luke writes that SunPower is a $2.7 billion company trading at just 2X forward sales. Compare that to its competitors, which sport 10X forward sales ratios.
Wrapping up, we have a solar sector whose time has come thanks to pricing-economics … we have a best-in-breed solar leader with strong market share and a premium product … and we have a discounted valuation that leaves plenty of room for gains.
For more opportunities like this with Luke's 10X service, click here.
I'll give him the final word on SunPower:
As an undervalued, high-quality asset in that booming (solar) space, SunPower stock could easily rise 10X over the next few years — meaning that you should consider taking a position in SunPower stock today.
Have a good evening,
Jeff Remsburg