More momentum in the legalized marijuana sector … another mainstream company embraces bitcoin … get ready for flying taxis
Lots happening in the news. So, in today's Digest, let's bounce around to a handful of stories affecting your portfolio.
***COVID-19 vaccinations are slated to begin today, marking an historic turning point in the coronavirus battle
Pfizer began shipping its vaccine last night. Roughly 145 U.S. hospitals are in line to receive doses today, with 425 more tomorrow and another 66 on Wednesday.
Pfizer expects 25 million doses will be available by the end of the month. We're also looking for the Moderna vaccine to be approved later this week, which would push that number even higher.
Overall, expectations are for 100 million Americans, or nearly a third of our country, to be immunized by February or March. The hope is we'd see a general public inoculation by summer.
As to the investment implications of this, as we've noted here in the Digest, this hardly means the "work-from-home" trade is done. But it does mean it's time to begin looking at those stocks that will roar as the economy reopens.
Our thematic expert, Matt McCall, calls this "the proximity trade."
Here he is to explain:
The proximity trade means buying high-quality businesses that got hammered because of distancing but can thrive as we start getting back together.

When you buy the depressed shares of companies that have been hit by a serious but solvable problem, the gains can be extraordinary when things work out positively.

So, think about that. We're talking airlines as people start flying again. (I'll be on a plane several times over the next month.)

Hotels as people travel again.

Casinos. Sports. (I can't wait to be able to go to a game again.) Entertainment.
We'll keep you up to speed here in the Digest as Matt highlights specific ways to play the proximity trade as we move toward spring.
***Meanwhile, just over a week ago, the House of Representatives passed historic legislation
The House passed the Marijuana Opportunity Reinvestment and Expungement (MORE) Act, which would remove marijuana from the Controlled Substances Act.
It would also authorize a 5% tax on marijuana sales that would fund community and small business grant programs.
While this is a major domino to fall as our nation continues down the path toward marijuana legalization, it's unlikely the bill will be made into law.
On this note, let's return to Matt, who is also our marijuana investment expert and editor of Cannabis Cash Weekly:
As big as this is for the industry, it is just the next step forward — albeit a big one. Keep in mind a couple of things.

First, the bill now goes to the Senate, which is led by Mitch McConnell, and is likely to be voted down immediately.

Second, decriminalization is not quite the same as legalization at the federal level. I remain convinced that legalization will be the ultimate outcome, but it will take more time.

In the end, decriminalization needs to happen first … and will happen. Right now, I look for it in early 2021, with legalization then likely in the following 12-24 months if all goes well.

***In the meantime, the pro-marijuana news keeps coming. Just a few examples, all from last week …
The House approved a separate bill focused on promoting marijuana research, in part by allowing scientists to access cannabis from state-legal dispensaries.
Over in Wyoming, a new survey finds that 54% of residents want to allow "adults in Wyoming to legally possess marijuana for personal use." This is up from 37% in 2014.
And in Nebraska, state senators are drafting an initiative to legalize marijuana for adult use. At present, 15 states have legalized adult marijuana use.
This momentum is translating into quick investment gains in marijuana sector.
Below is the chart of the popular marijuana ETF, "MJ." It's the Alternate Harvest ETF.
Since this ETF contains dozens of stocks that are engaged in the legal cultivation, production, marketing or distribution of cannabis products, it's a loose proxy for how the broader marijuana industry is performing.
As you can see, it's up 40% since the start of November.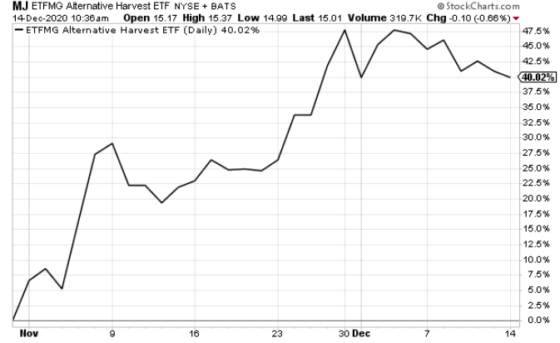 Back to Matt for his broad takeaway for marijuana investors:
The big picture remains favorable for the industry and for us as investors.

U.S. cannabis stocks in particular are set to move higher as the largest market in the world for cannabis gets closer to opening its doors.

***Over in the crypto sector, we just saw another sign of mainstream bitcoin adoption
Last Thursday, we learned that 169-Year-Old MassMutual has invested $100 million into bitcoin.
Relative to the size of its general investment account of nearly $235 billion, this allocation is tiny — just 0.04%. However, a company spokesperson noted "We see this initial investment as a first step, and like any investment, may explore future opportunities."
Plus, the investment size isn't nearly as significant as the investment itself.
The fact that stodgy, 'ole MassMutual is getting into bitcoin is further evidence of the surging acceptance of the cryptocurrency as a legitimate storehouse of value.
On this note, in October, payments player, Square, began holding portions of its cash reserves in bitcoin. It bought 4,709 bitcoins, worth approximately $50 million. This represents about 1% of Square's total assets as of the end of the second quarter of 2020.
Also, from October, global payments giant PayPal Holdings began allowing customers to buy and sell bitcoin and other cryptocurrencies from their accounts. Bloomberg reports that a full 26 million merchants in PayPal's network now accept cryptocurrencies.
And back in August, Fidelity Investments (with $3.3 trillion in assets) announced the launch of its first bitcoin mutual fund.
The bottom-line is that bitcoin continues to transition from "weird fringe speculation" to "mainstream asset class."
In addition to being our marijuana expert, Matt is also our crypto specialist. In his November issue of Ultimate Crypto, he predicted we'll see bitcoin reach $40k per coin by mid-2021. That would mean more than 100% gains by summer.
But Matt believes we'll see even more fireworks from elite altcoins, such as his pick Chainlink. Ultimate Crypto subscribers who acted on Matt's recommendation have already locked in a gain of 552% on a portion of their Chainlink investment and are now holding for more gains.
If Matt's right, get ready for a new wave of triple-digit returns as bitcoin's adoption continues paving the way for these small, explosive altcoins.

***Finally, over in tech news, we're a step closer to flying taxis
Regular Digest readers know we believe self-driving cars — aka "autonomous vehicles" (AVs) — represent one of the biggest, most disruptive investment opportunities of the next 20 years. This innovation will transform huge portions of our economy and create trillion-dollar ripple effects.
But as we've reported here in the Digest, this trend isn't just limited to cars.
For years now, companies like Boeing have been working on autonomous air taxis, such as the one pictured below.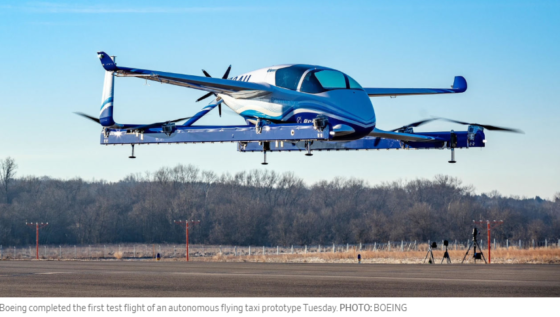 Just days ago, Uber agreed to sell its flying taxi unit to Joby Aviation. And last week, we learned that Joby is getting a huge boost from the U.S. military … which puts us one step closer to being flown about town as we run errands.
From The Wall Street Journal:
The Air Force has issued a first-of-its-kind safety endorsement of an electric-powered vehicle similar to a helicopter, opening the door to using such commercially developed equipment for military missions.

This initial stamp of approval is meant to lay the groundwork for eventual civilian certification of the technology and even approval of autonomous flights crossing American cities …
Below is Joby's prototype.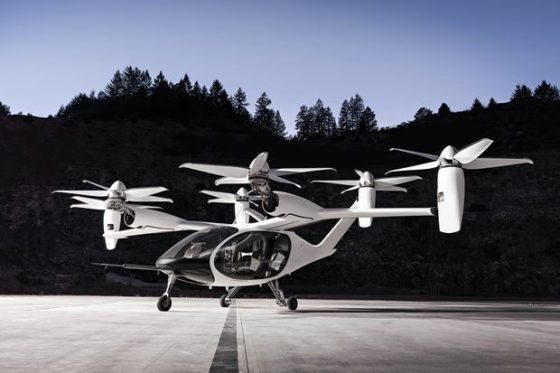 Matt has been at the forefront of this trend as well (busy guy).
In fact, here he is at the CES convention in Las Vegas earlier this year, standing in front of the Hyundai/Uber flying car.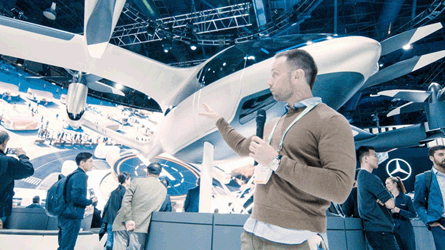 In Matt's MoneyLine podcast from last week, he talked about flying cars.
Here's how he described this part of his podcast:
Tesla will be a huge part of Transportation 2.0, but there's another company out there that is pushing us even farther into the future. I'm talking about … flying cars!

Don't think Back to the Future or The Jetsons. Think small helicopters that help you avoid rush hour traffic when you only have to go a couple miles.

You might think I'm crazy — my coworkers sometimes laugh at me — but I promise, this is the future.
In his podcast, Matt references a small Chinese stock called EHang, which he recommended to his Early Stage Investor subscribers back in April. It's now up roughly 70%. And based on its earnings growth, there are likely plenty more gains coming.
From Matt's podcast:
I'm telling you — part of the future of transportation will be autonomous flying vehicles …

It's going to be real …

And [EHang] is a company you don't want to ignore.
I should note that Matt's podcast is full of timely market commentary, investment tips, and as you just saw, the specific names of stocks Matt likes. If you haven't checked it out, give it a listen.
We'll continue to keep you updated on all the news affecting your portfolio here in the Digest.
Have a good evening,
Jeff Remsburg