I have a new mantra for 2021:
Buy the dip.
It's actually not that new. It's a cornerstone of my long-term investing philosophy.
Assets don't go up in a straight line. So, if you know the longer-term trend is up, those dips that sometimes look like crashes are in fact bargain opportunities.
The prime example happened nearly one year ago when stocks descended into a bear market faster than at any other time in history. The market is back at all-time highs, and many stocks have multiplied in the recovery.
Buying opportunities of that magnitude are rare, but normal pullbacks happen all the time.
That's what we saw this week in one of the hottest investments out there, and you can bet I was practicing what I preach …
Before I went to bed Thursday night, I bought more bitcoin. And as I write this Friday afternoon, the crypto is up 10%.
So far, so good … but I never expect a straight shot up. And if it dips again, I'll probably buy some more.
When identifying buying opportunities, I look at both the charts and the big picture. Let's start with a few bitcoin charts.
Here's the five-day chart through Friday morning … kind of scary, huh?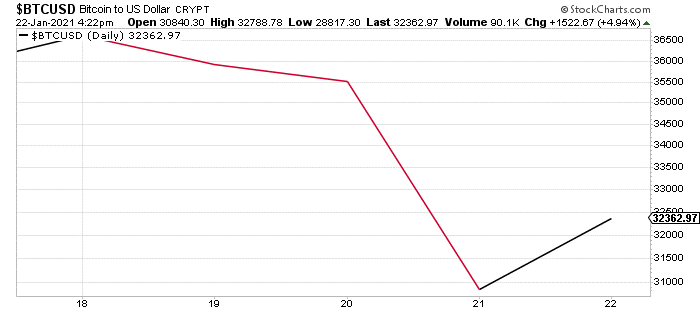 Let's zoom out a little bit and look at the last month. It's better, but the action still probably wouldn't alleviate all your concerns: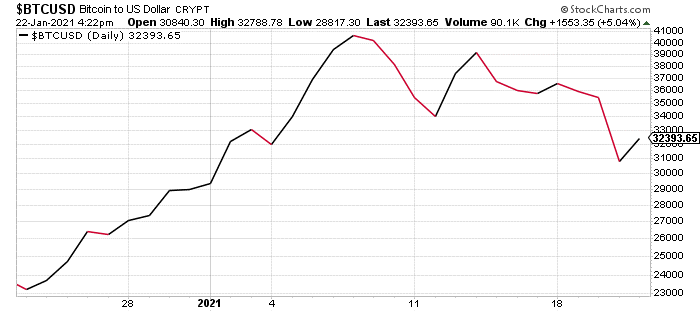 And finally, let's look at the one-year chart. All of a sudden, that 25% pullback you see above (from $41,000 to $31,000) seems a lot less frightening.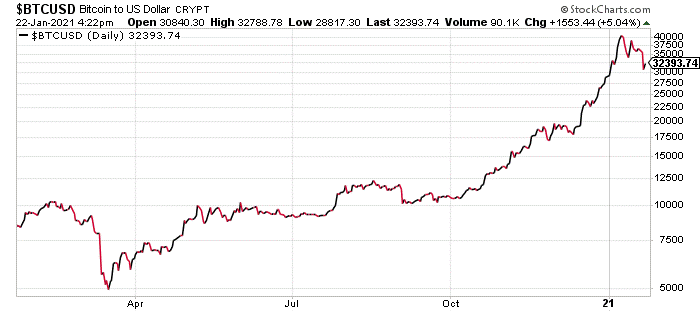 I wasn't the only one buying. Michael Saylor, CEO of MicroStrategy, tweeted that his company bought $10 million more in bitcoin, making the company's total stake of 70,784 bitcoins worth $2.3 billion.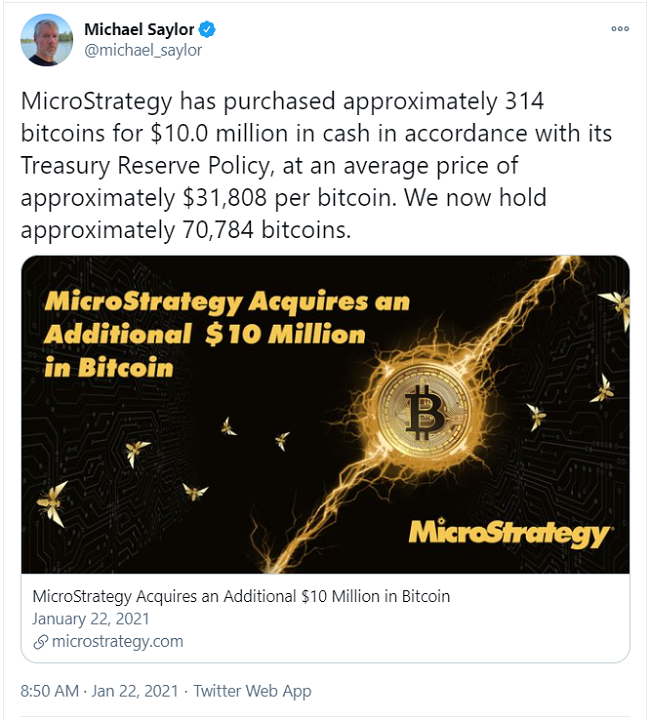 I wouldn't buy more if I wasn't convinced of the long-term potential … and neither would MicroStrategy
So if you think you missed the crypto train, you can relax. Even if cryptocurrencies pull back again in the coming weeks and months, the strong fundamentals that drove the massive rally will fuel the next one. And at that point, we could easily be looking at "Bitcoin $100,000."
If you're a regular MoneyWire reader, you know that as much as I like bitcoin … I like altcoins even more.
Altcoin is a fancy name for any cryptocurrency other than bitcoin. It's the oldest and the largest, so it's in a class buy itself. But invest in the right altcoins, and you could be looking at massive, potentially life-changing growth.
I've mentioned before that you should view altcoins as revolutionary new software programs — not fantasy internet money. And that brings me to a big cryptocurrency catalyst on the horizon.
It's a special situation rapidly unfolding in the crypto markets right now, and I can tell you what it is in two words:
Decentralized finance.
Or "DeFi," if you prefer it in one word.
DeFi is a global movement toward an open financial system. I'm talking savings, loans, insurance, trading, betting, and more… all accessible in one place to anyone with an internet connection.
Best of all … the government can never touch it.
Remember, bitcoin and altcoins are run on the blockchain, which means smart contracts. We don't need an intermediary like a lawyer or banker with smart contracts.
This could end up saving us thousands of dollars and man-hours in the long run.
I like to think of DeFi as a high-tech vending machine. With just a single click of your finger, you'll be able to take out a loan or mortgage … buy a new insurance policy… make money loaning out your money… invest in stocks, bonds, or any other asset class … and deposit your cash into a safe savings account.
You'll do all of this in one place — right from your phone or computer — without dealing with middlemen and their unnecessary fees.
Let me give you a couple of examples.
One is a DeFi altcoin called Compound. It is revolutionizing the way we borrow and lend money by allowing you to lend out crypto and earn interest in return. You can even use Compound to take out a loan — without using a bank or middleman.
Aave is another altcoin in the DeFi space. It's similar to Compound in that it helps people earn interest on their assets and take out loans.
Aave grew 24,532% in just over one year. That's equivalent to a 250X gain!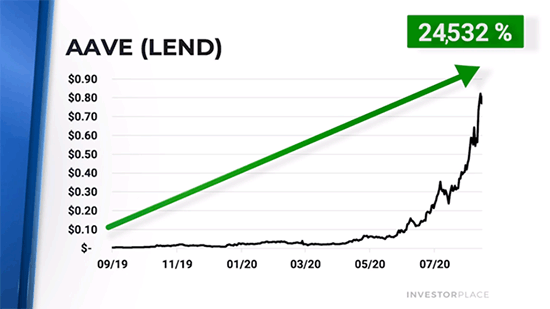 DeFi is set to become the biggest revolution to occur in finance in centuries. InternationalBanker.com calls it "a major breakthrough in the world of financial services."
And as a result, it can unleash a powerful new wealth-creation force. So you need to know about it now.
On the date of publication, Matthew McCall did not have (either directly or indirectly) any positions in the securities mentioned in this article.
Matthew McCall left Wall Street to actually help investors — by getting them into the world's biggest, most revolutionary trends BEFORE anyone else. Click here to see what Matt has up his sleeve now.