There are a number of ways to invest in autonomous (self-driving) automotive technology. One way to take a position is through shares of MicroVision (NASDAQ:MVIS) — and since MVIS stock has declined, there could be a buying opportunity here.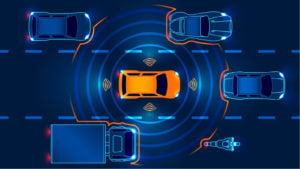 The company specializes in designing and manufacturing lidar systems, which use laser beams to form a three-dimensional image of the surveyed surroundings. These images are used to create a real-time map of the environment. On-board computers can then use this to help navigate self-driving vehicles.
Because MicroVision is one of the few publicly traded, pure-play lidar names, MVIS stock is a solid pick for folks who are ready to invest in the future of self-driving-vehicle technology.
And with the market anticipating the company's introduction of new and exciting lidar products, MicroVision absolutely deserves to be on your radar.
MVIS Stock at a Glance
Would you believe that MVIS stock was a penny stock as recently as December of last year? By "penny stock" I mean a stock that's trading for less than $5 as that's how the U.S. Securities and Exchange Commission (SEC) defines the term.
A year ago, you could have picked up the shares for around 25 cents apiece. However, the stock price catapulted higher in 2020 as the market gained interest in self-driving technology.
Amazingly, MVIS stock reached a 52-week high of $24.18 on Feb. 16, 2021. Yet, I wouldn't generally recommend chasing after a stock that's gone parabolic.
And indeed, MicroVision shares couldn't maintain that nearly vertical trajectory in February. The stock price retraced in the back half of that month and then wobbled around in March and early April.
That's not a bad thing if you believe in the company and if you've been waiting for a better buy price. Today, MVIS stock trades at $10 and change, a major discount compared to the February peak price.
A Market Worth Pursuing
Among my favorite strategies is to invest in markets that have powerful growth potential but that are still in their early stages.
MicroVision isn't a new company by any means. In fact, the company was incorporated back in 1993.
Yet, lidar tech is still in the process of being discovered by the markets. We could perhaps compare this technology to the internet in the early 1990s: It was there, but many investors hadn't caught on to it quite yet.
According to analytic firm Fortune Business Insights, the global lidar market is projected to reach $6.71 billion by the year 2026. Moreover, from 2019 to 2026, that market is projected to exhibit a compound annual growth rate (CAGR) of 22.7%.
Sure, you could invest in this market by owning stocks of automotive companies. But MicroVision could be the ideal picks-and-shovels type of play in lidar tech.
Think of it this way. You could bet on a particular gold-mining company. Or, you could invest in a business that sells the picks and shovels to many different gold-mining companies.
Getting Ready for the Rollout
MicroVision could become the provider of lidar tech for many different automotive businesses — a perfect picks-and-shovels type of investment.
Of course, being a leader in the industry would mean continuing to innovate. Thankfully, MicroVision appears to be preparing to rollout significant new lidar-market products.
CEO Sumit Sharma recently offered glimpses of what's coming through the pipeline this year — and even this month.
"I expect that the A-Sample hardware and benchmarked data, for demonstration to interested parties, will be available in the April 2021 timeframe," Sharma said in a statement not long ago.
Moreover, Sharma recently teased that "a version of our solid-state long-range LiDAR sensor could be available for sale in small quantities in Q3 or Q4 this year."
A wait-and-see approach might not be the best strategy for prospective MVIS stock traders. You can either get ready for upcoming product rollouts with a long position in the stock, or you can sit on the sidelines and possibly miss out on the gains.
The Takeaway
MicroVision shares have pulled back to a reduced price point. That's not a bad thing if you've been waiting for a prime buying opportunity.
The data indicates future growth for the global lidar market. You can sit back and watch it happen, or you can take a position today.
Besides, MicroVision's new product rollouts may be happening soon. Therefore, today could be the right day to start buying MVIS stock.
On the date of publication, neither Louis Navellier nor the InvestorPlace Research Staff member primarily responsible for this article held (either directly or indirectly) any positions in the securities mentioned in this article.
Louis Navellier, who has been called "one of the most important money managers of our time," has broken the silence in this shocking "tell all" video… exposing one of the most shocking events in our country's history… and the one move every American needs to make today.