Marin Software (NASDAQ:MRIN) stock has been on a roller coaster ride for the past several weeks. On June 16, it was at $1.64 per share, but then it shot up to $24.14 by July 6. It closed last week at $17.36, sporting a $190.4 million market capitalization. MRIN stock cannot sustain this valuation. The stock is likely to fall further.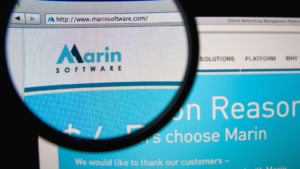 There was nothing special in the company's May 6 release of first-quarter earnings that would explain the gains that followed. In fact, the company, which makes enterprise software for the advertising industry, reported 27% lower revenue than last year. In addition, it posted a net income loss of $2.212 million and an operating loss of $2.5 million on a non-GAAP basis.
Ditto for seeing nothing exciting in the guidance the company provided for Q2. It projected that there would be a non-GAAP operating loss of $3.5 million. That is actually worse than the $2.9 million operating loss last year ending June 30. So, again, there is no real reason why the stock should have moved up so high, so fast.
The only possible news that could have affected the stock so dramatically was the company's June 23 announcement about Instacart Ads. That firm added the ability to use Marin's software in their online ads. This makes it easier for brands to connect with customers directly at the point of sale. The problem though is that Marin Software has not incorporated any higher revenue in their forecast as a result of this new client.
Cash Flow Problems Abound
As of March 31, the software company had $14.67 million in cash on its balance sheet, along with $540,000 in restricted cash, or a total of $15.21 million. In addition, it has $1.727 million in long-term debt. So its net cash is just $13.48 million.
Moreover, last quarter the company burnt through $2.67 million during Q1. This can be seen on page 6 of its 10-Q in the Condensed Consolidated Statement of Cash Flows. It shows that cash flow from operations (CFFO) was negative $2.241 million. In addition, Marin Software spent $426,000 on both capex and capitalized software expenses. So, its total cash burn was $2.67 million.
Therefore, assuming the cash is used to pay down debt, the net cash has room for five quarters (i.e., $13.48 million /$2.67 million = 5.0). But for all practical purposes, this actually means just four quarters, since the company would need the last quarter to raise emergency cash and/or shut the company.
So, as I see it, Marin needs to raise more equity during the next four quarters, unless it can become cash-flow positive. So far this doesn't seem possible, especially since the company is already forecasting higher operating losses for Q2 (see above).
What To Do With MRIN Stock
This is a case of a severely overvalued, pumped-up stock that is highly likely to fall much further. Nobody in their right investing mind would buy MRIN stock based on its fundamentals right now. And to say that it is a speculative play would be doing an injustice. It is so speculative that I cannot even put odds on the merits of the situation.
That should mean you should find ways, if you are so inclined, to either short the stock, buy puts on it, or short out-of-the-money calls on it (without owning the underlying security). That way you can take advantage of its highly likely fall from these levels today.
In other words, most defensive investors will stay away from MRIN stock, and those who are speculators will find ways to benefit from its fall.
On the date of publication, Mark R. Hake did not hold a position in any security mentioned in the article. The opinions expressed in this article are those of the writer, subject to the InvestorPlace.com Publishing Guidelines.
Mark Hake writes about personal finance on mrhake.medium.com and runs the Total Yield Value Guide which you can review here.