The "risk-on" trade is off… or at least slightly less on.
In less than the time it takes to click the "sell" button in an online brokerage account, the pervasive investor sentiment has shifted from greed to caution.
Gone are the swarms of swashbuckling investors who would eagerly bid up even the most speculative of stocks. The investors who remain active today are much less courageous… and much more skittish.
As a result, most stocks are struggling to make headway, even when they deliver positive surprises to the market. Worse, stocks that disappoint in any way are receiving a swift and severe reckoning from investors.
"Risk-off" phases like these are normal parts of stock market cycles, but that doesn't make them any less frustrating… or anxiety-inducing.
At the "big picture" level, the broad stock market is struggling, which creates a headwind for individual stocks.
One small wrinkle could boost your returns 5X
Even though the S&P 500 index notched a new all-time high as recently as Sept. 2, many major stock market sectors topped out months ago. Even many of the tech-focused sectors that had been leading the market for the last couple of years have been losing steam.
In no particular order, the:
Russell 2000 index topped out March 15 and has slumped 7% since then.
MSCI Emerging Market index topped out Feb. 16 and has dropped 15% since then.
Dow Jones Transportation index topped out May 10 and has slipped 9% since then.
High-profile ARK Innovation ETF (NYSEARCA:ARKK) run by celebrity manager Cathie Wood topped out Feb. 16 and has tumbled 30% since then.
Invesco Solar ETF (NYSEARCA:TAN) topped out January 25 and has plummeted 35% since then.
Amplify Online Retail ETF (NYSEARCA:IBUY) topped out February 16 and has dropped 17% since then.
VanEck Vectors Video Gaming and eSports ETF (NASDAQ:ESPO) topped out February 16 and has dropped 16% since then.
These poor results reflect the significant underlying weakness of our "record-setting" market. Its knees are wobbling a bit.
As one popular gauge of stock market vitality shows, the stock market has been losing strength since last May.
Specifically, the number of new 52-week highs on the New York Stock Exchange is hitting a one-year low, while the number of new lows is hitting a one-year high.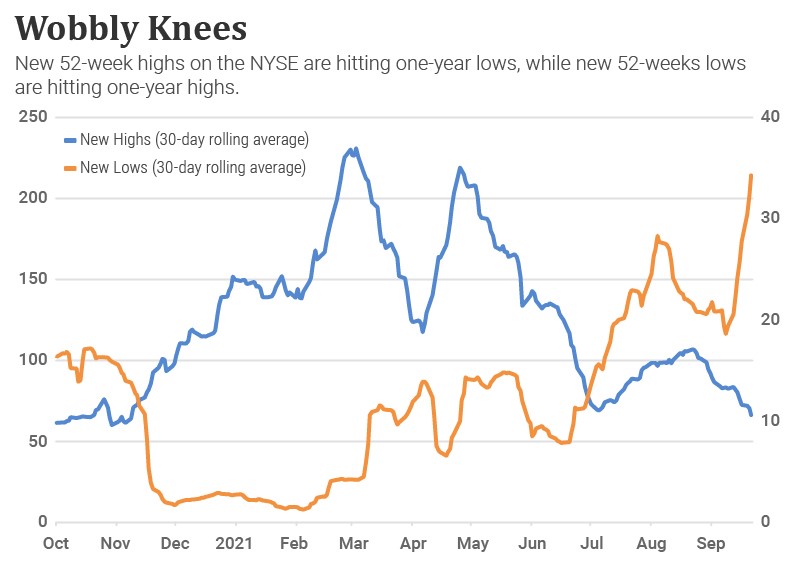 These bearish readings are not the typical vital signs of a healthy stock market.
Fortunately, the news is not all doom and gloom.
This simple strategy could transform a small stock move into a huge gain – see how it works here
Remember, even in the midst of challenging market conditions, it is possible to capture meaningful gains. Identifying megatrends is one of the best ways to achieve market-indifferent success.
After all, our goal as investors is not to simply drift along in the market's ever-changing currents… and to go wherever it happens to take us. Our goal is to identify the powerful trends that can chart their own course to investment gains, no matter what the market "currents" may be.
Identifying megatrends is not always easy, but the search is well worth the effort. A couple of years ago, I highlighted the "battery metal" sector as a megatrend investment play on the nascent boom in EVs and energy storage.
Over the ensuing months, I urged subscribers of The Speculator to buy select battery metal plays like in Galaxy Resources (OTCMKTS:GALXF), Eramet SA (OTCMKTS:ERMAY), Ivanhoe Mines (OTCMKTS:IVPAF), Lynas Rare Earths (OTCMKTS:LYSCF), and Nickel 28 Capital (OTCMKTS:CONXF).
During the last 12 months, all five of these recommendations produced gains ranging from 100% to 300%, compared to the S&P 500's 30% advance.
More to the point, these stocks did not slavishly follow the stock market's day-to-day price action; they produced their triple-digit gains by charting an independent course that was not closely correlated with the S&P 500.
The ability to deliver non-correlated gains is a rare and valuable quality during challenging stock market phases.
I believe battery metal stocks still offer plenty of upside, and I continue to make select recommendations in the sector. But the battery metal sector is not the only mega-trend beneficiary that has caught my eye.
I have identified two others that I believe will reward investors handsomely over the coming years, even if the overall stock market takes a breather for a while.
Obviously, investment success is never easily won, nor is it often immediate. Even modest gains usually take time to play out, but investing selectively in megatrends can increase the odds of success.
To learn more about how I identify, approach, and show my readers how to profit from megatrends, join my colleague Louis Navellier and me at our Escape Velocity Event.
There, we'll go through how you can turn ordinary gains into extraordinary ones – even a 159% stock move into a 4,157% windfall.
Click here to see how.
Regards,
Eric Fry
P.S. Turning small stock moves into huge gains is one of the best-kept secrets in investing. Backtests show you could transform a triple-digit stock move into a staggering quadruple-digit win! Click here to get the full story.
On the date of publication, Eric Fry did not have (either directly or indirectly) any positions in the securities mentioned in this article.
Eric Fry is an award-winning stock picker with numerous "10-bagger" calls — in good markets AND bad. How? By finding potent global megatrends… before they take off. In fact, Eric has recommended 41 different 1,000%+ stock market winners in his career. Plus, he beat 650 of the world's most famous investors (including Bill Ackman and David Einhorn) in a contest. And today he's revealing his next potential 1,000% winner for free, right here.