CRISPR is an acronym which refers to a series of DNA sequences in bacteria and other organisms. Scientists have begun editing genes, including CRISPR, to try to improve human health. Using CRISPR, scientists can slice into DNA, altering it and reducing the negative impact of a variety of maladies. CRISPR-based medicines and therapies are currently being tested as treatments for cancer, neurodegenerative diseases, and other illnesses.
CRISPR has come a long way in a short time. An initial paper documenting the phenomenon was published in 2011, and the authors received a Nobel Prize for their work in 2020. Meanwhile, the FDA has started to approve drugs based on the technology.
That said, some challenges remain when it comes to using CRISPR. It is expensive and technically challenging to develop certain kinds of therapies based on gene editing. In addition, side effects have been observed, such as those caused by off-target responses,
Regardless, money keeps flowing into the gene editing space, and these three CRISPR stocks are worthy of investors' attention going forward.
| | | |
| --- | --- | --- |
| CRSP | CRISPR | $57.47 |
| EDIT | Editas | $11.70 |
| TXG | 10x Genomics | $51.04 |
CRISPR Therapeutics (CRSP)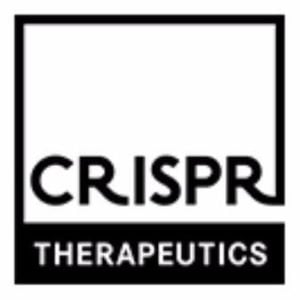 While many biotech firms are now developing therapies that incorporate gene editing, CRISPR Therapeutics (NASDAQ:CRSP) stands out since it was a first mover in the niche. CRISPR went public with an IPO back in 2016 at $14 per share. By 2021, CRSP stock skyrocketed to as high as $200, thanks to the company's advancing clinical pipeline and investors' increased interest in the space.
CRSP stock has now cooled off dramatically, with the shares trading around the $57 mark today. Given this big decline, CRISPR is now changing hands at a more reasonable market capitalization of $4.34 billion.
That market capitalization gets investors an advanced portfolio of hemoglobinopathies, oncology treatments, regenerative medicine, and treatments for rare diseases. Its drug for sickle cell, in particular, is in the advanced stages of clinical development and appears likely to be marketed to doctors relatively soon.
CRISPR doesn't have consistent recurring revenues yet and is losing a sizable sum of money. However, the company has a great balance sheet as it had $1.9 billion of cash and short-term investments as of Sept. 30.
That gives it plenty of firepower to keep advancing its R&D programs and hopefully start generating meaningful revenue in the future.
Editas Medicine (EDIT)
Editas Medicine (NASDAQ:EDIT) is a clinical-stage biotechnology company focusing on genome editing technologies. It is appealing as a CRISPR technology play since Editas is developing a broad platform that's built on gene editing.
The company currently has a range of drug candidates that could potentially treat conditions, including childhood blindness, hearing loss, sickle cell, and solid tumor cells. In addition, Editas has developed partnerships with other firms, including Allergan and Celgene.
EDIT's outlook is also promising because it has a number of different items in its clinical pipeline. In addition, its multiple partnerships and collaborations diversify its business.
Like many young biotechnology firms, EDIT still poses a significant amount of risk. However, Editas' wide range of drug candidates gives it more opportunities to win. Further, giving EDIT another positive catalyst, the company has won multiple court cases related to its intellectual property involving CRISPR technology.
10X Genomics, Inc. (TXG)
Another way to get exposure to the CRISPR trend is by owning the companies that make lab tools for the industry. 10X Genomics (NASDAQ:TXG) is one of the best names in that category.
10X has become the leader of single-cell analysis. 10X's machines allow researchers to make more detailed conclusions about single cells within organisms. That is particularly useful for identifying cells that can be used to fight cancer and other diseases.
As cell-editing proliferates, it will be vital for companies to obtain tools that enable higher-quality, faster, and cheaper analysis of single cells. 10X Genomics is well-suited to meet that demand. However, 10X faces meaningful competition and will have to keep improving its product to maintain its current leadership position.
That said, 10X appears to be on a good trajectory. Analysts, on average, expect the company's 2022 revenue to come in at $500 million. up from just $71 million in 2017 Meanwhile, with TXG stock down 52% over the past year, its valuation has become much more attractive.
On the date of publication, Ian Bezek did not have (either directly or indirectly) any positions in the securities mentioned in this article. The opinions expressed in this article are those of the writer, subject to the InvestorPlace.com Publishing Guidelines.