Word on the street is that AST SpaceMobile (NASDAQ:ASTS) could soon find itself included in the Russell 2000 Index. And recent rumors could be causing ASTS stock to trend upward, but we're more interested in this company's astronomical long-term opportunity.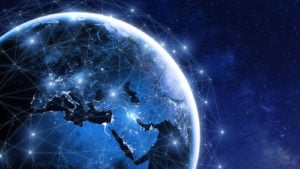 While this will boost short-term morale, which is fantastic, we're already sold on this potentially globe-disrupting mobile service provider.
We aren't looking for minimal gains in the near future … We're looking at meteoric gains in the distant future.
Most people don't have that kind of patience, as evidenced by the current day-to-day meme stock frenzy, but when you consider just how valuable this stock could become "one day," we hope you'll join us on this journey.
With over 1,000 patent claims, a high chance of being the first-mover as a true space-based mobile network — other "space networks" don't solve the coverage problem as efficiently — and an exceptional engineering team, betting on SpaceMobile is a no-brainer.
AST SpaceMobile Has Its Work Cut Out For It
Did we mention that SpaceMobile is in a league of its own?
For one, they're building the world's first space-based cellular network.
Other networks, like Elon Musk's Starlink, tether via satellite to towers on the ground. Starlink can provide service to anyone, anywhere … As long as they are within range of a tower.
We think this kind of defeats the purpose of space mobile networks. It's a Band-Aid — a very cool one — on an infrastructure that will be outdated soon enough.
This clearly beats the current system, by enabling so-called space networks to broadcast in remote locations that it sets up towers in, but it isn't forward-looking enough for us.
SpaceMobile takes this whole idea one step further. And that's why we think it'll possibly be the most innovative and disruptive mobile company in the next few years.
Truly Space-Based
Rather than require towers, as previously mentioned, SpaceMobile broadcasts directly to individuals' phones. No line of sight to towers or satellites is needed either, making dead spots a thing of the past.
Hiking through uncharted territory? You're connected.
Traveling through foreign countries where your usual service provider doesn't have great coverage? You're still connected.
Stranded on an island with six other people somewhere in the Pacific Ocean? You get the idea.
This isn't only great for those looking to scroll social media non-stop, it also has huge implications for personal safety. No matter where you are, you can access help of some sort.
It's no wonder we're so excited about this life-changing technology.
Most of the World Is Unconnected
Nearly half the world's population remains unconnected to the internet due to living outside the range of existing land-based networks or economic reasons. In less developed countries, fewer than 20% of individuals are connected.
SpaceMobile works to change that and connect the entire globe for the first time.
And you don't need a fancy phone to take advantage of AST's space network. It works with nearly every mobile phone and IoT-enabled device — no fancy antennas, phones or terminals necessary.
The team behind the technology impresses us just as much. Twenty-four of the team's engineers are PhDs and 40 of their engineers have previously built and launched satellites.
If there's any team qualified to break ground on a worldwide life-changing technology, it's the SpaceMobile team.
The Bottom Line on ASTS Stock
We saw what inclusions can do when we witnessed Tesla's (NASDAQ:TSLA) huge rally into its inclusion in the S&P 500.
If the rumors of a Russell 2000 inclusion turn out to be true, expect bigger names on Wall Street to start buying into AST SpaceMobile.
However, this inclusion isn't essential to our bull thesis. We believe in everything SpaceMobile is doing technologically. That's why we see ASTS stock working its way as high as $500, if it's successful, over the next several years.
The odds this company succeeds and their potential upside should make this an enticing investment for any long-term investor.
Definitely keep an attentive eye on SpaceMobile with us. Their first satellite test launch takes place later this year. And that's just the beginning.
And, if you want to see more of our team's in-depth, expert analysis on even more stocks we're keeping an eye on, check out Innovation Investor, our premium newsletter.
In it, we deliver hypergrowth stock picks and daily commentary directly to your inbox, each of which is steeped in research and chosen by a team with significant experience in all things tech and science.
On the date of publication, Luke Lango did not have (either directly or indirectly) any positions in the securities mentioned in this article.
By uncovering early investments in hypergrowth industries, Luke Lango puts you on the ground-floor of world-changing megatrends. It's the theme of his premiere technology-focused service, Innovation Investor. To see Luke's entire lineup of innovative next-generation technology stocks, become a subscriber of Innovation Investor today.