Back in September 2011, Reed Hastings was soaking in a hot tub with a friend in Santa Cruz.
He was supposed to be celebrating the huge success that his DVD rental business, Netflix, had become. After all, at the time, Netflix had 14 million people across the country paying for its DVD-by-mail service.
By any metric, it was an enormous success.
But, instead of celebrating, Hastings was coming up with an ostensibly crazy business idea that threatened to destroy his 14-million-subscriber media empire.
The idea? Scratch the DVD rental business. Make Netflix a streaming service.
When he told his friend about this new idea, the friend simply retorted, "That is awful."
And for a while, the friend was right. Shortly thereafter, Netflix split apart its DVD business from its streaming business, and millions of subscribers quit the service. By 2012, Netflix was on the verge of bankruptcy.
But, as we all know, Hastings' idea wasn't awful or crazy… it was just ahead of its time, and ultimately, it was genius.
Throughout the 2010s, consumers everywhere ditched linear TV, in favor of streaming TV, for its pricing, convenience, and mobility benefits. Netflix's streaming service marched its way to global ubiquity, and today counts over 200 million subscribers worldwide.
But that's not the end of the story…
Sure, 4 out of every 5 households in the U.S. have either a Netflix, Amazon Prime, or Hulu video subscription today. Streaming TV services are already everywhere.
But guess what? The Streaming TV Revolution is actually not even halfway through…
That's right. Although we are all binge-watching The Handmaid's Tale today (great show, by the way), the all-encompassing streaming TV revolution isn't even finished with its second act yet.
How is that possible?
Because most of us still haven't cut the cord.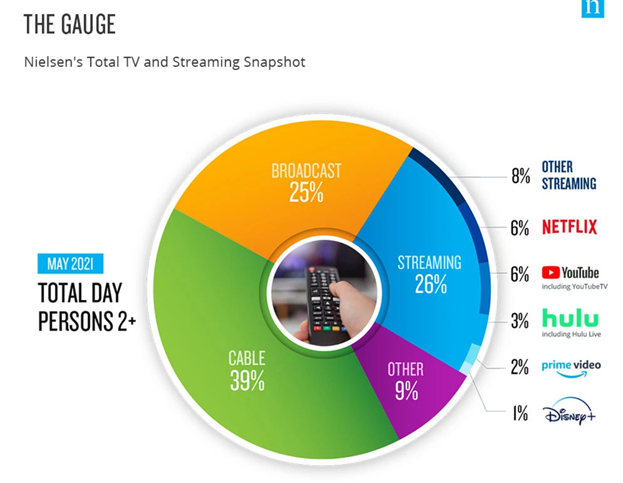 Over 60% of U.S. households still pay for cable TV, meaning the most common entertainment mix in America today is a Netflix subscription and a cable TV package.
What's more, is that 64% of our TV watching time is still dedicated to broadcast and cable TV. Netflix only accounts for 6% of our TV watching time.
You know why that's the case… because we still like live TV shows, live news, and live sports – three things that today's biggest streaming services do not offer.
But that's all changing…
Over the past few years, a new class of live TV streaming services has emerged, each of which packages live TV shows, news channels, and live sports into a single, over-the-top streaming service.
Think YouTube TV. Sling. AT&T TV Now. Hulu with Live TV.
These are all streaming services which essentially take everything that linear TV offers, and "streamify" it.
Now, you can finally watch everything you want without needing a cable or satellite TV package.
Now, you can finally cut the cord.
And that's exactly what you are going to end up doing – alongside every other person out there.
Because, across everything that matters, streaming TV is superior to linear TV.
It's cheaper (YouTube TV costs $65 per month; your average cable TV package runs north of $100 per month).
It's more convenient, cleaner, more flexible, easier to install, and easier to maintain.
Streaming TV is just better than linear TV.
That's why, as soon as Netflix started offering us the same quality of content as Hollywood, we stopped going to movie theaters.
It's also why, now that YouTubeTV offers us the same quality of content as cable TV packages, we are going to cut the cord.
The financial implications of this mass cord-cutting over the next decade are enormous.
Of course, you're going to see huge subscriber growth in these live TV streaming services, and the market's best pure-play on this explosive sub growth is fuboTV (FUBO) – an emerging, hypergrowth live TV streaming company whose platform is the closest analog to cable TV today.
As of the first quarter of 2021, fuboTV only had 590,000 subscribers. That's a fraction of a fraction of the 74 million pay TV households in the U.S. today, so the potential here is enormous.
FuboTV is growing its subscriber base at a 100%-plus pace, so the company is clearly doing something right. And I think management is making all the right moves via acquiring exclusive sports content and integrating sports betting technology to differentiate the fuboTV platform, and keep the company on a hypergrowth trajectory.
I think fuboTV will one day have 10 million or more subscribers. If so, then my modeling says that fuboTV stock is a potential 10X investment opportunity in the making…
Long story short, fuboTV stock is the #1 streaming TV stock to buy today for big upside in the 2020s.
I've talked extensively about the second half of the streaming TV revolution, including FUBO, in my investment advisory newsletter, the Daily 10X Stock Report.
FuboTV makes the cut because it's the world's most innovative streaming TV company, positioned attractively in an industry set for hypergrowth throughout the 2020s. What's more, fuboTV's stock price could easily soar 10X.
But FUBO is but one of my top picks in the social media/digitainment world. Yes, long-term, fuboTV's stock will score investors big returns, though it's far from the only hypergrowth stock on my radar.
In fact, in my free e-letter, Hypergrowth Investing, I cover emerging megatrends and high-risk, high-reward stock picks each and every day. By becoming a subscriber, you'll never have to pay a dime and will always get high-quality information on a number of market themes and picks that could make you a ton of money over the near- to long-term.
Interested? Just click here and you're well on your way to getting your first issue directly in your inbox. Just look for it each day at 7:30 a.m. Eastern.
Happy investing.
On the date of publication, Luke Lango did not have (either directly or indirectly) any positions in the securities mentioned in this article.