[Editor's note: "Beaten-Down EV Charging Stocks Are Ready to Power Up Your Portfolio" was previously published in October 2022. It has since been updated to include the most relevant information available.]
Let me cut right to the chase. If you want to put yourself in a position to potentially make fortunes in the market over the next year, you need to buy electric vehicle stocks today!
Forget inflation, a recession, the Fed. Forget it all, and just buy EV stocks.
The logic is pretty straightforward.
Gas prices soared to record highs this year, so consumer interest in EVs naturally rose. That interest has led to increased demand and sales. EV sales jumped more than 60% to a new record in the first half of 2022.
Now EV costs are plunging again (after a brief spike in early 2022 due to the Russian invasion of Ukraine). And more automakers are ramping production of EVs. Plus, the U.S. government just passed a $400 billion climate bill, and a lot of those dollars are going straight into the electric vehicle sector.
Add it all up, and the stage is set for the already red-hot "Great EV Revolution" to meaningfully accelerate to new heights over the next 12 months.
We wouldn't be surprised if a handful of EV stocks soar more than 10X in the coming year.
Let's get this out of the way right now: Not every electric vehicle stock will do well in 2023. Only a select few will mint small fortunes for their investors. And at the top of our list of potential big-time winners are EV charging stocks.
Here's why.
The Case for EV Charging Stocks
Let me ask you a question: What good is an electric vehicle without charge?
No good at all – it's pretty much useless. And that, folks, is the basis for why you should invest in EV charging stocks. They are necessary to the mass deployment of EVs.
Here are the numbers.
Currently, there are about 130,000 EV charging ports across the U.S. That may seem like a big number, but we'll need a lot more if everyone's going to be driving an electric vehicle by 2030.
The International Energy Agency estimates that the number of EV chargers globally will have to increase by 12X by 2030. And that's just enough for companies and governments to reach the low end of their targets for 30% of new car sales to be electric by then.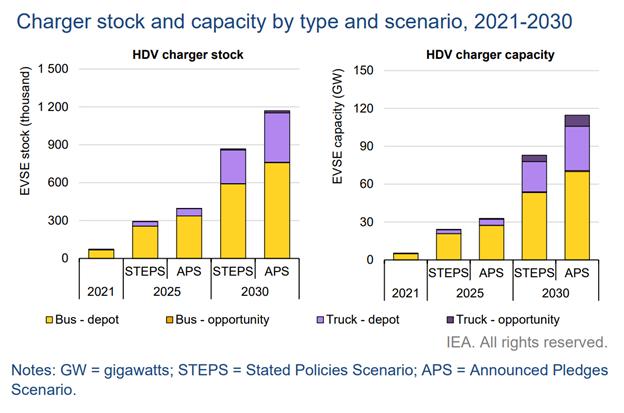 Said differently, the EV charging market will explode in size over the next decade. As it does, it will lay the foundation for the whole EV market to do the same.
That's why we're excited about buying EV stocks here and now. They've been beaten up alongside the rest of the market. But now EV stocks are on the cusp of generational hypergrowth in the coming years.
Time to buy the dip? We think so.
Gaining an "Edge" in Electric Car Charging Stocks
Given what you just read, you're probably thinking that it's time to rush out there and buy some EV charging stocks, right?
Not so fast.
There are lots of EV charging companies out there today. Not all will survive. Indeed, only a handful will make it big. Most will fail. So, it's not time to buy all EV stocks – rather, it's time to buy the best of them.
And, to know which ones are "the best," we need to first understand EV charging technology.
That analysis starts with the fundamental question: How does electricity work?
Reviewing the Basics
In short, we generate electricity at a power source, like a coal-fired power plant or a solar farm. Then we promote the flow of electrons (the charged particles that carry electric power) outward from that source via wires. This flow of electrons is called a "current."
That current can take two forms: alternating current (AC) or direct current (DC). DC is a direct constant flow of electrons through the wire. It results in heavy power delivery but also in significant drain on the grid. AC is an oscillating flow of electrons that results in lower power delivery but minimal stress on the grid.
Since the grid has always been load-constrained, we decided long ago to build it on AC. But since an alternating current physically hinders the ability to store energy, today's batteries can only store power as DC.
That's why most electronics devices, like laptops, come with power cords that have big boxes in the middle of them. Those boxes are AC/DC converters. They transform the AC power from the grid to DC power that can be stored in your laptop.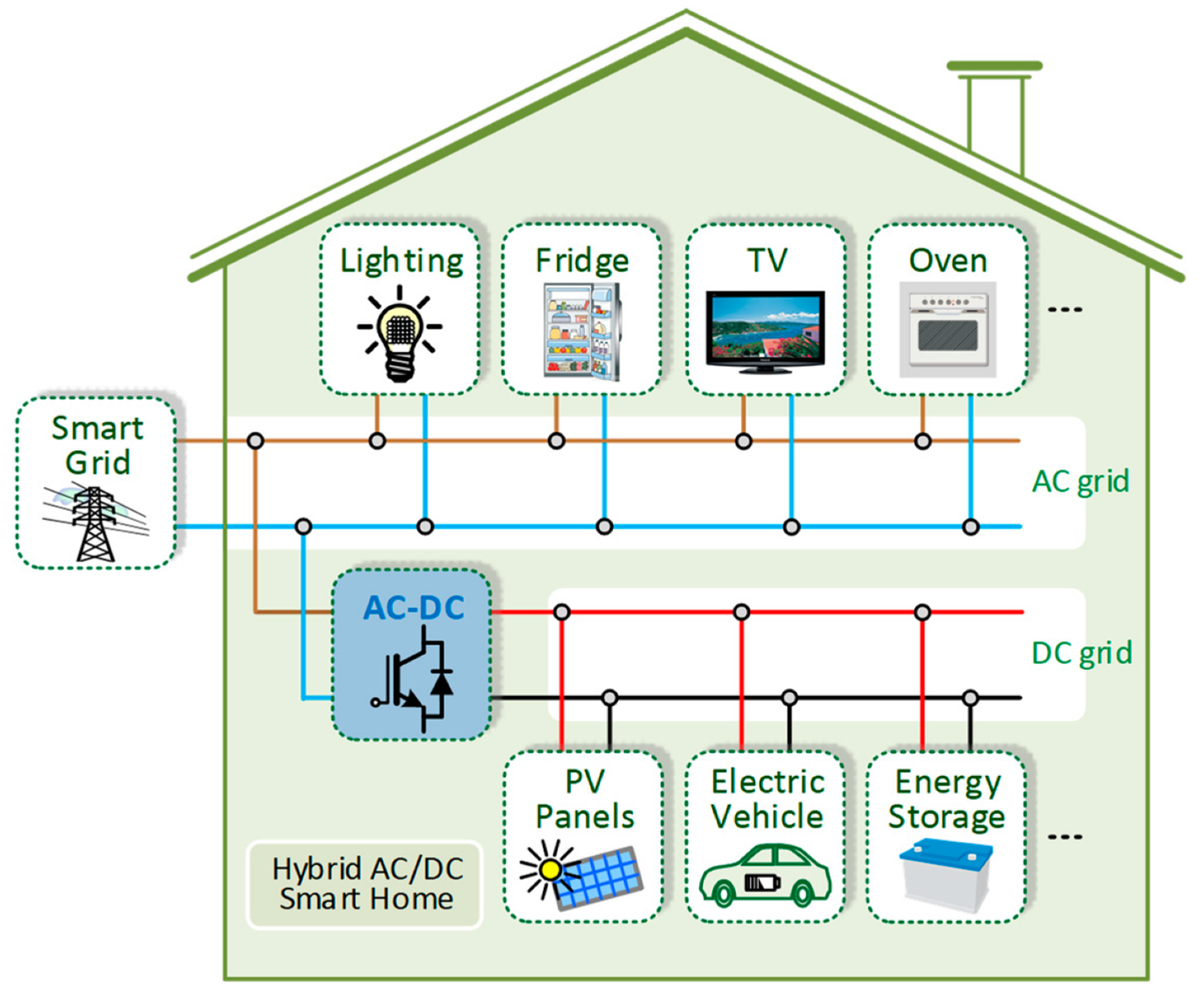 EV charging works in much the same way.
EV chargers plug into the grid, which provides AC power. That AC power is then pumped into the EV. In every EV, there is an AC/DC converter which converts the AC power from the charger into usable DC power, which is then stored in the car's battery.
How to Pick the Best EV Charging Stocks
Understanding how EV charging works isn't all you need to know to pick the best EV charging stocks. You need to also know the different types of EV chargers out there. Then you can pick the companies that make the most useful and highest-quality chargers.
There are two classifications of AC electric vehicle chargers – L1 and L2.
L1 chargers are the most basic chargers out there. They're really slow but really cheap. They'll give you about three to five miles of EV range per hour of charging. Given that they're low-cost, low-performance in nature, L1 chargers are common as residential solutions. But they're very rarely used beyond the home.
L2 chargers are a big step up from L1s. They're much faster but also much more expensive. They'll give you around 30 miles of EV range per hour of charging. These L2s constitute the majority of chargers on the road today.
There are also DC fast-chargers. These are fundamentally distinct from AC chargers. They have built-in AC/DC converters that transform grid energy into DC power within the actual charger itself. What this enables, then, is for the charger to pump DC power directly into an EV battery. This completely bypasses the AC/DC converter in the car and results in a far more powerful charge.
These chargers are really, really fast… and really, really expensive. As a result, they can give you over 100 miles of EV range per hour of charging. But there aren't many of them on the roads these days – just a few thousand across the whole U.S.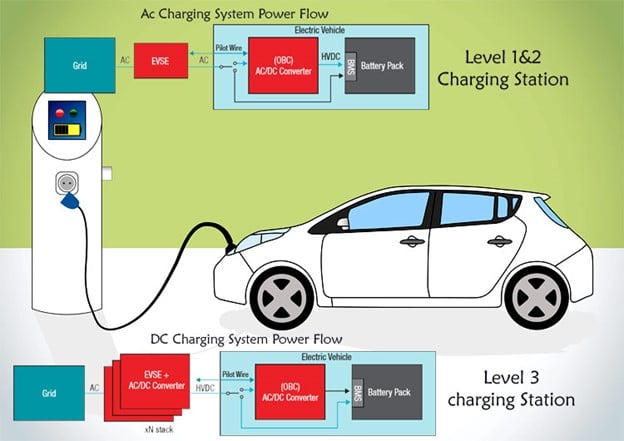 The Future of the EV Charging Landscape
Considering this context, it's important to understand that the future of the EV charging landscape will be a mix of mostly L2 chargers throughout urban areas and some DC fast-chargers on interstate highways.
That's because L2 chargers are good enough. The enormous shift from gas stations to charging ports will be accompanied by a huge shift in where we "refuel."
Since EV chargers are tiny and can be built anywhere there's an electric connection, the days of dedicated gas stations are over. You won't see EV charging stations replace gas stations. You'll see gas stations become extinct. EV charging ports will pop up everywhere — your gym, grocery store, and local mall parking lot.
In the EV Charging Revolution, you'll charge your electric car everywhere you go. So long as you aren't traveling hundreds of miles, L2 chargers will do the job just fine. That's because you'll be charging as you shop or work out.
For those long road trips… well, that's where DC fast chargers will be super useful.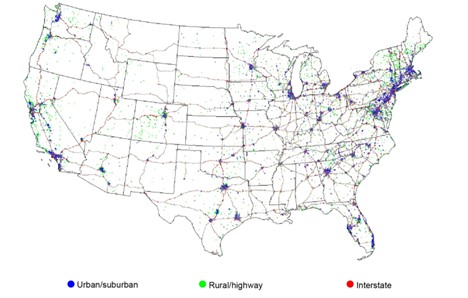 Not to mention that charging does actually cost money. Right now, it costs about $2 per 30 minutes of L2 charging in a public lot.
To that end, the future of EV charging is super clear. Millions of L2 chargers will pop up across every parking lot in urban and suburban areas. DC fast chargers will replace gas stations on interstate highways, and consumers will be paying for all that charge.
That's the future – and that future starts right now.
The EV Charging Boom Has Arrived
We've followed the electric vehicle space closely over the past seven years. In all those years, we've seen a lot. But we've never seen what we're seeing right now.
The EV charging industry is "powering up" (no pun intended) right now in a way that it has never done before.
Earlier this summer, General Motors (GM) partnered with EV charging network operator EVgo (EVGO) to build 2,000 EV chargers at 500 Pilot locations across the U.S.
Over the past few months, Los Angeles International Airport has commenced the construction of 1,300 EV charging stations across its facilities.
A few weeks ago, IKEA announced that it will be installing more than 140 EV chargers at over 25 of its U.S. locations.
On a government level, the U.K. government just pledged 20 million pounds to build 1,000 EV chargers across its country. And the U.S. government just passed an elephant-sized climate bill that includes nearly $2 billion in incentives for EV charger construction. Just a few weeks ago, the Department of Transportation approved more than $900 million in funding for the construction of hundreds of electric vehicle chargers across 35 states. And in California, legislators committed an additional $1 billion to building out EV charging infrastructure in the state.
The writing is on the wall. The EV charging industry is on fire right now. So begins a decade of hypergrowth ahead for charging station operators.
The Final Word on the Electric Car Revolution
The million-dollar question, of course, is: What stocks should you buy to plug into this decade of hypergrowth?
To answer that question, let's turn to my flagship research advisory service, Innovation Investor.
In that platform, we leverage a team of hypergrowth technology stock experts – including software engineers, data scientists, seasoned traders, and economists – to understand technological megatrends at their most fundamental level.
We don't just listen to management teams and read investor decks. We break down every company's underlying technology at its most elementary level to assess its validity and capability – and its potential to change the world.
And we do this across every industry, for every technological breakthrough, and with every company. The end result? We identify early stage hypergrowth tech stocks set for enormous long-term returns.
And we've found one EV stock that has developed astoundingly superior and creatively unique technology that should enable it to become a dominant tech supplier for the whole electric vehicle industry.
The best part? The company may have a secret partnership with Apple (AAPL) in the works. Indeed, as you may know, Apple is on the cusp of launching an iPhone-like electric car.
This stock is a potential 40X investment opportunity from current levels.
Find out more about this leading EV stock – and how it could be the key company behind Apple's next big product launch.
On the date of publication, Luke Lango did not have (either directly or indirectly) any positions in the securities mentioned in this article.