Forget the inflationistas and permabears. Yesterday's soft Consumer Price Index report confirmed that inflation is falling very quickly. And that means a new bull market could be emerging right before our very eyes.
Inflation peaked in June 2022 at 9.1%. Throughout the last six months of the year, that inflation rate was falling by about 50 basis points per month. By December, it had collapsed to 6.5%. That was still well-above the Fed's target but certainly trending in the right direction – and at a very good pace, too.
Of course, as inflation collapsed in the back half of 2022, stocks rallied very strongly because disinflation is historically very bullish for the market.
From its June lows to its early February highs, the S&P 500 popped 14%!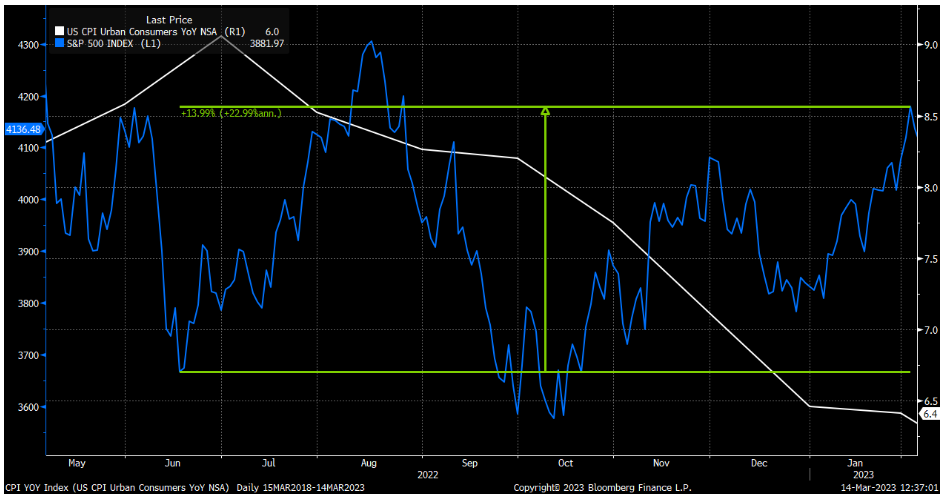 But in early February, everyone freaked out when the January CPI report hit the tape. It showed just 10 basis points of inflation slowdown in the first month of 2023. Suddenly, everyone worried that the disinflation trend – which was powering stocks higher – was actually coming to an end. Re-inflation became the fear of the month.
Given these fears, stocks naturally collapsed in February.
Yesterday, though, we learned that those re-inflation fears were completely overblown.
Last month, the inflation rate dropped 40 basis points from 6.4% to 6%, representing a return to the healthy pace of disinflation that we saw in late 2022 (about 40 to 50 basis points of disinflation per month). Plus, it underscored that January's slowdown in disinflation was a hiccup – not the start of a new re-inflation trend.
February's CPI data confirmed that disinflation remains the overwhelming trend in the U.S. economy.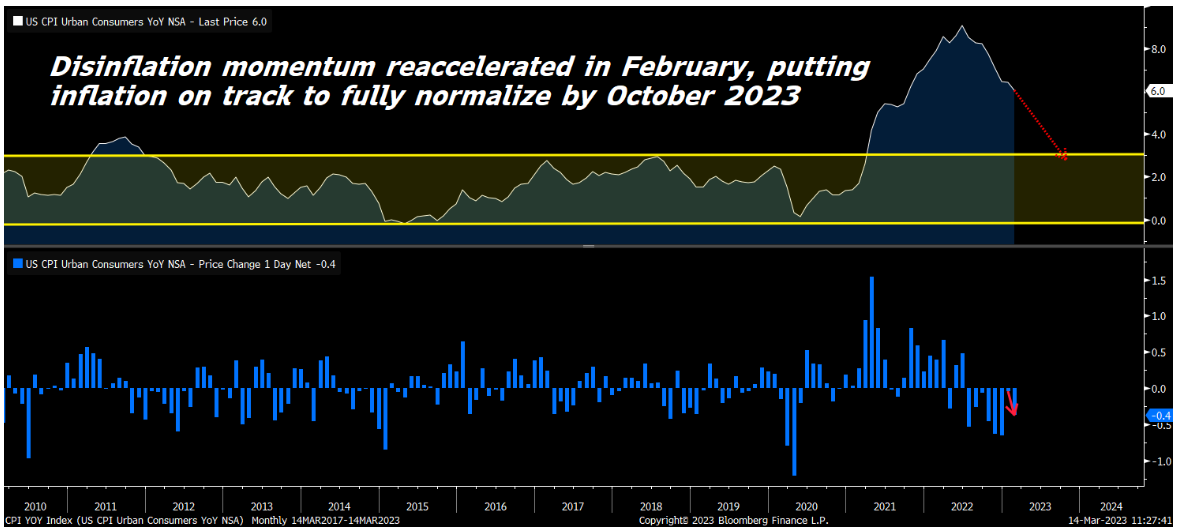 Of course, stocks popped in response.
We think this rally is just getting started.
February's CPI Report Foretells a Rally
Real-time, daily inflation data suggests disinflationary forces are picking up even more steam in March.
Specifically, the daily Truflation rate (which is built on over 10 million data points and intended to be more transparent and dynamic than government inflation metrics) averaged 5.3% in February, down 50 basis points from January's daily average. In March, the daily Truflation rate is thus far averaging 4.7% and is dropping every day. It looks like it will close the month below 4.6%.
According to the Truflation data, the inflation rate dropped 50 basis points in February and is set to drop 60 or 70 basis points in March. There is even more disinflation in the system here in March than there was in February.
Therefore, we think the March CPI drop will be bigger than February's, meaning that we are likely looking at multiple months ahead of accelerating disinflation – much like we had in late 2022, when stocks powered higher for several consecutive months.

Disinflation Proceeds In Spite of Shelter CPI
Another reason we think this rally is the start of something much bigger: Disinflation is picking up steam even without a drop in the biggest component of inflation.
Amazingly, headline CPI fell from 6.4% to 6% in February, even as the biggest component of CPI – Shelter CPI – rose from 7.9% to 8.1%.
Shelter CPI accounts for about 35% of total CPI. It's still rising, yet headline CPI continues to fall.
This tells us two things:
The current disinflationary trend is very widespread and powerful.
Once Shelter CPI does roll over, it is "look out below" for headline CPI.
Indeed, once Shelter CPI begins to fall, the CPI disinflation pace of 40 to 50 basis points per month will likely turn into 80 to 100 basis points of headline disinflation.
That will very likely happen within the coming months and continue deep into 2024.
That is because Shelter CPI tends to lag both monthly home price and rent growth by about 12 to 15 months. And both metrics have been collapsing for the past six to12 months.
The implication is that Shelter CPI will start collapsing very soon and will keep falling deep into 2024. Again, when Shelter CPI does start to roll over, headline inflation rates should crash – providing a huge tailwind for stocks.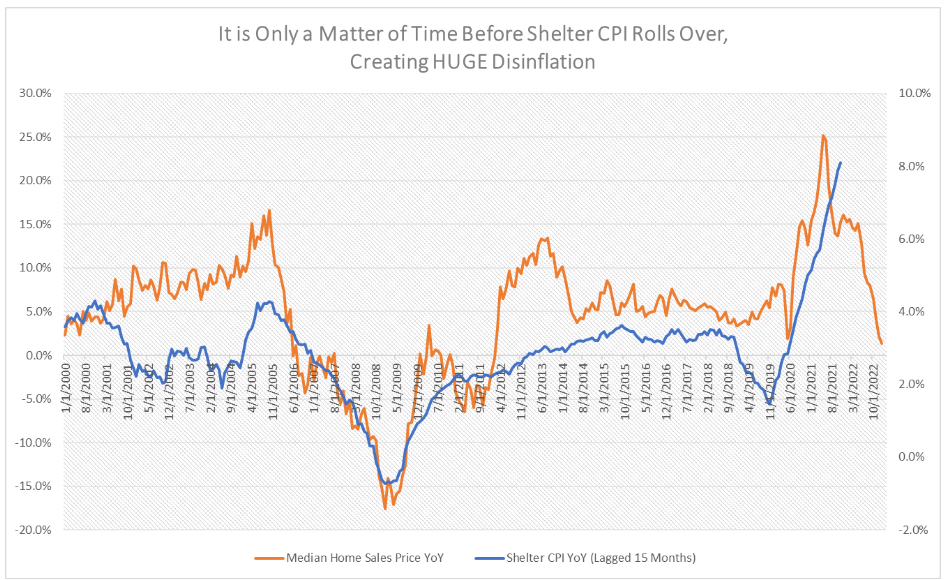 Price Hikes Are Out
One final bullish data point? Small businesses are done with price hikes.
The NFIB Small Business Survey for February 2023 flew under the radar yesterday. Headline small-business sentiment topped expectations, which, of course, is bullish.
But more importantly, the number of small businesses planning to hike prices collapsed to a new cycle low.
That is, the net percentage of small businesses planning to hike prices over the next three months dropped to 25% in February 2023. That's the lowest reading in this cycle and is consistent with both 2018 and 2019 averages.
In other words, small business price-hike plans have fully normalized to pre-pandemic levels.
These price-hike plans tend to lead headline inflation by about three to four months. And, therefore, it seems very likely that we will see inflation continue to collapse for the foreseeable future. As it does, stocks should rally.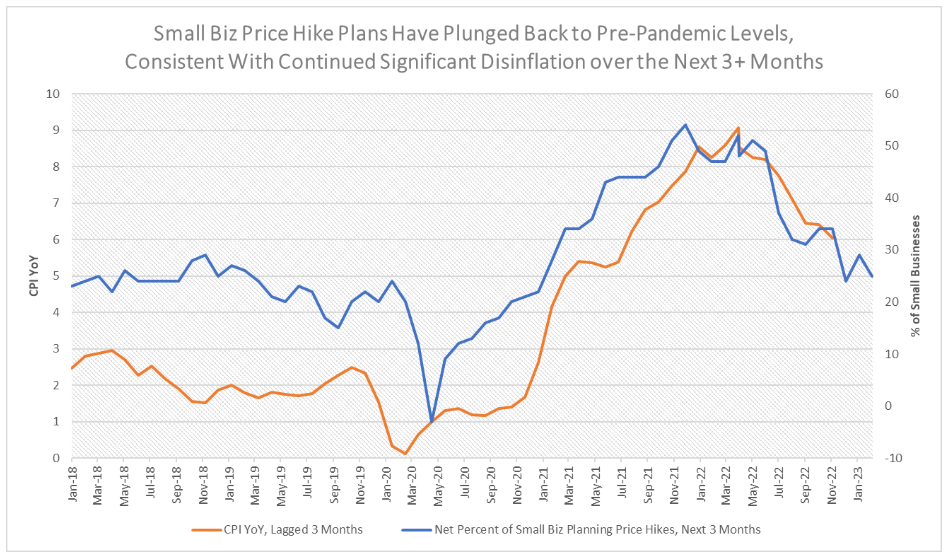 The Final Word on Disinflation
Overall, we think yesterday was a very bullish day for investors.
We received a plethora of new reports that, together, strongly suggest that whatever "re-inflation" we saw in January is completely gone. And that disinflationary forces in the U.S. economy are more powerful today than ever before and only strengthening.
When runaway inflation turns into powerful disinflation, stocks rally.
We've had 10 major disinflation cycles over the past 100 years. In all but two of the cycles, stocks soared. Average returns were over 30%.
The only two times stocks didn't rise during a disinflation cycle were when the cycle coincided with two of the worst recessions in U.S. history: the 2008 financial crisis and the Recession of 1937 (in which GDP dropped more than 18%).
In other words, the data is telling us three very profound things right now:
The disinflation cycle of 2022-23 is gaining momentum.
This disinflation cycle will last for a lot longer and bring inflation rates a lot lower.
Barring a deep recession, stocks will soar for as long as this disinflation cycle sticks around.
At this point in time, a deep recession looks very unlikely.
Yes, two regional banks collapsed. But the government is backstopping all depositors, and the major banks all look very healthy. Even the esteemed Michael Burry – who famously called the banking collapse of 2008 – said he doesn't see "true danger" here and that "this crisis could resolve very quickly."
As such, with disinflation gaining momentum and a recession still unlikely, a massive stock market rally over the next 12 months is looking more likely by the day.
Are you positioned to capitalize on this rally?
If not, we'll help you do just that. Through hours of rigorous research, we've discovered the exact type of stocks that tend to soar during these disinflation stock market booms.
On the date of publication, Luke Lango did not have (either directly or indirectly) any positions in the securities mentioned in this article.