It may still feel like we're in a never-ending bear market, but housing stocks have bucked the trend to soar to new highs. This is a puzzling trend, as one would expect the housing market to be one of the first to be affected by a potential recession. However, there are a few reasons why housing stocks may be going against the grain.
First, the housing market is still relatively strong. Home prices are rising, and there is still a shortage of inventory. This is making it difficult for buyers to find homes, and it is driving up prices even further.
Second, investors are looking for safe havens in this volatile market. Housing stocks are seen as a relatively safe investment, and this could be partly why they are attracting so much attention.
It is still too early to say whether this trend will continue. However, if housing stocks continue to soar, it could be a sign that the bear market is nearing its end.
The SPDR Homebuilders ETF (XHB) is up 18.5% year-to-date. The iShares U.S. Home Construction ETF (ITB) is up more than 26% this year alone. And that's while high-growth tech names in the housing space are up much more.
Digital brokerage firm Compass (COMP) is up 70% this year. iBuying leader Opendoor (OPEN) has rattled off a 104% gain in 2023, while digital listings firm Redfin (RDFN) is up almost 150%.
We're seeing some mind-boggling rallies in the housing sector right now!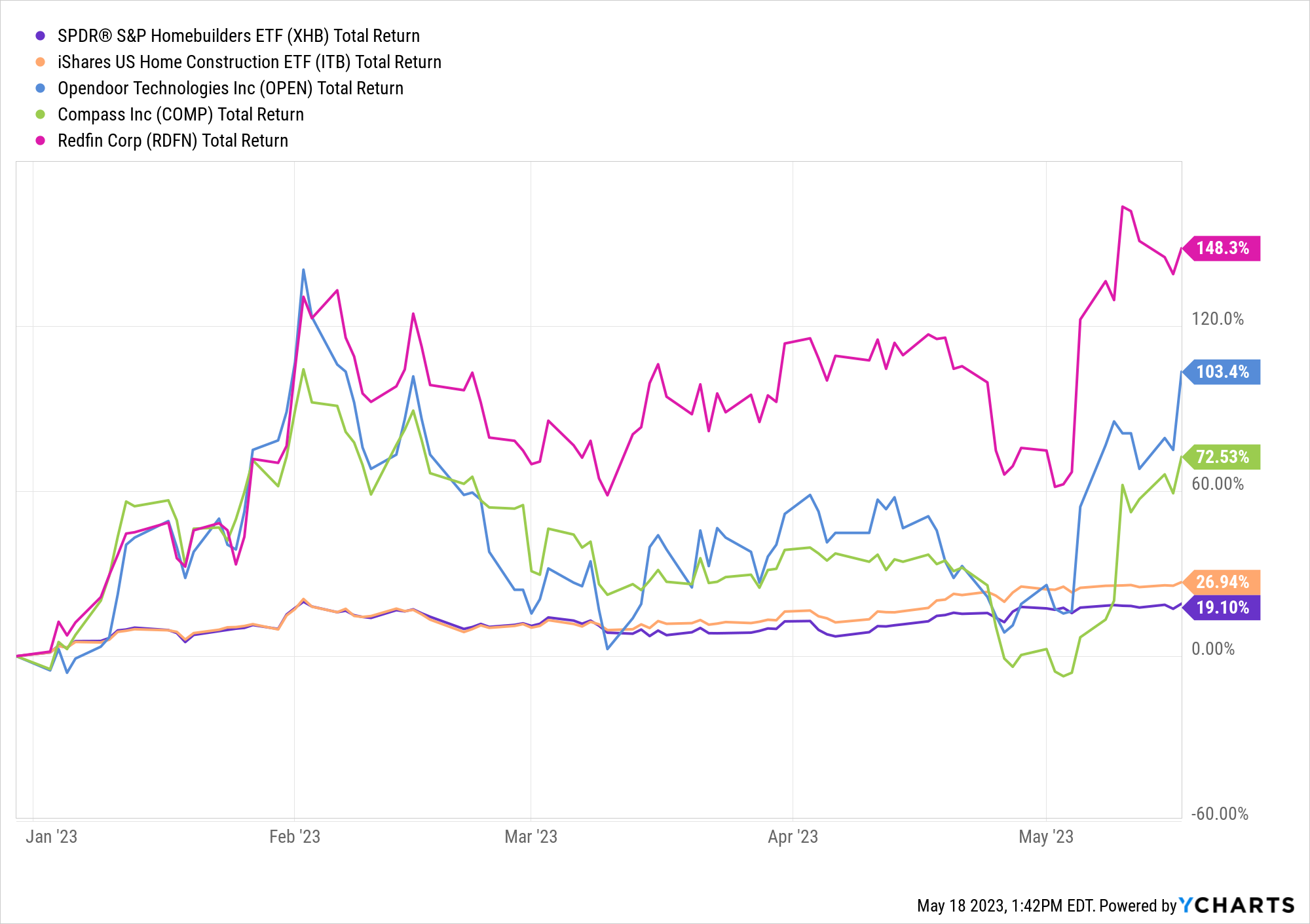 You might be saying, housing stocks? Really? Isn't the housing market crashing?
If all you do is listen to the mainstream media and their fear-mongering headlines, you might think so. But the data actually says the housing market is in the early innings of a massive recovery.
That's why housing stocks are soaring this year. It is also why they'll keep soaring for the foreseeable future.
Here's a deeper look.
The 2023 Housing Market Recovery
There is no doubt that the housing market was crushed in 2022. But there is also no doubt that it is bouncing back with vigor here in 2023.
Higher mortgage rates, a slowing economy, spiking home prices, and a strong belief that home prices would fall in the near future all significantly weighed on the housing market last year.
But mortgage rates have stopped spiking. The average 30-year fixed mortgage rate has dropped from 7.2% in late 2022 to 6.2% recently, its biggest drop since COVID emerged.
The economy has stopped slowing. The New York Fed's Weekly Economic Index – which dropped from 6% to 1% in 2022 – has stabilized around 1% since December.
Home prices have stopped spiking. Home price growth averaged 15% last year. But prices rose just 0.4% last month.
And consumers have stopped expecting a housing market crash. According to the University of Michigan, the median of consumer expectations for home price growth over the next five years dropped to a record low of 1.1% in late 2022. It has since rebounded back to "normal" levels of 2.7%.
In other words, the factors that worked to crush the housing market in 2022 have reversed course sharply in 2023.
Mortgage rates are dropping. The economy is stabilizing. Home prices are moderating. And home price expectations are rebounding.
As all those factors have reversed course, the housing market has reversed course, too.
The NAHB Homebuilders Confidence Index – which is the most comprehensive measure of housing market health – jumped to 50 in April. This marks the fifth consecutive month of rebounding confidence, as well as the first expansion reading (50 or greater) since mid-2022.
As you can see in the chart below, critical housing market inflection points are marked by crosses above and below this level. When confidence drops below 50, it marks the start of a cyclical housing bear market. When confidence pops back up above 50, it marks the start of a cyclical housing bull market.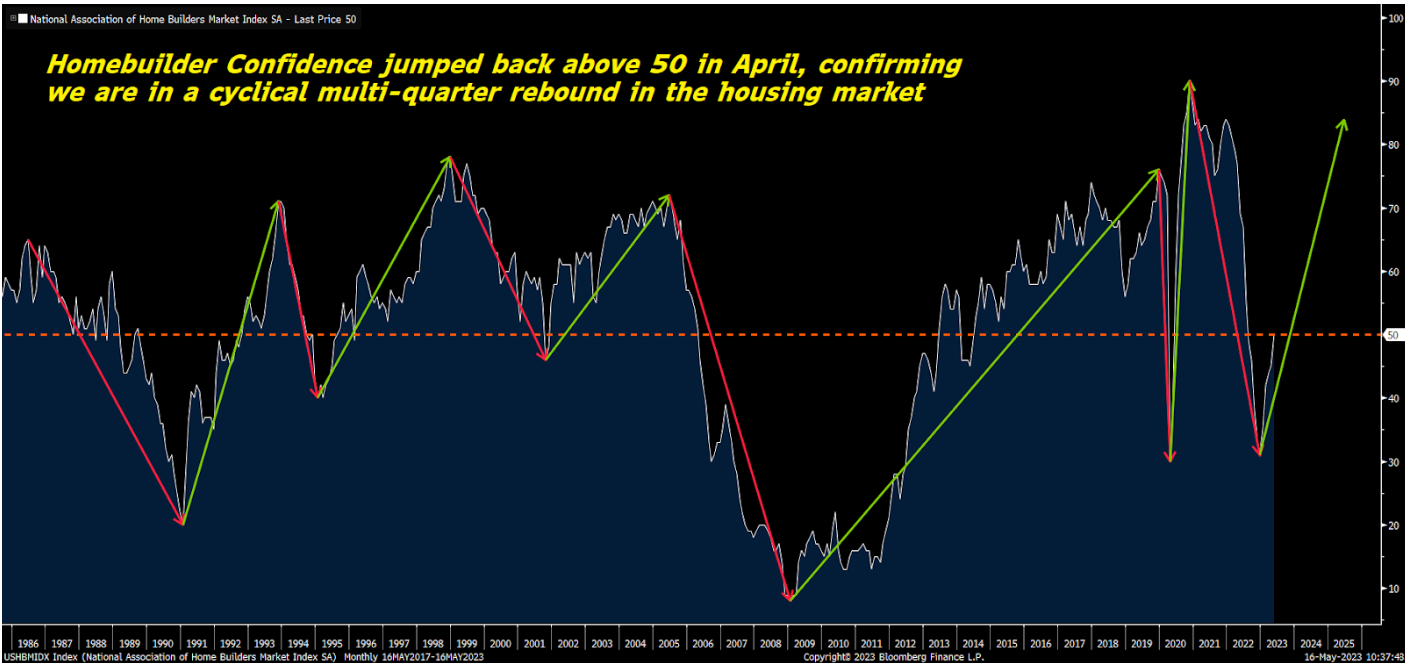 We just crossed back above 50. History says this is not a head fake but, rather, the start of a new multi-year cyclical bull market in housing.
We couldn't agree more.
The combination of lower mortgage rates and stabilizing home prices will energize a ton of sidelined homebuying demand over the next few quarters and spark a significant housing market recovery.
Therefore, housing stocks will stay red-hot for the foreseeable future.
Lots of housing tech stocks are already up more than 100% this year. We think those same stocks can rally another 100% into the end of the year.
We'd be big buyers on these breakouts.
The Final Word on Housing Stocks
It may still feel like a bear market. But all around us, stocks are soaring. And despite the overall economic uncertainty, investors are still seeing value in the housing market.
But housing stocks are just one example.
Another is our top tech stock pick for 2023, a small-cap stock that we view as the No. 1 AI investment in the market today.
That stock is already up more than 160% this year!
Yet, if our calculations are correct about this company's huge economic opportunity in AI, the stock could soar a lot more in the coming weeks, months, and even years.
Trust me – this is a stock you need to hear about today.
Find out its name, ticker symbol, and key business details.
On the date of publication, Luke Lango did not have (either directly or indirectly) any positions in the securities mentioned in this article.