To you, today may just be another Tuesday. To me, today is the most important Tuesday of the year.
That's because this evening, Sept. 12 at 7 p.m. EST, I am unveiling the investment tool of the future.
I believe it's something that will assuredly forever change the way you invest and make money…
Something that could provide you a visible and reliable pathway to true financial freedom…
Something that I've spent the past year developing with the expertise of world-class engineers, programmers, and traders.
I'm talking about our new, state-of-the-art AI-powered trading system, Prometheus.
Prometheus is an AI trained on hundreds of thousands of financial market data points. And it scans the market every day to algorithmically pinpoint the exact moment a stock is ready to surge higher.
It leverages more than 50 technical and fundamental factors to tailor AI models for every applicable stock in the market. Then it uses that data to ascertain the probability that a stock will surge higher within the coming month.
All you have to do is ask Prometheus about a stock, and it'll give you a score.
The higher the score, the more likely the stock is to surge over the next month. The lower the score, the less likely.
Forget the guesswork and uncertainty surrounding investing. Prometheus provides answers.
That's an absolute game-changer for anyone with money in the markets.
Turn Investing Into a Science
Imagine knowing, with a quantified measure of certainty, that a stock will either go up or down significantly over the next few weeks.
I'm sure it would make a world of difference for your investment strategy.
It certainly has for us. We've back-tested and fine-tuned this model into the ground, and now it's consistently producing stunning results.
Prometheus was able to pinpoint stocks that went on to soar 212% and 245% in just a few weeks – and one that popped 343% in just a few short months.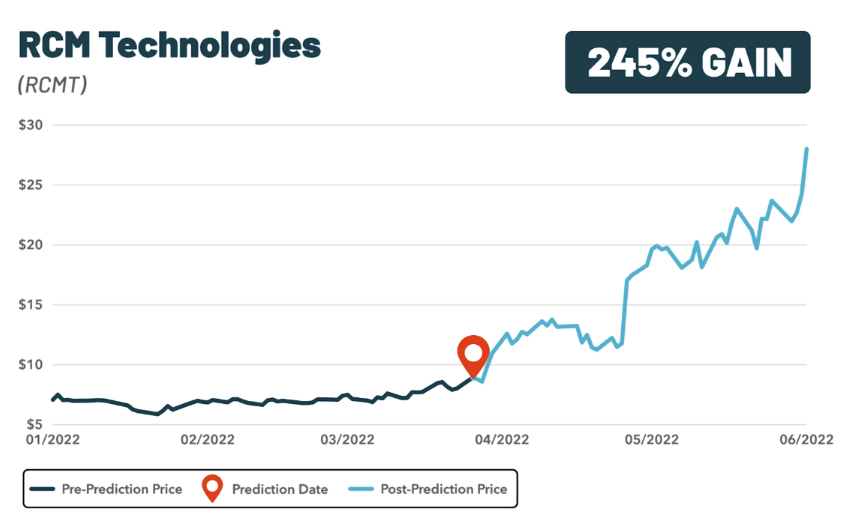 But Prometheus is more than just back-tests.
A few weeks ago, we started using this AI in real time. And it helped us find one stock that popped more than 50% in just a week!
Point being: Prometheus is an absolute investing game-changer. And tonight, we are unveiling this tool for the very first time.
This is a must-attend for anyone that wants to get ahead in investing.
So, in preparation, let's talk a bit about why Prometheus is such a strong system, or more broadly, why the usage of AI makes so much sense when it comes to picking stocks.
How AI Can Make All the Difference
When it comes to artificial intelligence, it's all about the data.
Indeed, AI is nothing more than a bunch of machine learning algorithms that learn from a bunch of data. For example, Prometheus is just a bunch of machine learning algos that actively parses through all the data in the financial markets.
To that extent, data is essentially the fuel for AI.
The more data you give the algos, the better the AI.
Specifically, AI needs the so-called "4 Vs" of data to be robust: volume, variety, velocity, and veracity.
You need a lot of data (volume), different types of data (variety), a constant flow of data (velocity), and accurate data (veracity).
You throw a bunch of high-volume, high-variety, high-velocity, and high-veracity data at an AI model, and that model will kick butt and take names.
In the financials market, you have exactly that.
Robust Data Drives Robust AI
Every single weekday, from 9:30 a.m. to 4 p.m. Eastern Time, the stock market is open. It's taking buy orders, sell orders, options contracts, and more – billions of them, every single day.
The average daily volume across the Nasdaq Composite index is 5 billion shares. That's 5 billion buy and sell transactions a day – 5 billion data points for AI to train on every single day.
And each one of those data points leads to a whole host of others. For example, every time a stock changes in price, even by just a penny, it produces a whole new Relative Strength Index data point, Moving Averages data points, McClellan Oscillator data point, etc.
Every time a stock moves, it generates more than 50 alternative data points through all of the technical indicators associated with it.
That's more than 50 alternative data points for each of the 5 billion data points that the Nasdaq Composite generates every single day.
That means, across the Nasdaq alone, the stock market generates more than 250 billion data points across thousands of stocks.
Talk about volume, variety, velocity, and veracity.
The Final Word
And indeed, as the old saying goes, people speak with their dollars. That makes the stock market a utopia for training AI models.
This is why we're already seeing some of the smartest folks on Wall Street deploy advanced AI models to make money in the markets.
For example, major investment firm Voya Investment Management is actively using AI models to help craft investment strategies across stocks, bonds, and more. Those models are doing exceptionally well. As of June, they were beating the S&P 500 by about 2:1.
This is the future.
I'm confident that within five years, every major investment firm on Wall Street, every professional trader, every big hedge fund, mutual fund, and family office will be using AI to pick stocks.
And those who don't adopt an AI-powered investment strategy will get left behind…
…Perhaps permanently.
So, if you want to be on the winning side of the market, join us this evening, Sept. 12, at 7 p.m. Eastern, when we unveil our new AI-powered Prometheus trading system for the very first time.
It'll mark a huge step in your journey toward turning AI into your ultimate advantage – your ultimate tool for creating wealth in this new economy.
Click here to reserve your seat now.
We'll see you soon!
On the date of publication, Luke Lango did not have (either directly or indirectly) any positions in the securities mentioned in this article.