"Our honeymoon with electric cars is coming to an end," said Rowan Atkinson, the popular British comedian famously known as Mr. Bean, in an opinion piece in the Guardian this week. He continued, "Sadly, keeping your old petrol car may be better than buying an [electric vehicle] EV."
His position isn't necessarily surprising, especially as EV companies faced problems with lithium-ion battery shortages over the past year.
High electricity prices, along with cheaper gas prices, also made electric vehicles more expensive to fuel by the end of 2022 than gas-powered cars, according to a report published by the Anderson Economic Group.
Further complicating vehicle sales are high interest rates and a consumer that is reluctant to buy durable goods. As an example, the Conference Board announced that its consumer confidence index slipped to 102.3 in May, down from a revised 103.7 in April. Overall, consumer confidence is now at a 6-month low and shows that consumers remain cautious.
However, despite Atkinson's worries, some EV makers are fighting to stay on the road – and they're using cheaper EV prices to do so. Two of those EV makers finding new ways to sell their vehicles include Volvo and Tesla, Inc. (TSLA). So, in today's Market 360, I'll share how they're lowering the costs on their EVs.
A Smaller Car for a Smaller Price
This week, Volvo announced its new and fourth electric vehicle, the EX30 company electric SUV.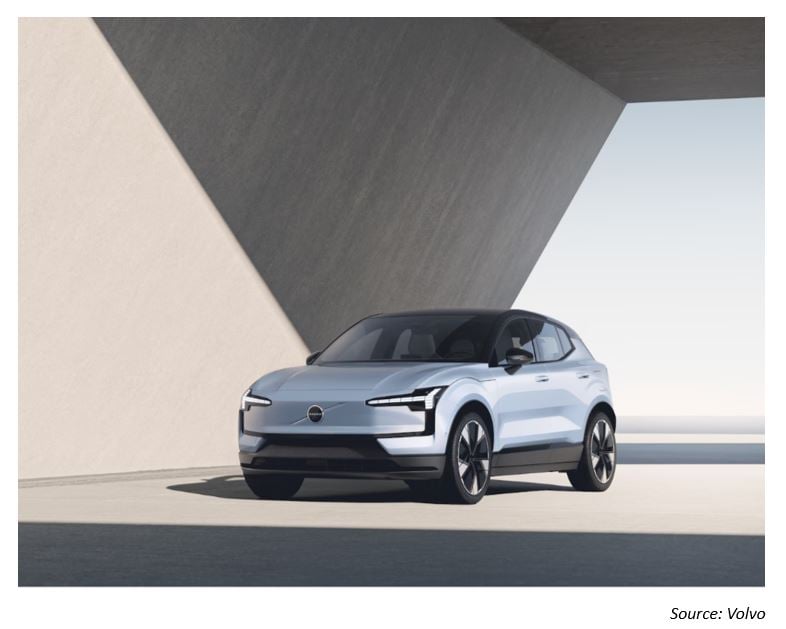 The 2025 Volvo EX30 is a smaller SUV that is expected to have the lowest carbon emissions out of the company's lineup. The vehicle uses about one-third less aluminum and steel than Volvo's EX90 model, and its wheelbase is 10 inches shorter than a Tesla Model Y, making it "small yet mighty," as Volvo CEO Jim Rowan called it.
The EX30 uses a modest battery, but it can be charged from 10% to 80% in as fast as 26.5 minutes – a key feature of the model.
Perhaps the most attractive feature of the EX30, though, is its price.
The EX30 SUV has a starting price of $34,950. Comparing this to the average price of a new EV around $64,000, and Volvo's EX30 is definitely more consumer friendly.
In fact, Rowan said:
We know that price and cost of ownership is still one of the biggest challenges when people consider switching to an electric car. With the Volvo EX30, we aim to bring premium, fully electric mobility to a much broader audience, helping to advance and speed up the transition to full electrification that our industry and society needs.
By 2025, Volvo expects to sell 1.2 million vehicles globally, up from 700,000 vehicles in 2021. The cheaper EX30 model is anticipated to be an integral part of this sales growth.
Tesla Gets a Tax Credit
The price of Tesla's Model 3 also made headlines this week. Its starting price could now cost $32,740, instead of $40,240.
Why the drastic cut in price? It's simple: the federal EV tax credit.
On Tuesday, the Biden administration confirmed that all Tesla Model 3 vehicles now qualify for the full federal EV tax credit of $7,500. (The company's cheaper Model 3 Rear-Wheel Drive (RWD) version qualified for half the amount.)
In order to qualify for the EV tax credit, the federal government requires that 40% of critical minerals be extracted in the U.S. or a country with a free trade agreement and that 50% of the value of the battery components must be manufactured or assembled in North America.
Tesla is believed to have dropped CATL in China as its battery maker in favor of Panasonic or LG Energy Solution in order to meet the federal requirements.
And some states are providing even more incentives.
New York state offers up to $2,000 off EVs through its Drive Clean Rebate, for which the Model 3 qualifies. And California offers a $7,500 tax rebate dependent on income and other requirements. Coupled with the federal tax credit, the price of a Model 3 in California would drop to $25,240 – which is even cheaper than Volvo's EX30!
Shares of the company surged 4% in early trading on Wednesday following the news and ended the day 1.5% higher.
The Road Ahead
In California, with high state gasoline taxes and multiple EV incentives, electric vehicles make more sense – EV owners can drive in the HOV lanes and there are plenty of charging stations.
However, outside of the state, EVs are not selling as well, and defiant customers are sticking with internal combustion engines, just as Atkinson plans to do. In fact, Ford Motor Company (F) is ready to convert back to internal combustion engines if customer demand materializes, despite the F-150 Lightening and other innovative EVs, like the Mach-e.
I should note that electric vehicles remain popular in China. The primary reason is that EVs are cheaper there and utilize predominately iron-phosphate (LFP) batteries. In China, CATL (which Tesla purportedly switched from) dominates LFP batteries and has 39.1% of the world's battery market share, followed by LG Energy (which Tesla may have switched to) with 14.9% market share.
A new battery technology is poised to capture more market share: a lithium iron manganese phosphate (LMFP) battery by Gotion High-Tech, which is a Chinese company that has Volkswagen AG (VWAGY) as its largest shareholder. These LMFP batteries have approximately 26% higher energy density than LFP batteries – and cost about 5% less than an LFP battery to manufacture. So, a new generation of cheaper batteries is expected to invade EVs in the upcoming years, especially VW Group's EVs.
In America, however, EV makers are using incentives and building new, cheaper models to stay on the road. So, don't be surprised if cheaper EVs wind up in a dealership near you.
Sincerely,


Louis Navellier
Editor, Market 360
P.S. If you want to be profitable in the current market environment, invest in companies with superior fundamentals. If you're not sure where to look, then consider my Growth Investor service.
If you become a Growth Investor member, you'll have access to my newest recommendations, as well as my two Buy Lists: High-Growth Investments and Elite Dividend Payers. I also include a Top Stocks list, which is a select list of stocks from my Buy Lists that are backed by persistent institutional buying pressure and stunning fundamentals.
Click here to learn more and become a member of Growth Investor today.
(If you are a Growth Investor subscriber, you can log in here.)
The Editor hereby discloses that as of the date of this email, the Editor, directly or indirectly, owns the following securities that are the subject of the commentary, analysis, opinions, advice, or recommendations in, or which are otherwise mentioned in, the essay set forth below:
Volkswagen AG (VWAGY)