Apple Inc. (AAPL) has made quite the few headlines over the past two weeks – both good and bad.
The bad news: Last Wednesday, The Wall Street Journal reported that China banned its government workers from using iPhones at work, which could negatively impact Apple's revenue.
The Wall Street Journal stated:
The move by Beijing could have a chilling effect for foreign brands in China, including Apple. Apple dominates the high-end smartphone market in the country and counts China as one of its biggest markets, relying on it for about 19% of its overall revenue.
Ministry of Foreign Affairs spokesperson Mao Ning held a press conference to speak on the report. She noted that China recently noticed "media reports about security issues related to iPhone. The Chinese government attaches great importance to cyber and information security and treats Chinese and foreign companies as equals."
Shares of Apple dropped 3.6% on the news – their largest daily loss in a month.
The good news: On Monday, Apple announced that it will be using the Qualcomm Inc. (QCOM) chips in its newest iPhones. Not only that, but Apple extended its agreement with Qualcomm to receive modem semiconductors for three more years.
In a statement from Qualcomm on Monday, the company noted that this agreement will cover "smartphone launches in 2024, 2025 and 2026."
AAPL jumped almost 1% in the wake of the news – lifting the tech-heavy NASDAQ along with it.
But that wasn't the only good news from Apple this week. On Tuesday, the company held its annual September event, "Wonderlust," to announce the rollout of its newest products.
So, in today's Market 360, I'll review Apple's biggest announcements at its "Wonderlust" event. And then, I'll share if it is a good buy right now. Let's dig in…
Apple's New iPhone Lineup

Source: Apple
Apple's senior vice president of Worldwide Marketing, Greg Joswiak stated:
This is the most pro lineup we have ever created, with a state-of-the-art titanium design, the best iPhone camera system yet that enables game-changing new workflows, and the A17 Pro chip, which ushers in a new chapter of performance and games never before seen on iPhone.
The new iPhone will also include the Qualcomm chip, A17 Pro, the first-ever 3-nanometer chip. Apple noted that in "continuing Apple's leadership in smartphone silicon, A17 Pro brings improvements to the entire chip, including the biggest GPU redesign in Apple's history."
Likewise, the iPhone 15 will feature iOS 17, giving the phone more personal and insightful capabilities. For example…
Live Voicemail on the phone app to see real-time on-device transcriptions as someone leaves a voicemail. Users can even answer the call while the caller is leaving a message.
Check In on the messages app, which allows users to automatically notify friends and family when they have made it to their destination safely.
And NameDrop, which gives users a new way to use AirDrop to share content more easily by bringing two iPhone devices together.
On top of all these features, the iPhone also offers a new, convenient way to charge your device. The models are using a USB-C connector which is, according to Apple, "a universally accepted standard for charging and transferring data, allowing the same cable to charge iPhone, Mac, iPad, and the updated AirPods Pro (2nd generation)."
The biggest shock to investors was the pricing of the new iPhones. While many expected the price to increase with the new line, Apple maintained its starting price at $999.
More New Products & Upgrades
While the new iPhone lineup certainly stole the show, Apple did roll out a few other products.
First, the company released its newest watch, the Apple Watch Ultra 2. Chief operating officer, Jeff Williams, stated:
This year we've made our most rugged and capable Apple Watch even better. Apple Watch Ultra 2 is our most advanced Apple Watch, with great performance and feature updates. It's perfect for anyone who wants our biggest, brightest display, longest battery life, and best GPS of any Apple Watch, all in a stunning design.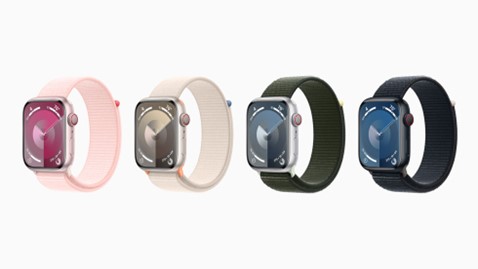 Source: Apple
These watches can be ordered now and will begin shipping on Friday, September 22.
Also important to note, this new line of watches will run WatchOS 10, a milestone which includes some of the following…
Smart Stack, which shows relevant widgets when you need them.
New watch faces that feature Snoopy, Palette, Solar Analog and Nike Globe.
Night Mode, which uses an ambient light sensor that will automatically activate in the dark.
And new topographic maps in the Maps app which show important details like trailheads or provides helpful information such as elevation.
Pricing for the Ultra Watch 2 starts at $799.
Apple also upgraded its AirPods Pro: AirPods Pro (2nd generation).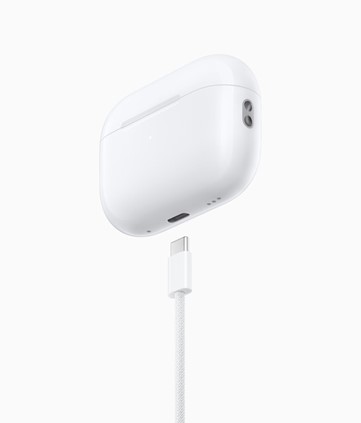 Source: Apple
These headphones, which can be bought now and will be in stores starting Friday, September 22, have stepped up the game in revolutionizing personal audio.
With new capabilities thanks to iOS 17, the AirPods Pro (2nd generation) now has features such as:
Adaptive Audio, which adjusts the noise control based on the sound in the user's environment.
Conversation Awareness, that picks up when a user is having a conversation and will lower content volume, enhance the voices in front of the user and reduce background noise.
And Personalized Volume, which uses machine learning to understand a user's environment and volume selections to fine-tune the listening experience over time.
Additionally, these headphones have MagSafe Charging (USB-C), which is compatible with the newest iPhone chargers. The pricing for the AirPods Pro (2nd generation) is $249.
Apple's Climate Goal
During the event, the company also announced its first ever carbon-neutral products with its new Apple Watch lineup. With changes to the designs and the use of clean energy, each carbon-neutral Apple Watch has reduced 75% in product emissions.
(In 2020, Apple achieved carbon neutrality for its global corporate operations. They also committed that, by 2030, every Apple device sold will have net zero climate impact.)
Additionally, Apple has stopped using leather in any of its products. It also created its first entirely fiber-based packaging and continues to expand its use of recycled materials in iPhones. The company even revealed a new app, Grid Forecast, which tells users when the power grid has cleaner energy available.
Another step Apple is taking toward its climate goal is in its AirPod Pros. All magnets will use 100% recycled rare Earth elements as well as 100% recycled gold in the plating of multiple printed circuit boards. The company will be using 100% recycled tin for the AirPod cases solder of the main logic board and 100% recycled aluminum on its hinges.
Apple's vice president of Environment, Policy and Social Initiatives Lisa Jackson stated:
At Apple, we have a longstanding and proven commitment to leading the fight against climate change. Our focus on renewable energy and low-carbon design has already driven industry-leading emissions reductions, and we're not slowing down. We've achieved an important milestone in making the world's most popular watch carbon neutral – and we will keep innovating to meet the urgency of the moment.
To Buy or Not to Buy…
Although Apple revealed a lot of exciting new products and features on Tuesday, the stock still fell 1.7%. So, does this mean that you should buy the dip or stay away?
According to my Portfolio Grader, the answer is to buy the dip. As you can see in the Report Card below, the stock currently holds a B-rating, making it a "Buy."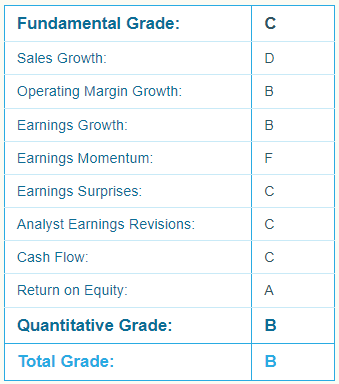 Now, I wouldn't argue with anyone who wants to buy Apple given its "Buy" rating in Portfolio Grader, as I think the stock will continue to move higher over time.
Personally, though, I think there are even better stocks out there right now – ones with stronger earnings momentum, sales growth, positive analyst revisions and other key factors. In other words, the fundamentally superior stocks.
These are the type of stocks I recommend to my Growth Investor subscribers, and if you become a Growth Investor member, you'll have access to my two Buy Lists: High-Growth Investments and Elite Dividend Payers. I also include a Top Stocks list, which is a select list of stocks from my Buy Lists that are backed by persistent institutional buying pressure and stunning fundamentals.
To gain access to my Buy Lists now, join me at Growth Investor today. You'll also get immediate access to all my Monthly Issues, Weekly Updates, Special Market Podcasts and Special Reports.
Click here to become a member of Growth Investor today.
(Already a Growth Investor member? Click here to log in now.)
Sincerely,
Louis Navellier
Editor, Market 360
P.S. AI is the biggest moneymaking opportunity in the markets right now…
It's expected to unlock $15 trillion…
And Louis Navellier has found the perfect AI investment: The AI "Master Key."
This "Master Key" lets you in on possibly the biggest AI companies automatically.