When Charles Dow published the world's first stock index on July 3, 1884, he probably had little to no idea what he had just started.
The Dow Jones Transportation Index consisted of 11 stocks, nine of which were railroads.
He wasn't quite done either. Eleven years later, he started the Dow Jones Industrial Average, which is still reported every night on the news 125 years later.
Today, indexes are a must for any serious investor. There are approximately 5,000 of them, and then there are mutual funds and exchange-traded funds based on those indexes.
There are a few more coming in 2021 And trust me, they aren't your typical indexes.
But the potential returns aren't typical either …
If you're a regular MoneyWire reader, you may not be surprised by the latest indexes that were just announced. But the rest of the investment world is taking notice.
S&P Dow Jones, a descendant of Charles Dow's company, announced on Thursday that it will join forces with a couple of other companies to begin cryptocurrency indexes next year.
We've talked about the big institutional money flowing into bitcoin and driving it to record highs, but S&P Dow Jones starting crypto indexes pretty much seals the deal.
Cryptos, say hello to Wall Street.
Wall Street, meet cryptos.
2020 has been a breakthrough year for bitcoin. Its use has spread dramatically among investors, businesses, and consumers, and it has gained more than 160% in 2020 while just recently hitting new all-time highs.
But I know there's still reluctance out there to invest in it. Someone tweeted me this week that he's listened to my calls on bitcoin going back to when it was at $7,000 … and now it's over $19,000. He just couldn't pull the trigger.
Another person asked if it was too late to invest.
My answer is no, it's not too late — in bitcoin and especially on altcoins.
As the oldest and best-known crypto, bitcoin is the bellwether for the entire industry. I own it myself, and I bought more a little over a week ago when it pulled back.
But it's also the biggest crypto, which just as with stocks means growth will be a little harder to come by.
Don't get me wrong. I expect big growth from bitcoin. I believe it will double again in the new year and make a run at $40,000.
But I expect much more from the right altcoins — massive, potentially life-changing growth.
I've mentioned before that you should view altcoins as revolutionary new software programs, not fantasy internet money. And that brings me to a massive cryptocurrency catalyst on the horizon.
It's a special situation rapidly unfolding in the crypto markets right now, and I can tell you what it is in two words:
Decentralized finance.
Or "DeFi," if you prefer it in one word.
DeFi is a global movement toward an open financial system. I'm talking savings, loans, insurance, trading, betting, and more… all accessible in one place to anyone with an internet connection.
Best of all … the government can never touch it.
Remember, bitcoin and altcoins are run on the blockchain, which means smart contracts. We don't need an intermediary like a lawyer or banker with smart contracts.
This could end up saving us thousands of dollars and man-hours in the long run.
I like to think of DeFi as a high-tech vending machine. With just a single click of your finger, you'll be able to take out a loan or mortgage… buy a new insurance policy … make money loaning out your money … invest in stocks, bonds, or any other asset class … deposit your cash into a safe savings account.
You'll do all of this in one place — right from your phone or computer — without dealing with middlemen and their unnecessary fees.
Let me give you a couple of examples. One is an altcoin in the DeFi space called Compound. It is revolutionizing the way we borrow and lend money. It allows you to lend out crypto and earn interest in return. You can even use Compound to take out a loan — without using a bank or middleman.
Aave is another altcoin in the DeFi space. It's similar to Compound in that it helps people earn interest on their assets and take out loans.
Aave grew 24,532% in just over one year. That's equivalent to a 250X gain!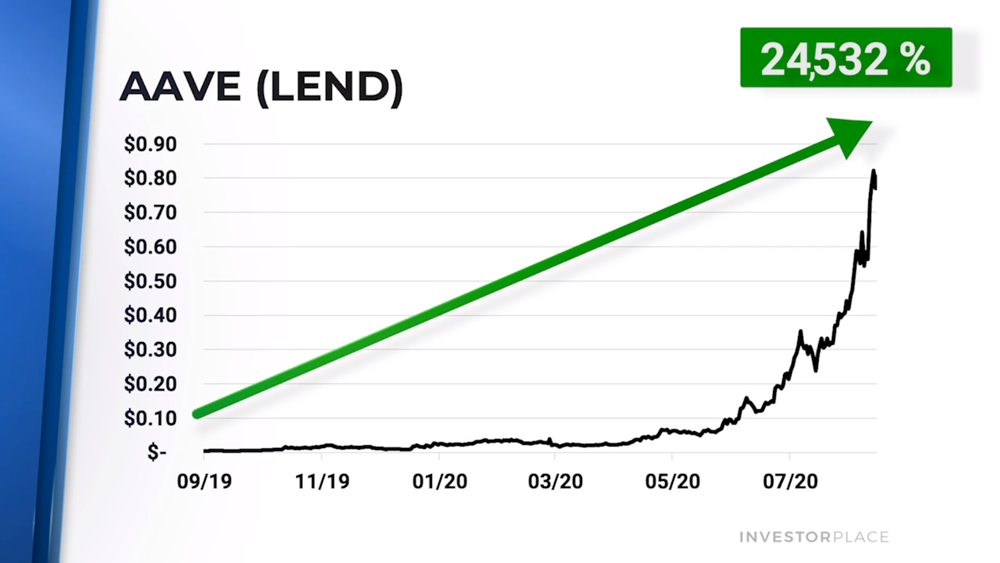 And that isn't even a coin I recommend currently.
DeFi is the biggest revolution to occur in finance in centuries. InternationalBanker.com calls it "a major breakthrough in the world of financial services."
And as a result, it can unleash a new, powerful wealth-creation force.
On the date of publication, Matthew McCall did not have (either directly or indirectly) any positions in the securities mentioned in this article.
Matthew McCall left Wall Street to actually help investors — by getting them into the world's biggest, most revolutionary trends BEFORE anyone else. Click here to see what Matt has up his sleeve now.