Exchange-traded funds — or ETFs — have become wildly popular investments in recent years.
They have been around since 1993, but the amount of money invested in them surged after the 2008-2009 financial crisis … from $530 billion to more than $4 trillion.
I like ETFs as well. I follow them closely to track certain indexes or sectors. I am a fan of their lower costs, and I am a big believer in the "basket" approach of owning multiple stocks in a sector or industry.
I use this same basket approach in my own investing, with my clients and in my newsletters. I just prefer to create my own ETF. It's a more concentrated basket that focuses on the best half dozen or so stocks.
This gets me around the biggest problem with ETFs, which is that you are forced to own the laggards as well as the winners.
If you follow ETFs at all, you know how many there are — more than 7,600 around the world and more than 2,200 just in the United States.
They have trillions of dollars invested in them, so just imagine what would happen to cryptocurrencies if a Bitcoin (CCC:BTC-USD) ETF became available.
It would open yet another floodgate …
I have talked about a Bitcoin ETF for a while now, and the signs are there that we are getting closer than ever to one being approved on U.S. exchanges.
It would be hard to overstate the importance of this.
U.S. exchanges trade a little over half of all the equity in the world, so it doesn't take much imagination to see how a Bitcoin ETF here would significantly open up money flowing into Bitcoin. The strongest altcoins — cryptocurrencies other than Bitcoin — would also ride that wave.
One key is that a Bitcoin ETF would be backed with actual Bitcoin. That would distinguish it from a Bitcoin trust, like the popular Grayscale Bitcoin Trust (OTCMKTS:GBTC), which has more than $33 billion under management. The trust can trade at a premium or discount to the value of the amount of Bitcoin it owns, which is why it is up 357% in the last six months while Bitcoin has gained 443%.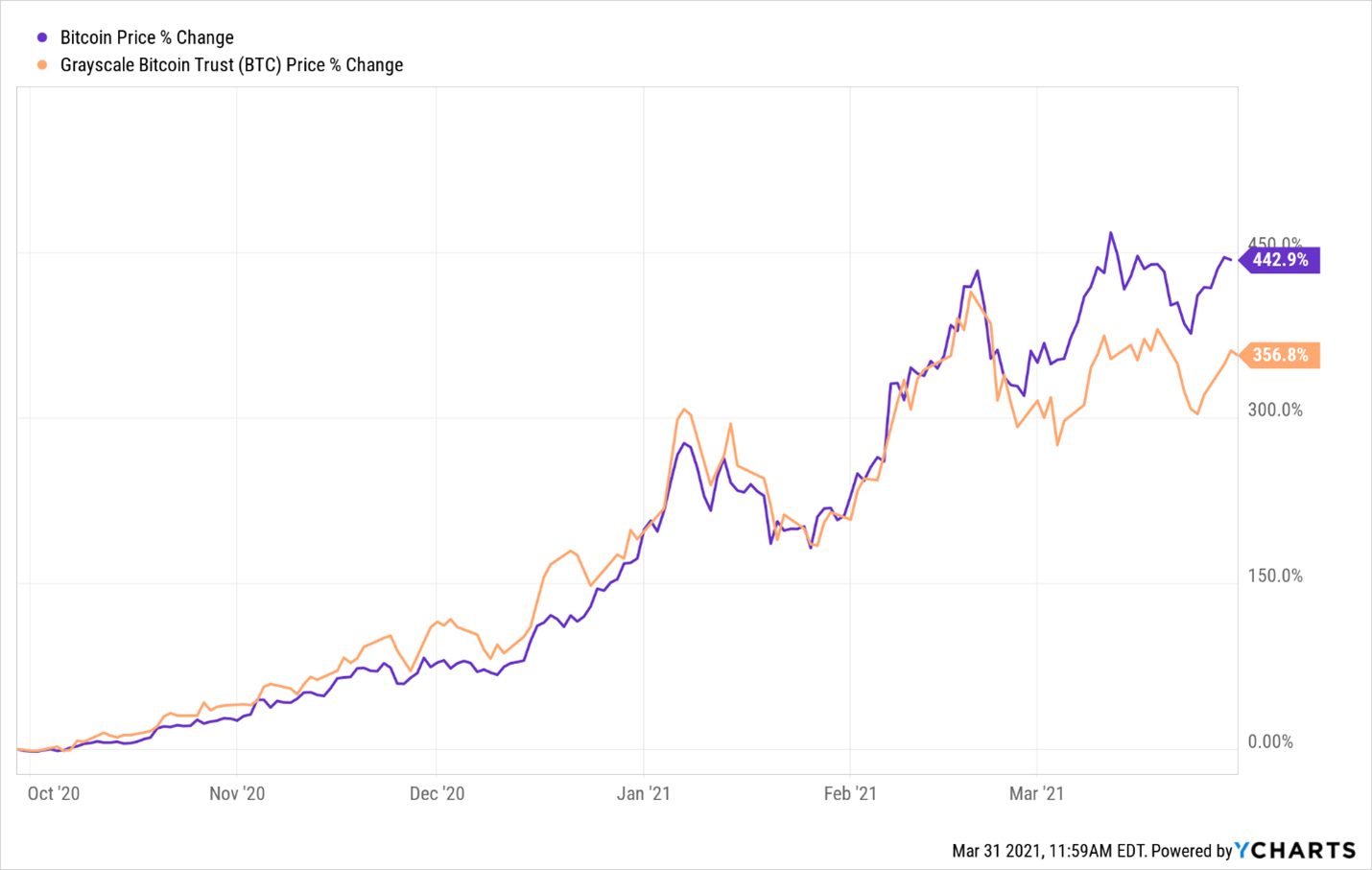 If you're surprised there isn't already a Bitcoin ETF, you're not alone.
Firms have been trying to start one for eight years now. But the Securities and Exchange Commission (SEC) keeps shooting them down — including nine in one day in August 2018!
It's ridiculous, but regulators haven't historically understood Bitcoin. That's about to change, and it's a major reason why I think we are closer to a Bitcoin ETF.
Gary Gensler, President Joe Biden's nominee to head the SEC, has a much better understanding of Bitcoin than his predecessors. He is a professor at MIT who has taught a course on blockchain, so he clearly understands the underlying technology and its applications.
In addition, two Bitcoin ETFs now trade in Canada, which increases the likelihood of approval here in the United States. The applications are lined up. There are already about 12 on file with the SEC.
The most recent came less than a week ago … and from a heavy hitter. Fidelity is one of the largest asset managers in the world with $3.5 trillion under management. It filed a prospectus for an ETF that would track Bitcoin using the Fidelity Bitcoin Index.
A Bitcoin ETF would bring a wider pool of potential investors because of the popularity of ETFs overall but also because it would be a simple and easy to own bitcoin. Some people are still uncomfortable holding Bitcoin in their own crypto "wallets," and a true Bitcoin ETF would eliminate that need.
You can see how an ETF would be a big catalyst for Bitcoin. And the strongest altcoins have the opportunity to benefit even more.
If and when a Bitcoin ETF is approved, I think it would be just a matter of time before other cryptocurrency ETFs are also given the green light.
Think how specialized ETFs can be. You can invest in everything from stocks benefitting from increasing rates of obesity to companies relevant to millennials to video game stocks.
Now expand that to cryptocurrencies. I think there will ultimately be specialized crypto ETFs in some of the space's hottest sectors — like an NFT (non-fungible token) ETF or a DeFi (decentralized finance) ETF.
Crypto ETFs would be another major step forward in Blockchain 2.0 and another catalyst to ignite the massive upside potential in altcoins. I believe that day is coming … and it's just another reason why now is the time to invest in this revolutionary technology.
On the date of publication, Matthew McCall did not have (either directly or indirectly) any positions in the securities mentioned in this article.
Matthew McCall left Wall Street to actually help investors — by getting them into the world's biggest, most revolutionary trends BEFORE anyone else. Click here to see what Matt has up his sleeve now.