Back in July 2019, an investment revolution started without anyone noticing.

It was in that month that space tourism pioneer Virgin Galactic (NYSE:SPCE) announced it would be going public. Nothing shocking there.
But the shocker came when Virgin announced that it would not be going public through a traditional IPO process. Rather, the Richard Branson-backed company said it was going public by merging with a special purpose acquisition company — or SPAC, for short — backed by former Facebook exec and billionaire venture capital investor Chamath Palihapitiya.
At the time, investors raised their eyebrows at the news, but didn't make much of it…
Little did they know that the investment world was about to change forever.
Virgin Galactic's SPAC merger would go on to kickstart a long overdue SPAC Revolution that has ultimately democratized retail investor access to the most exciting early-stage tech companies in the market. As you've read before here in MoneyWire, SPACs are changing the way companies go public.
In short, before July 2019, only rich venture capitalists could invest in the most exciting technology startups that were on the cusp of changing the world. Thanks to those investment opportunities, people like Chamath have become billionaires many times over…
Now, thanks to the SPAC Revolution, those investment opportunities are now your investment opportunities — you can be the next multi-millionaire tech venture capitalist.
Here's the story…
SPACs find their roots in the early 1990s, at a time when a lot of internet companies were looking to go public yet didn't have the funds (or time) to do a full initial public offering (IPO). So, SPACs were invented as an alternative route to go public.
SPACs are just publicly traded, "blank check" companies that have no real operations, and exist for the sole purpose of merging with a private company with real operations to bring that company public. It's an IPO, without the IPO.
Importantly, the process eliminates a lot of bank fees and legal oversight associated with a traditional IPO process, and therefore, is a cheaper and faster way to go public.
Despite these benefits, no company in the 1990s, 2000s, and early 2010s elected the SPAC-merger route over the IPO route, because Wall Street had a negative stigma against SPACs — the thinking was that if you had to side-step bank fees and legal oversight, something was wrong with your company.
But when Virgin Galactic — a very high-profile, very well-funded, very strong company with lots of buzz, talent and potential — elected to go public via the SPAC route, investors started thinking: "Hey, maybe there's something to these SPACs, after all."
Then, five months later, online sports betting giant DraftKings (NASDAQ:DKNG) elected to go public through a SPAC merger over an IPO, too.
Once is a coincidence. Twice is a pattern.
And, to add to it all, both DraftKings and Virgin Galactic's SPAC mergers went exceptionally well, with early shareholders and the companies both making a lot of money.
The SPAC Revolution had begun.
Over the course of 2020, every small company with a great idea tried to go public through a SPAC merger, and tap into the higher-valuation and easier-funding benefits that come with being a public company.
Since the beginning of 2020, 118 SPACs have closed on an acquisition, representing over $120 billion of value that is now public. This was a market that, not too long ago, was doing less than a dozen deals a year — now, it's doing hundreds of deals a quarter.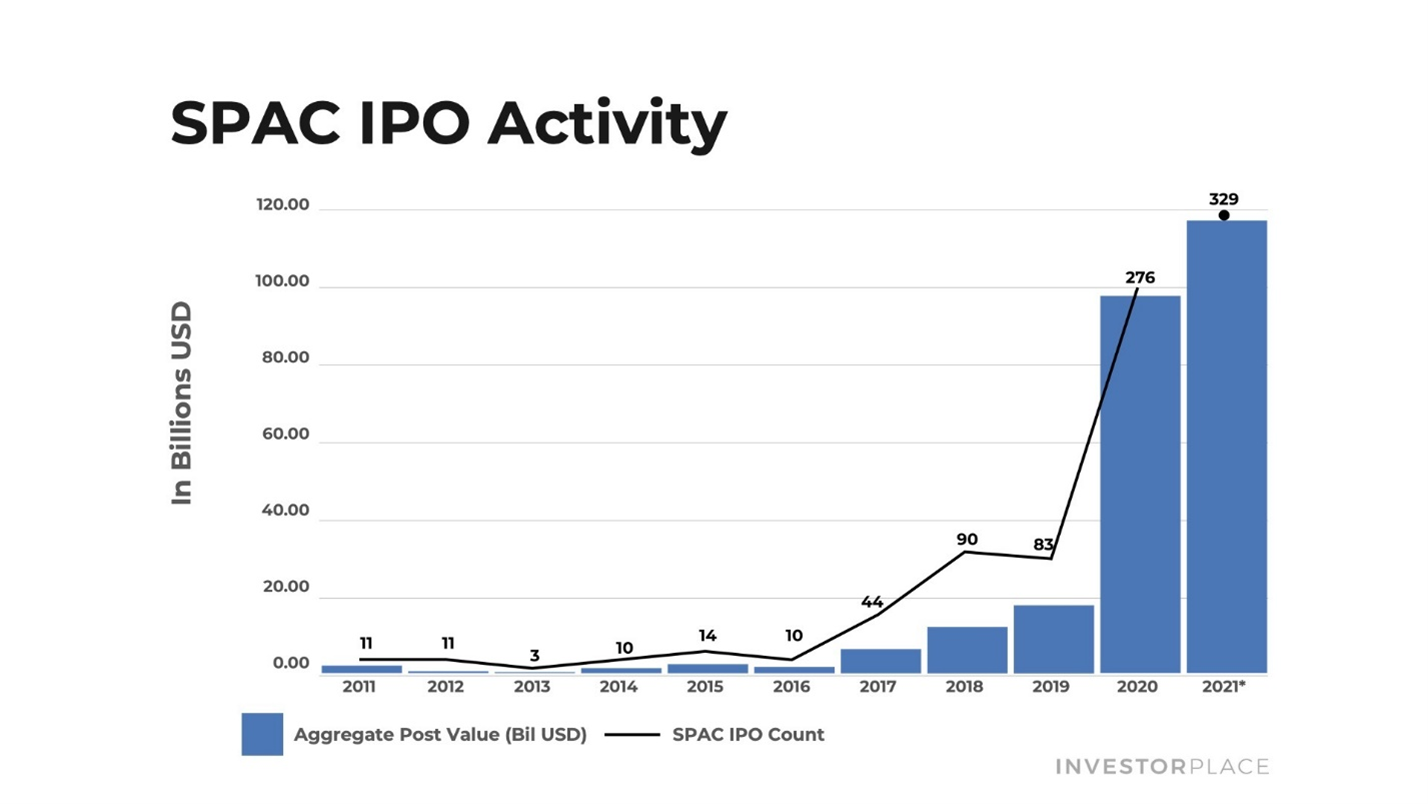 But… as with every euphoric period… the SPAC boom led to a SPAC bubble, which has resulted in a SPAC crash.
Since peaking in February, SPACs have come tumbling down, with the Defiance Next Gen SPAC Derived ETF (NYSEARCA:SPAK) shedding about 30% of its value.
This is the time to buy.
SPACs are the future. That's crystal clear. They are logically superior in every single way to IPOs. They're cheaper. They're faster. And they're safer.
And, because they're cheaper, faster and safer, what you're seeing is a whole bunch of early-stage startups go public today that otherwise would not have gone public with an IPO.
The result? For the first time ever, the public market is full of a ton of early-stage tech startups.
That's why I like to think of SPACs as "VC Investing for Retail Investors."
All of the world's most innovative technology companies, in the most explosive industries and with the most potential long-term upside, are coming public through SPACs.
These are investment opportunities that — before 2020 — were limited to Silicon Valley's biggest venture capitalists. They became millionaires many times over as a result of these opportunities.
Now, thanks to the SPAC Revolution, these investment opportunities are your investment opportunities.
Could you, too, become a millionaire many times over thanks to these opportunities?
Absolutely.
But you have to be smart.
After all, I just told you that SPAC investing is like VC investing — and in the VC investing world, you have a lot of losers. The common rule of thumb in VC investing is that 40% of startups will completely fail, 40% will return their original investment, and 20% will score 10X to 100X returns.
So, even more-so than in the stock market, you have to be hyper-selective in the SPAC world.
Most SPACs won't make you any money. A handful will make you a millionaire many times over.
My job is to make sure you're invested in the second group.
That's why my team and I have scoured the SPAC market for the most promising investment opportunities out there — and we've found 20 SPAC stocks that we think fit the bill best as potential 10X investment opportunities from current levels.
We have put all of 20 of those SPAC stocks together in our brand-new, venture-capital-style research platform, The Innovation Investor — which is aimed at identifying, at early stages, the most innovative companies in the market with the most explosive stocks.
To get the names, ticker symbols and key business details of these potential 10X investment opportunities, click here.
Trust me. These are once-in-a-lifetime investment opportunities that you don't want to miss…
On the date of publication, Luke Lango did not have (either directly or indirectly) any positions in the securities mentioned in this article.