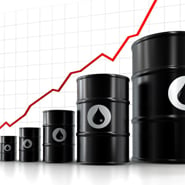 Oil prices, like stocks, took a few big hits last week.
West Texas Intermediate crude last week dropped below $80 per barrel before bouncing back up to $87 this week. Meanwhile, Brent crude fell to a six-month low below $100 per barrel before climbing back to $110 this week.
To hear the mainstream media tell it, much of the drop is based on the assumption that global growth is waning and oil demand is soon to follow.
But that couldn't be more wrong.
Energy is one of the most highly leveraged and most liquid trading vehicles on the planet. A good portion of the decline we've experienced in recent weeks can be explained by nothing more than trading houses raising cash to meet margin calls or redemption requests from hedge funds, pension funds and other investors.
That's all there is to it. Firms simply need cash and are selling the most easily sellable assets they've got. In the past, that's been gold, but lately it's been oil.
Longer-term, demand still is going up, and $120-per-barrel oil is our next stop, followed by prices of $150 or more in the years ahead.
What's happening now with the markets and energy prices is like being in the eye of a hurricane.
That is, it won't be long before we're once again caught up in the whirlwind growth of emerging markets and energy demand shoots sharply higher.
The Looming Demand Downpour
Global demand still is rising — and it's not going to slow down any time soon. There are huge swaths of the world now adopting gasoline engines.
Let me give you two examples:
Take the farmers in Cambodia. Many put up sheets in their fields at sunset. They then mount small incandescent light bulbs on sticks behind the sheets. The bulbs are powered by small gasoline generators to ensure they stay on all night.
In the morning, those farmers go back and harvest the thousands of crickets that have collided with the sheet after having been drawn to the lights. They wrap up the fallen bugs and head to the markets where they are sold as food.
It's much the same situation in Africa, where small villages require simple engines to pump water.
You might think bugs and small farm pumps are no big deal, but there's an even greater energy revolution going on in the transportation industry.