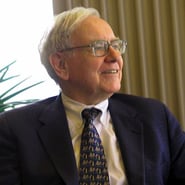 Berkshire Hathaway (NYSE:BRK.A, BRK.B) and its iconic chairman Warren Buffett are known for their shrewd long-term strategies. After all, one of Buffett's most notable quotes is, "Our favorite holding period is forever."
Of course, that doesn't stop investors from living in the moment. Each filing from Berkshire Hathaway is a very big deal as individuals from Wall Street to Main Street hunger to know what Buffett is buying.
We are sneaking up on the next Berkshire portfolio update (the last was mid-May so expect one in the next 30 days or so), but I'm going to jump the gun by focusing not on the stocks Buffett & Co. have bought more or less of. Rather, I think it's worth filtering the BRK portfolio through the lens of an income investor and finding the biggest dividend opportunities.
After all, the most notable changes in the March 31 filing were a larger position in small-cap dialysis stock DaVita (NYSE:DVA) and satellite cable provider DirecTV (NASDAQ:DTV), and a smaller position in discounter Dollar General (NYSE:DG). None of those three actually pay a penny in dividends… so income investors didn't have a lot to latch on to.
So for you dividend investors wondering what dividend stocks Buffett thinks are best, I've taken a look at the latest filings and screened for the best dividend potential. Here are the five biggest-yielding dividend stocks currently in the Berkshire Hathaway portfolio: