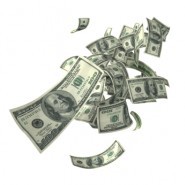 Times are tough. Many folks are out of work, and many more are underpaid and worried about becoming unemployed. What little extra cash families can find in their monthly budgets is subsequently squirreled away in a savings account or similar "rainy day" fund. A common personal finance mantra is that you should have at least three months salary stuffed under the mattress for emergencies.
But if you make the median U.S. household income of nearly $50k a year, you're pulling in $3,000 to $3,500 a month after taxes — meaning an emergency fund of about $10k. That's a huge chunk of change to have just sitting around earning a fraction of a percentage point in annual interest through your bank's savings account. That doesn't even keep up with inflation!
Of course, if you're nervous by nature that's the price of peace of mind. But if you want to put a few thousand bucks of that emergency fund to work for you, there are many ways to do so. Here are five easy and reasonably low-risk ways to invest as little as $1,000 now.