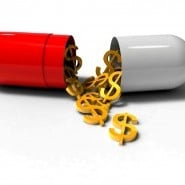 The late Dr. Carl Sagan once said, "Advances in medicine have saved vastly more lives than have been lost in all the wars in history." They've also managed to create some serious wealth for drug companies and their investors.
One of the hottest segments of the drug market is biopharmaceuticals — drugs created by using living organisms like viruses, bacteria, DNA or other molecules. Today, there are more than 300 such drugs on the market — and 20% to 25% of all drug approvals in the U.S. are produced via biotechnology. IMARC Research estimates global biopharma sales will top $166 billion by 2017.
However, risk goes hand in glove with reward in biopharma: Only 3 in 10 drugs that enter clinical trials actually gain market approval. Not to mention, while some larger biopharma companies have several treatments (and thus several revenue streams), some smaller firms' fates might rest on a solitary drug, making them a much bigger gamble.
Thus, this sector is largely a bet on future success, not current performance. Your trading strategy, time horizon and risk threshold will determine whether it's best to stick with mega- and large-cap names, make a targeted bet on a micro cap with a breakthrough therapy, or diversify within the sector.
With that in mind, here are four hot biopharmaceutical stocks of different sizes that could change your world (and fill your pockets):