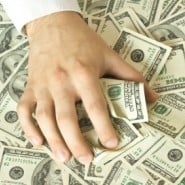 This is the second of two articles examining CEO compensation and stock performance. Previously, I looked at CEOs who earned their keep. Now, I'll look at the biggest offenders — CEOs who were paid outlandish sums of money in 2012, yet whose stocks underperformed the S&P 500.
On one hand, only seven of the 25 highest-paid CEOs in this Wall Street Journal report outperformed the index in 2012. However, the very best-paid CEOs have mostly done well — four of the top five beat the S&P 500, with only Medtronic (NYSE:MDT) unable to meet the index's 16% return.
At the very least, this shows pay for performance has some merit.
While the idea is to pick the stocks that performed the worst in 2012, some companies — like Hewlett-Packard (NYSE:HPQ) and Dell (NASDAQ:DELL) — have bounced back nicely in 2013. Therefore, I'll look beyond 2012 performance, instead finding those who also have carried last year's underperforming ways into 2013.