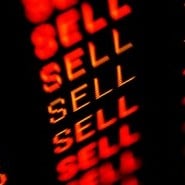 While the Dow Jones Industrial Average has been ripping to new highs, challenging the 16,000 level and generally whipping the bulls into a drool-inducing frenzy, a few skeptics like me have noticed some odd developments. Like the fact that market breadth is narrowing substantially as fewer and fewer stocks support the uptrend. Semiconductors, big tech and energy stocks have been notable laggards.
Energy stocks also have been hit by the head slam suffered by crude oil, which has fallen from a peak of $112 a barrel in August to the $92 handle now. A combination of a relatively stable dollar, renewed economic weakness in Europe and concerns over reform efforts in China have weighed on the commodity.
So now, with the market stalling at the finish line, here are five short-side opportunities among energy stocks that are worth a look.