5 Stocks to Sell at All-Time Highs
Knowing which of stocks to sell — and when to sell them — is just as important as knowing how to find bargains. After all, the idea is to buy low and sell high. True, no one can time the market or a stock perfectly, but you're more likely to reap maximum gains if you don't get greedy.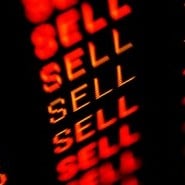 The S&P 500 and Dow Jones Industrial Average hit all-time highs this week, and a number of big-name stocks did, too. Although there's nothing better than record-high prices, often it's a signal to sell — especially when the stock in question has no business hitting all-time highs.
Too often, stocks hitting all-time highs come down hard off those peaks as investors take the opportunity to lock in profits, valuations become stretched or the outlook doesn't warrant further gains. That's when it's time to get out. (Just look at Thursday's drops in the S&P and the Dow as proof.)
As fun as it's been watching these names make record highs this week, it's hard to see any of them building on the trend. That makes these 5 stocks hitting all-time highs ones that you should sell while they're still hot: