It seems that America's favorite value investor, Warren Buffett, enjoys the wind in his hair and the sun on his back. Well, at least when it comes to renewable energy. The Oracle of Omaha continues to dive head-first into new renewable energy projects for various subsidiaries of Berkshire Hathaway (BRK.B).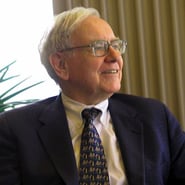 And Warren Buffett isn't pulling any punches when it comes to spending on solar and wind energy installations.
Speaking at Edison Electric Institute's annual convention, Buffett said that Berkshire had already plowed billions — $15 billion, in fact — into green energy sources so far. However, he sees that amount doubling over the next few years, as Berkshire's various utility subsidies continue to add exposure to solar, wind and other energy projects.
The reason is quite simple: Renewables are a longer-term asset class, backed by long-term cash flows. And Buffett is the ultimate long-term investor.
For us regular retail investors, we don't need to bet directly on BRK stock or its holdings in the sector. There are plenty of ways to play Warren Buffett and his newfound love renewables. Here are four of the best energy stocks for anyone who wants to bet alongside Buffett: