Vanguard Global ex-U.S. Real Estate ETF (VNQI)
Dividend Yield (12-month): 5.2%
Expenses: 0.18%
Vanguard's highest-yielding fund at the moment is also, unfortunately, one of its least impressive.
The Vanguard Global ex-U.S. Real Estate ETF (VNQI) is an internationally focused real estate fund that invests in REITs across a number of developed and emerging-market countries. VNQI dedicates nearly a quarter of its holdings to Japanese real estate equities, another 13% to Hong Kong, nearly 8% to China and almost 6% to Singapore, giving the fund a heavily Asian feel.
But the "ex-U.S." part of its name is perhaps the most important aspect of VNQI right now.
The Problem With Global Real Estate? The Rest of the Globe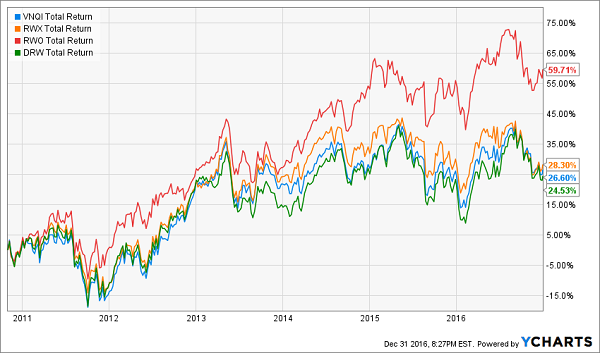 You'll see above that VNQI sits in a tight group of international real estate funds since inception in late 2010. You'll also note the outlier – the SPDR Dow Jones Global Real Estate ETF (RWO). Many so-called "global" funds actually hold a significant share of U.S.-based assets, and RWO is no exception; 63% of its holdings are American. But wherever you see "ex-U.S.," you'll see far more muted action.
Why the underperformance? It's really a smattering of issues, from fears of a bubble in China to the struggling economies of developed-market nations. Regardless, it likely will take a broad global economic pick-up to get VNQI into an extended uptrend – until then, expect the peaks and valleys that we've seen for the past couple of years, with income helping to pad the lean times.
4% is a Start, But Secure 8% Yields are Achievable
These funds are a good start – but as you know, 4% yields probably aren't enough to let you retire on dividends alone.
That's because you need about 8% in annual returns to get to where you want to be.
For many high-yield ETFs that waver depending on the market environment, that's a tall task. But my favorite stock can get you that – in cold, hard cash alone!
Let's say you have a half-million dollars invested for retirement. Even with interest rates ticking higher, bonds will still net you, what, $15,000 every year? Even with Social Security tacked on, that's not a comfortable retirement.
Thanks to medical advances, you and I are going to live much longer lives – but that means our money has to work harder, and longer, for us. Realistically, we need to be making about $40,000 annually on every $500,000 invested. That's about 8%, which is more than the market returns on average.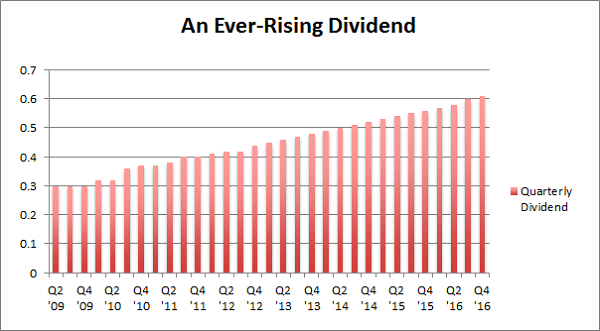 That's why I've set my sights on a particular dividend stock right now that not only yields 8.5% right now, but also raises its dividend each and every quarter! So forget 8% in annual returns – if you also add in the projected capital gains on this sure-fire pick, you can expect a total return 17% between dividends and capital gains every single year!
I specialize in uncovering contrarian 8%+ income opportunities like my ever-rising dividend pick. Click here and I'll explain more about my strategy and my favorite stocks and funds to buy for a secure retirement on just $500,000.