You won't see these "hidden yields" quoted on any financial website. But these firms are showering their shareholders with double-digit yields – and making their owners rich in the process.
The key to finding them? Look beyond the stated yields and focus on the more nuanced (and more valuable) "shareholder yields".
Take Corning Incorporated (NYSE:GLW) for example. The maker of Gorilla Glass never pays more than 3% – if you only look at the current dividend, that is:
Always a Modest 2%+ Yield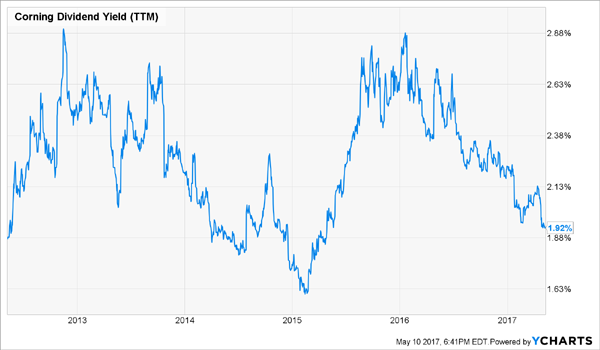 But Corning's shareholder yield – which properly includes money the firm spends on share buybacks – has climbed into double-digits in recent years. Which is the main reason why shares have rewarded investors with 156% returns over the last five years:
Big Shareholder Yields, Big Returns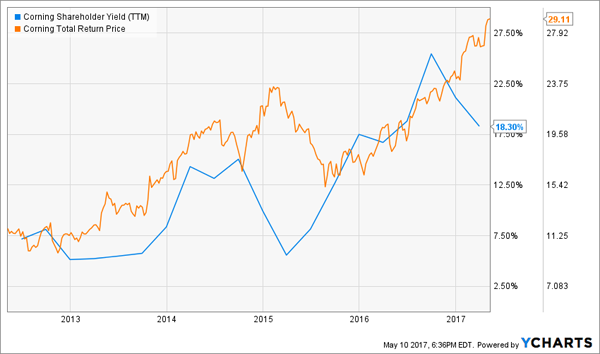 For example, over the last twelve months, investors received their 2% or so in dividends. But more importantly, they benefited from Corning repurchasing more than 16% of its outstanding shares in just one year.
Add the two up, and you've got an amazing 18% hidden yield. Again, you won't see most of it reported anywhere – but over time, it will drive the share price higher.
Buybacks are underrated as a driver of returns. When the number of shares is reduced, every "per share" metric – dividends per share, earnings, and FCF – all improve. And their increases are leveraged to the amount of stock that is bought back.
After all, if profits are flat while float is reduced by 50%, the result is a 100% increase in earnings per share! And repurchases also support dividend growth.
In Corning's case, it has fewer and fewer shares to "settle up with" every year, so it can hike its payout more than it would otherwise with a static share count.
Below I will share 16 stocks that:
Have repurchased more than 10% of their shares over the past year,
And yield 1.5% or better.
While the basket of them will probably beat the broader market, you and I can cherry pick the best of the lot first by focusing on two rules.