African Stocks to Buy: iShares MSCI South Africa Index (ETF) (EZA)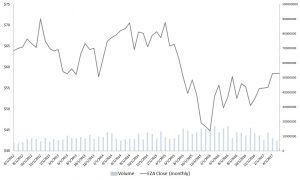 Click to Enlarge South Africa is a veritable gold mine. Of the top ten gold deposits in the world, two of them are located near Johannesburg. Together, these two sites combine for nearly 121 million ounces of the precious metal. Thus, it's no surprise that the mining industry makes up a significant portion of the iShares MSCI South Africa Index (ETF) (NYSEARCA:EZA).
However, the encouraging aspect of the EZA is that it is more than just a play on commodities. The majority of the fund's exposure is towards the technology sector, followed closely by financial services. That tells me that South Africa is diversifying away from being merely a giant gas station or factory.
However, that's not to dismiss the nation's incredible resources. Along with gold, South Africa (along with Russia) control roughly 70% to 80% of global platinum group metals supply. These rare metals primarily consist of platinum and palladium. As well, South Africa produces 80% of the world's rhodium. Recently, the resource-rich nation has been pumping out chromium to address global supply constraints.
All told, these are incredible tailwinds for the EZA and African stocks in general. This is the reason why I'm not terribly concerned about recent scandals affecting the South African government. It's certainly not helpful. However, the EZA is up 15% year-to-date, and this is despite the volatility stemming from our own markets.
If you've got the stomach to handle some nearer-term choppiness, the EZA has plenty of upside potential.