African Stocks to Buy: Market Vectors Africa (ETF) (AFK)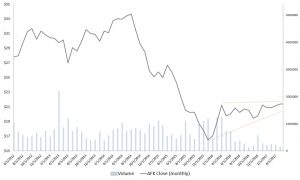 Click to Enlarge Admittedly, one of the pitfalls of investing in frontier markets like African stocks is getting in too early. The Market Vectors Africa (ETF) (NYSEARCA:AFK) is a classic example. Over the last nine years, the AFK fund has dropped nearly 48%. Part of that is bad timing. The AFK launched in the summer of 2008, right before the financial collapse. The other part has to do with unfulfilled promises.
What makes this period so different? For starters, the technical posture looks encouraging. On a YTD basis, the AFK is up 8%. These aren't earth-shattering figures, but they confirm the bullish reversal that has been in play since the AFK bottomed in early 2016. Furthermore, the Market Vectors fund is charting what appears to be a bullish pennant formation. If so, that could spell serious upside, and soon.
Granted, African stocks will have to face the challenges of corrupt governments and widespread armed conflicts. However, efforts into modernizing African economies are working. The majority allocation of the AFK is levered towards financial services, followed by basic materials. In third place is communication services. This is a welcome perception shift, and the trend towards a diversified economy should continue to grow.
Bottom line, astute investors are buying into the African opportunity, and the AFK could become a major beneficiary.