If you have even a hint of a contrarian personality, you should look no further than the pharmaceutical industry. Thanks to various scandals and controversies like the one impacting Valeant Pharmaceuticals Intl Inc (NYSE:VRX), plenty of big players are trading at a discount compared to historical market value.
If I had to go contrarian, I want to go with whoever gives me the best chance at success. Under this condition, I believe Teva Pharmaceutical Industries Ltd (ADR) (NYSE:TEVA) is a compelling opportunity.
TEVA stock is a classic case of a good investment struggling with poor, and in this case, confounding decisions. The woes surrounding Teva Pharmaceuticals have been broadcast ad-nauseam. But in case you've just woken up from a coma, internal chaos resulted in the ousting of Teva's CEO and the departure of its CFO. The pharma company also has to control mounting liabilities, and an angry public who view the industry extremely unfavorably.
The markets have also done little to offer hope for TEVA stock investors. In the last five years, shares have lost nearly 21% in the markets. In the trailing year, TEVA has shed 39%. While bullish analysts can talk about various forecasts and developments, we must admit that the story hasn't panned out well.
Nevertheless, I think the problems impacting Teva Pharmaceuticals — as big as they are — are very much solvable. Any organization can run into political problems or a PR crisis. Furthermore, internal struggles are distracting but not terminal.
I'd much rather have a good company in troubled times than a troubled company in good times. With that said, let's take a look at reasons to be encouraged by TEVA stock.
Technical Bounceback for TEVA Stock
At its lowest point this year, Teva Pharmaceuticals closed down at $27.53 on May 30. At that time, its year-to-date performance was -23.6%. Undoubtedly nervous, investors recalled that in 2016, TEVA was down 18.5% at the end of May. Shares then went on to post a harrowing 42% loss.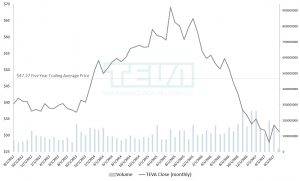 Click to Enlarge Fortunately, history hasn't repeated itself yet. For the month of June, Teva Pharmaceuticals gained an impressive 13%. Despite having a volatile July, shares are now down 14% YTD.
True, this isn't necessarily a cause for celebration. But what it does is provide evidence that the bottom may be in for Teva.
As I argued in my previous write-up for the pharma company, I think investors need to think like short traders. Theoretically, a pure bearish position is the riskiest move in finance because upside potential of a stock is limitless.
Thus, you have to consider whether or not as a bear, if you would take the trade right now? Being bearish now just seems awfully obvious, considering that all the bad news has been baked in. And if you're unsure about the short position as a theoretical situation, imagine the pressure of actual money involved!