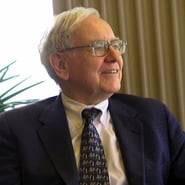 Dividend stocks remain some of the most popular investments out there for buy-and-hold investors. And few income-oriented icons are more closely watched than Warren Buffett.
At least, Buffett and Berkshire Hathaway (NYSE:BRK.A, BRK.B) used to seem like they were big on dividends …
The most notable changes in Berkshire's August filing included the end of a big dividend payer — Intel (NASDAQ:INTC) dropped off Buffett's holdings altogether — and some interesting new plays, including energy service stock National Oilwell Varco (NYSE:NOV) and larger positions in up-and-coming favorites like small-cap medical stock DaVita (NYSE:DVA) and satellite TV provider DirecTV (NASDAQ:DTV).
Seems like portfolio managers Todd Combs and Ted Weschler are having influence, moving away from the sleepy consumer names that were typical Berkshire stocks in previous years.
But Buffett & Co. haven't given up on dividends altogether. There are a number of big payers — yielding more than 3% — worth noting. I've taken a look at the latest filings and screened for the best dividend payers. Here are the biggest-yielding dividend stocks currently in the Berkshire Hathaway portfolio, in reverse order of yield:
Runners-Up


#10: United Parcel Services (NYSE:UPS) is a small position at just 261,900 shares … but it does yield 3%.
#9: General Dynamics (NYSE:GD): Berkshire owned 3.88 million shares as of June 30, and the stock yields 3.1%.
#8: ConocoPhillips (NYSE:COP): Berkshire owned 28.9 million shares as of June 30, and the stock yields about 3.2%. That's presuming the 20-cent dividend from the newly spun-off Phillips 66 (NYSE:PSX) refining business is backed out of the previous 66-cent payments from COP stock. Of course, PSX also is a position, with about 27.1 million shares as of Berkshire's latest portfolio filing.
#7: M&T Bank (NYSE:MTB): Berkshire owned about 5.4 million shares as of March 31, and the stock yields 3.3%.
#6: Procter & Gamble (NYSE:PG): Berkshire owned a huge 59.6 million shares as of March 31, and it sports a yield of 3.3%. But it's worth noting that the position continues to move steadily lower from a peak of over 96 million shares in previous quarterly filings.
Now, on to the top five:
#5: General Electric


Industry: Industrials
Berkshire Shares: 5 million
Yield: 3.3%
YTD Returns: 16% (vs. 12% for the S&P)
General Electric (NYSE:GE) has become a significantly smaller part of Buffett's holdings, dropping from 7.8 million shares at the end of March to just 5.0 million at the end of June. That's still a big stake, but the fact Berkshire unloaded a third of its position is telling.
GE burned a lot of dividend investors back in 2009 when it slashed its payout 68%, from 31 cents to just 10 cents a quarter. But while payments are not what they once were, GE has steadily increased its payouts and currently dishes dividends of 17 cents a quarter — good for a 3.3% yield right now, which puts it among the Dow Jones' top dividend stocks.
General Electric is a diversified industrial company with health care, infrastructure and aviation businesses. But what's really encouraging for income investors right now is the fact that its GE Capital arm has finally won approval to start delivering dividends back to shareholders. This could mean even more income potential in shareholders' future.
#4: Johnson & Johnson


Industry: Consumer Health
Berkshire Shares: 10.3 million
Yield: 3.6%
YTD Returns: 3%
It's worth noting that Johnson & Johnson (NYSE:JNJ) shares also have evaporated off Berkshire's list of holdings. At its peak, J&J was 62 million shares. Last quarter it was 29 million. Now it's a mere 10.3 million.
Some of the reasons for the trim-back might be familiar to anyone who has held JNJ long-term — a listless share price, concerns over quality and recalls and general fears of new treatments to replace prescription products and grow the top line even if the consumer brands like Tylenol provide stable revenue streams.
A management shakeup including a new CEO at the helm might re-energize this company with or without Buffett's ownership down the road. But short-term headwinds persist, as the company trimmed its full-year forecast in July.
Still, as an income investment, it's a noteworthy one. Dividends have been paid since 1944, and a dividend increase announced just a few weeks ago proves Johnson & Johnson cares about keeping income investors happy.
#3: Sanofi


Industry: Pharmaceuticals
Berkshire Shares: 4.06 million
Yield: 4.1%
YTD Returns: 13%
Another Buffett big pharma player is Sanofi Aventis (NYSE:SNY). This might be a lesser-known health care play to those watching pharmaceutical stocks, but it has a big dividend totaling 4.1% (based on its volatile annual payday, of course).
SNY paid a regular dividend $1.43 in May for a yield of 3.8% on current shares. That's a good yield — but it's worth noting the payday won't come around again for roughly 10 months, so take that into account.
But the kicker this year was an additional special dividend of $1.48 a share on top of the regular payment. That brings the nominal yield to more than 7% annualized! Although it's admittedly a stretch to imagine that payout sticking for good, it's worth noting as a sweetener for long-term investors. But with earnings scheduled to stay above $3 both this year and in fiscal 2013, another such special payout is not out of the question if things go well.
#2: Gannett

Industry: Media
Berkshire Shares: 1.74 million
Yield: 5.2%
YTD Returns: 15%
In the latest Berkshire Hathaway investment shares stock report, the number of shares in USA TODAY publisher Gannett (NYSE:GCI) remains unchanged. But earlier in the year, Warren Buffett and Berkshire Hathaway made headlines for big buys in the newspaper industry, apparently banking on a rebirth in these picks — including maintaining a big stake in Gannett. Buffett also has recently taken a stake in smaller newspaper stock Lee Enterprises (NYSE:LEE).
Though share performance admittedly is sketchy thanks to the digital age and general pressures on print media, Gannett's dividend focus is clear. GCI just pushed its dividend up 500% in roughly a year! GCI stock was paying a mere 4 cents per quarter in July 2011, then upped its dividend to 8 cents in October and finally to 20 cents a quarter starting this spring. What's more, with earnings of well over $2 per share, the payout ratio as a portion of profits is very maintainable.
Also worth noting: Gannett dividends have been in force since 1929, so this is a company with a long history of paying back shareholders.
#1: GlaxoSmithKline


Industry: Pharmaceuticals
Berkshire Shares: 1.51 million
Yield: 5.3%
YTD Returns: 2%
See a trend here? Buffett certainly likes health care!
There has been a lot of drug news lately that is inspiring for Big Pharma. Eli Lilly (NYSE:LLY) recently received a favorable report on a possible Alzheimer's cure, and Merck (NYSE:MRK) proved its drug pipeline is paying off with a surge after strong results for its osteoporosis medication. This proves the old guard can and will survive even amid patent expirations.
Buffett holding and U.K. drugmaker GlaxoSmithKline (NYSE:GSK) made a splash of its own recently too — the buyout of Human Genome Sciences (NASDAQ:HGSI) for $3.6 billion. That could yield benefits in the long term with an addition to the product pipeline and the potential for blockbusters to replace older medications.
Of course, share prices have lagged year-to-date because that much-anticipated blockbuster hasn't shown up yet. But there's the big yield to consider in GSK while you wait.
However, note that GSK isn't as consistent as domestic pharmaceuticals when it comes to distributions — the past four quarterly payouts range between 52 cents and 82 cents a share. But add up the past four consecutive payments, and you get about $2.43 annually for a hefty 5.2% yield.
Jeff Reeves is the editor of InvestorPlace.com and the author of "The Frugal Investor's Guide to Finding Great Stocks." Write him at editor@investorplace.com or follow him on Twitter via @JeffReevesIP.